Don't miss the latest stories
Share this
Hello Kitty Is Not A Cat, According To Her Creators
By Mikelle Leow, 07 Sep 2021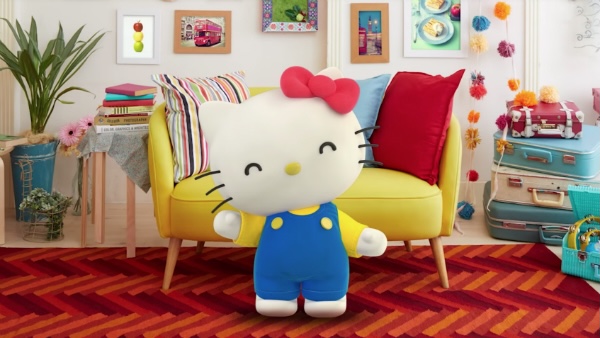 Video screenshot via Hello Kitty
If you're still
reeling from the confusing
identity of McDonald's Grimace
, your world is about to get upended by a cartoon character again. Everything you thought you knew about Hello Kitty is wrong—she's not a cat, Hello isn't her first name, and she's not even Japanese.
This was confirmed
by the brand that created her, Sanrio, itself. As detailed on its
official website
, she's a British schoolgirl who "was born in the suburbs of London."
Her twin sister,
Mimmy, also deceptively has a cat head, and so does Hello Kitty's entire family and
boyfriend
.
Wikipedia
categorizes them as "humanoid felines."
Doubling down
on this piece of trivia, Christine R. Yano, an anthropologist at the University of Hawaii, received additional details about the character's identity while preparing for a
Hello Kitty
exhibition in 2014. She shared with the
Los Angeles Times
that Sanrio told her: "Hello Kitty is not a cat. She's a cartoon character. She is a little girl. She is a friend. But she is not a cat."
The manufacturer
reportedly suggested it was evident that the character isn't a cat, since she doesn't walk on all fours and "walks and sits like a two-legged creature."
Well, the cat's
out of the bag. Or is it? Apparently, we don't even know if she's a human girl. When contacted by
SoraNews24
, a Sanrio spokesperson vaguely declared, "We never said she was a human."
What she really is,
it seems, is a
gijinka
, which means a personification or anthropomorphization. It's a term used to describe non-humans envisioned as humans.
Also, the representative
added, "We never said Hello Kitty doesn't have a mouth," and that it simply is "not drawn"—but that's another story altogether. One confusing fact at a time, please!
Appearances aside,
the name alone misleadingly suggests that Hello Kitty is a cat—but then again, Kevin Bacon is not a strip of bacon. Though it turns out that Hello Kitty is the nickname for her actual name, Kitty White.
To set things straight,
or make matters even more complicated, Hello Kitty has her own pet cat, named Charmmy Kitty. This kitty is smaller and depicted on all fours, which—by Sanrio's account—would make it a cat.
More on
Hello Kitty: her birthday is on November 1, she's as tall as five stacked apples and as light as three apples, and her blood type is A. In school, her favorite subjects are English, music, and art.
Sometimes, it's just
better not knowing.
There are certain bits of canonical lore we choose to ignore. Like how Hello Kitty is actually a girl that's dressed in a cat costume and not an actual kitty. pic.twitter.com/stmGWsFEn1

— Glitch Labs 👾 (@GlitchLabsCo) September 1, 2021
The Hello Kitty lore is pretty deep! She also has a pet cat which I try not to think about too hard 😅

— Christina ✨ (@TinaMarieSa) September 1, 2021
[via
Creative Bloq
, cover image via
Hello Kitty
]
Receive interesting stories like this one in your inbox
Also check out these recent news