Don't miss the latest stories
Share this
Nobody Gets Harmed In This 'Milk Crate Challenge'—It's All A 3D Illusion
By Mikelle Leow, 08 Sep 2021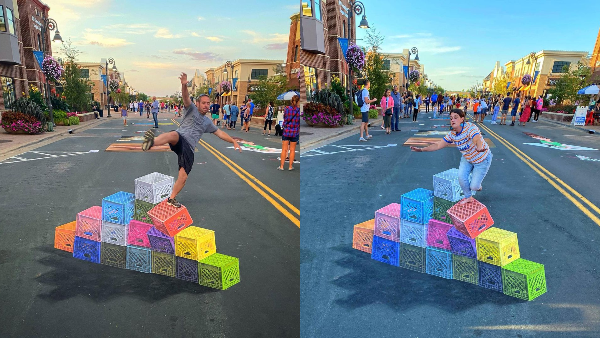 Images by Naomi Haverland and featured with permission
The 'Milk Crate Challenge',
one of the riskiest stunts on TikTok of late, involves the stacking of milk crates to create makeshift stairs and then going up and down them without falling. Unsurprisingly, it's seen its fair share of injuries, many of which have been documented online for all to see.
Florida-based artist
Naomi Haverland
, however, might have just created the "safest Milk Crate Challenge."
She's set up
some "stairs" at a neighborhood in Maple Grove, Minnesota, challenging passersby to walk on them without toppling over. Thankfully, the installation is relatively accident-proof, as it's a chalk illustration that's flat on the ground.
Images by Naomi Haverland and featured with permission
There are some
parallels between this perspective play and the real Milk Crate Challenge. Like the original, it involved participation from the internet. Haverland
details
that her friend, Erik Greenawalt (known online as
The Chalking Dad
), brought up the idea of creating a chalk illusion version of the Milk Crate Challenge. She liked the idea but didn't have any milk crates to produce a reference photo.
Haverland, who specializes
in creating hyperrealistic portraits mostly from chalk, thus turned to the
r/3Drequests
community and asked if anyone could create a 3D model of milk crates for her. "I wasn't too hopeful about that since I needed it done without about one day," remarks the artist. Luckily, the internet responded; the resulting chalk art is a replication of a 3D model generated by
u/conDonovan
, which you can view
here
.
The crates were
installed to put a smile on people's faces at the two-day Chalkfest at Arbor Lakes. Bonus: everyone had a great shot to show their friends on social media, and nobody was injured.
For more
mind-tripping chalk artworks like this one, be sure to check out Naomi Haverland's
website
and
Instagram
.
​​
The safest milk crate challenge
Images by Naomi Haverland and featured with permission
[via
r/WoahDude
, images by
Naomi Haverland
and featured with permission]
Receive interesting stories like this one in your inbox
Also check out these recent news