Don't miss the latest stories
Share this
Hyundai Designs Trucking System To Transport Hydrogen… Sans Trucks (And Drivers)
By Ell Ko, 10 Sep 2021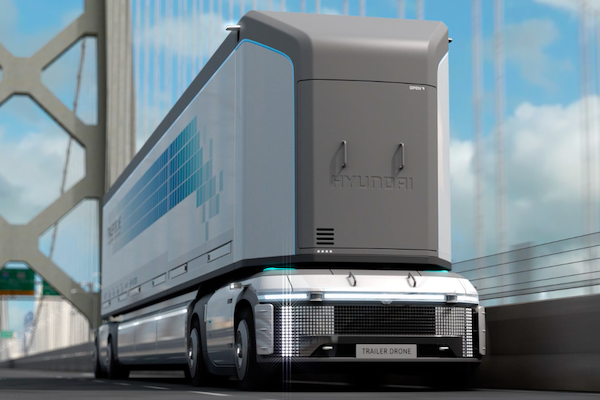 Image via Hyundai
At this week's
Hydrogen Wave forum, South Korean automobile manufacturer Hyundai revealed the Hydrogen Vision 2040, a set of plans to popularize hydrogen in the form of new products built around the new energy source.
One of the
most outstanding announcements made was the Trailer Drone concept; and, by consequence, the Fuel Cell e-Bogie concept that is integrated in the new vehicle.
As the name
suggests, the Trailer Drone is a trucking concept, but is more of a drone than a truck. Hyundai states that in developing it, the same technology as passenger vehicles couldn't be used due to the difference in transporting containers and, well, people.
Therefore, the
company needed to to adapt to the industry's nuances, and the Fuel Cell e-Bogie was born.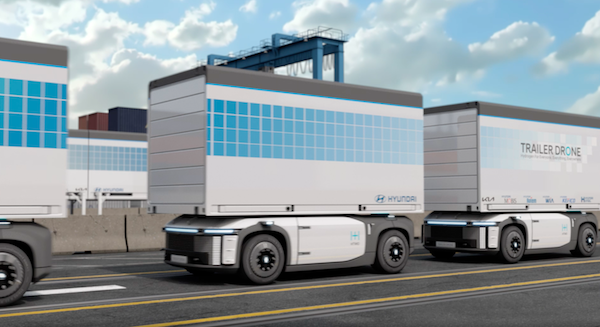 Image via Hyundai
The e-Bogie
draws its concept from bogies, which are the subframes that a train car sits on. But unlike its traditional counterpart, this new e-Bogie utilizes Fuel Cell technology. This fully enclosed system incorporates fuel cell propulsion and fully independent four-wheel steering.
Fully autonomous,
the e-Bogie allows for an impressive range of movements such as turning in place and moving sideways, even in tight spaces. While they're able to operate independently, they can also be combined in Cluster Mode to create larger transportation solutions.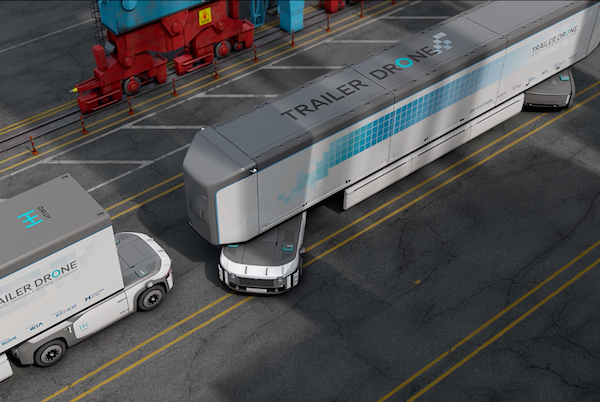 Image via Hyundai
For the Trailer
Drone, two of these are required. One on each end hoist a full-sized semi trailer up. It's
described
by the company as a "hydrogen-powered container transportation system capable of operating fully autonomously."
In a single
charge, more than 1,000km (621 miles) can be covered; and, of course, it's powered by hydrogen.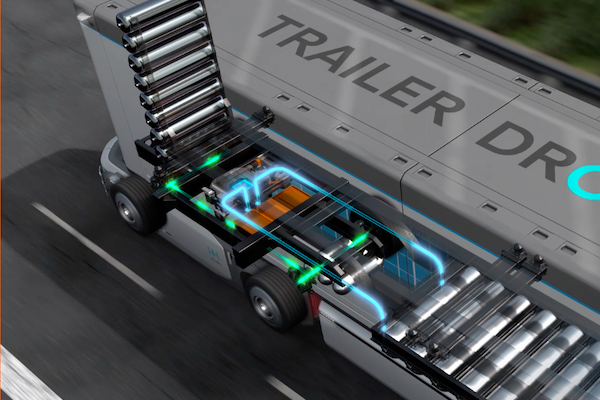 Image via Hyundai
The e-Bogies
aren't limited to just the Trailer Drone, though. Hyundai states that the "multi-purpose platform" can cater "to a wide value chain" that includes firefighting, construction, and disaster relief missions.
For example,
the Rescue Drone concept uses the e-Bogie to create a flying drone. This can be operated remotely, making it suitable for critical yet dangerous missions.
These are
only one instance of the hydrogen-based technology Hyundai is venturing into, as stated at the event this week. Although still conceptual, all the new offerings—including new Fuel Cell electric vehicles—appear to promise that a cleaner future is yet to come.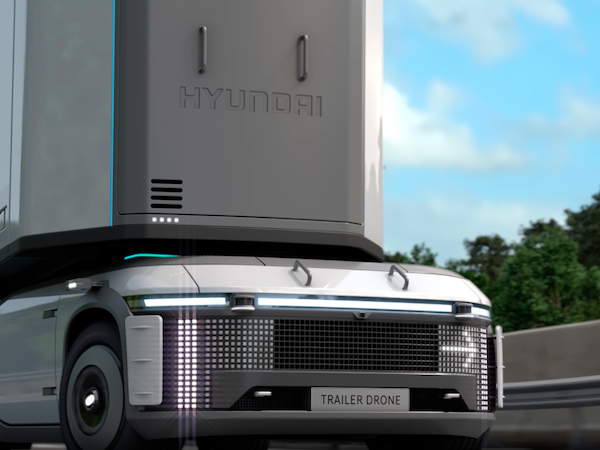 Image via Hyundai
Join the #HydrogenWave today at https://t.co/Egu3ORWErO.

For tomorrow's clean society, Hyundai Motor Group provides the power for eco-friendly solutions already today.#Hyundai #Hydrogen #FutureMobility #HydrogenSociety pic.twitter.com/bjMt5zVAGy

— Hyundai Worldwide (@Hyundai_Global) September 7, 2021
We have more than one route to reduce CO2 and greenhouse gas emissions.
Already today, #Hyundai leads in the fields of electric cars, but also hydrogen fuel cell vehicles. pic.twitter.com/xPOHW1Pjnq

— Hyundai Worldwide (@Hyundai_Global) September 6, 2021
[via
CNET
, image via
Hyundai
]
Receive interesting stories like this one in your inbox
Also check out these recent news