Don't miss the latest stories
Share this
Sony Has An Entire Smart EV Manufactured, Now Doesn't Know What To Do With It
By Ell Ko, 15 Sep 2021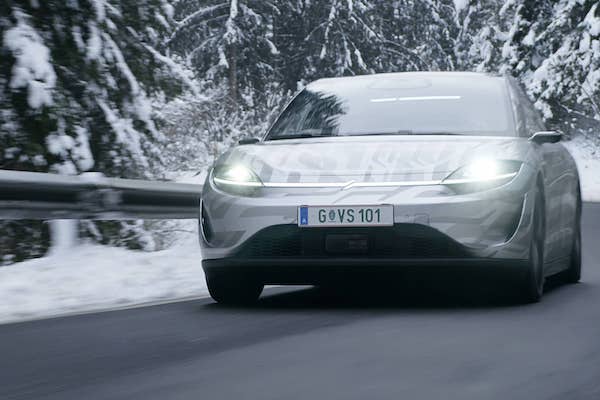 Image via Sony
At last year's
CES in Las Vegas, Sony revealed its Vision-S Concept—a sleek, futuristic car that takes liberal advantage of the company's background in electronics and entertainment, boasting panoramic screens decked out with AI.
Described by the
company
as a "road-ready prototype," the car "seeks to contribute to the evolution of mobility" by exploring the relationship between vehicle and humanity.
The prototype
electric vehicle has been undergoing test drives over the last year and a half for further development, and these mainly take place in Germany.
However, a little
shy of two years since the initial reveal, Sony's executive vice president, Izumi Kawanishi, has admitted that even Sony doesn't know how to proceed from here.
"We don't have
a concrete plan at this time because our current phase is a research and development phase," he tells
Auto News
. "We have to investigate what is our purpose in contributing to mobility service. That is our basic idea, and we have to continue the R&D phase."
He also explains
that Sony's aim is to create somewhat of a "living room on wheels," leveraging autonomous driving to provide a fully entertainment-focused experience. It'll utilize 5G connectivity to enhance this, too.
A particular
highlight is the newly designed sound system, which boasts 360º of immersive audio using Sony's object-based spatial audio technology. Alongside an optimized speaker layout, individual seats will also have their own configuration.

Image via Sony
Panoramic screens
span the dashboard from one side of the car to the other, while rear passengers also get their own screen hoisted on the back of the front seats. These are controlled by a touchscreen, but can also be connected to a DualShock controller for gaming on the go.

Image via Sony
The company
has a lot of content to do with movies, music, and gaming, and Kawanishi states that it "has to utilize that content and technology in the vehicle." To do this, he continues, the company must "understand the opportunity and build the right cabin system."
Will the Vision-S
ever make it to production?
[via
Carscoops
, images via
Sony
]
Receive interesting stories like this one in your inbox
Also check out these recent news