Don't miss the latest stories
Share this
Last Tasmanian Tiger In Captivity 'Revived' In Newly Colorized Footage
By Mikelle Leow, 15 Sep 2021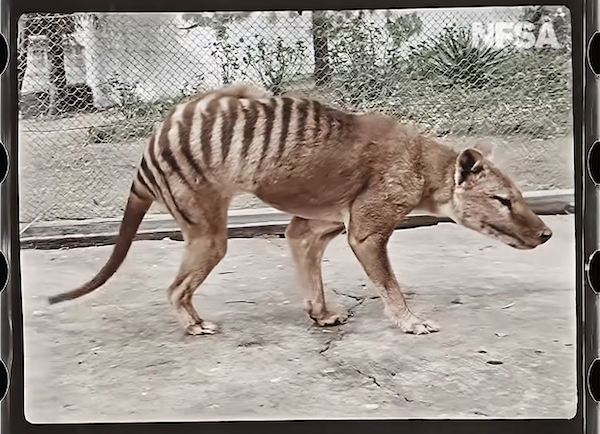 Video screenshot via National Film and Sound Archive of Australia
Too many
animal species are disappearing from the face of this planet, and emotional footage of the last Tasmanian tiger (or thylacine) in captivity is a sobering reminder of that.
To honor
National Threatened Species Day on September 7, Australia's National Film and Sound Archive (NFSA) commissioned Composite Films' Samuel François-Steininger to colorize a silent video of Benjamin, who died in captivity in 1936. September 7 was the date of his death, and the special day was created in the memory of the Tasmanian tiger.
Alas, endangerment
turned into extinction. In 1986, after several failed attempts to catch another Tasmanian tiger, the species was declared extinct,
Newsweek
reports. Once the world's largest marsupial carnivore, Tasmanian tigers succumbed to habitat loss and disease.
The video you see
here was recorded by naturalist David Fleay at the Beaumaris Zoo in Hobart, Australia, in 1933. It has no audio and was originally in black and white, but François-Steininger brought back Benjamin's beautiful yellowish coat, dark brown stripes, and pink tongue.
The 35mm nitrate film
was digitized into 4K by the NFSA so the restorer could imbue it with as much color as possible.
François-Steininger handled
the project with extreme trepidation, feeling personally responsible for how the long-gone species is represented. "I faced a different kind of challenge—and responsibility," he
admitted
in a press release. "I had to take care of the rare filmed footage and pay tribute to the last representative of a species, which disappeared 85 years ago."
With the added detail
from the 4K version, breathing new life into Benjamin proved to be even more challenging due to the textures in his dense fur and abundant hair. François-Steininger turned to thylacine skins from the collections of museums, as well as artworks and descriptions documenting the species.
The entire process
would take 200 hours, and the effort shows.
[via
Newsweek
and
Gizmodo
, video and cover image via
National Film and Sound Archive of Australia
]
Receive interesting stories like this one in your inbox
Also check out these recent news