Don't miss the latest stories
Share this
Google Nest's Adorable Ads Capture What Pets Are Really Up To When You're Gone
By Ell Ko, 16 Sep 2021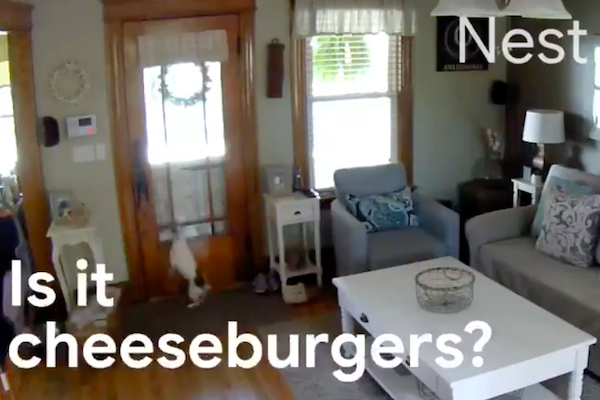 Image via Made By Google
In an adorable
new ad campaign for its Nest security camera and doorbell systems, Google has put the spotlight on our pets and what they get up to when left home alone.
As the system
was designed to keep a watchful eye on the house when we're away, there's no better way to test it than to observe what our furry friends get up to when they think they're in the clear.
Antics captured
on camera include a solo game of "the floor is lava," a self-induced sprint circuit triggered by a doorbell, and the classic backyard digging.
Enhanced with
quirky illustrated details and text, the short, lively clips are narrated by influencers such as Brittany Broski, Joe Dombrowski, and Alex Toussaint.
This campaign runs
mainly on Google's digital channels, including its accounts on Facebook and Instagram. Videos were crowdsourced from Nest Cam (and pet) owners who used the
#CaughtOnNestCam
tag on social media.
🐶: To catch a squirrel, I must first become a squirrel!

Have a video of your pets doing something fun that was captured on your Nest Cam? Share it with #CaughtOnNestCam for a chance to be featured. pic.twitter.com/gH29M6LCEn

— Made By Google (@madebygoogle) September 13, 2021
"Throughout the
campaign, consumers can post new videos using the hashtag for a chance to see their video featured on @MadeByGoogle," explained Jed Grossman, executive creative director at Arts & Letters Creative Co.,
the agency
behind this endearing campaign.
"After finding
#CaughtOnNestCam videos online, we were inspired to show the world the magic of the new Nest Cams through the funny things pets do at home when no one is watching," Grossman told
Muse by Clio
.
However, the
original creator of the hashtag is unknown, and its etymology remains a mystery.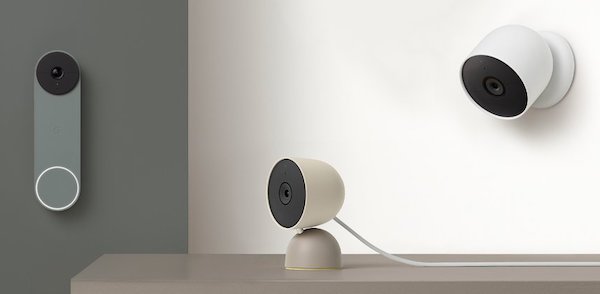 Image via Google
The new Nest lineup
includes improvements to its notification system, sleek new designs, and the option of a totally wireless installation process.
There's the
doorbell and camera available from US$180, and the option to include a floodlight in the camera takes it up to US$280.
Check out
some of the endearing videos on Made By Google:
🐶: Don't step in lava! 🌋
🗣: @MrDtimes3

The new #NestCam alerts you about the important things: 👩, 🚗, or 🐕, and 📦 on the new #NestDoorbell.

Share your best Nest Cam pet video with #CaughtOnNestCam for a chance to be featured (and voiced by Joe!) 🐾 pic.twitter.com/7mEwU8skEy

— Made By Google (@madebygoogle) September 1, 2021
🐶Ooooh a package! What's in it?
🗣@brittany_broski

The new #NestCam alerts you about the important things: 👩, 🚗, or 🐕, and 📦 on the new #NestDoorbell

Share your best Nest Cam pet video with #CaughtOnNestCam for a chance to be featured (and maybe even voiced by Brittany!)🐾 pic.twitter.com/dnaUtIlGD4

— Made By Google (@madebygoogle) August 30, 2021
🦌: 1, 2, 1, 2, aaand POSE!
🗣: @alextoussaint25

The new #NestCam alerts you about the important things: 👩, 🚗, or 🐕.*

Share your Nest Cam footage of animals #CaughtOnNestCam for a chance to have Alex give them a new voice 🐾

*Working internet and Wi-Fi required pic.twitter.com/L2lPfY18Rn

— Made By Google (@madebygoogle) September 3, 2021
Dog: 👀 I know what that doorbell means. Let's GO!

The new #NestDoorbell can detect a 👩, 🚗, 🐕, and 📦 * so you know exactly when the dog walker arrives.

Share your Nest Cam pet videos with #CaughtOnNestCam for a chance to be featured 🐾

*Working internet and Wi-Fi required pic.twitter.com/wow259S7yW

— Made By Google (@madebygoogle) September 6, 2021
[via
Muse by Clio
, images via
Google
]
Receive interesting stories like this one in your inbox
Also check out these recent news