Don't miss the latest stories
Share this
We Can Now 'Touch' Holograms, Just Like In 'Star Trek'
By Ell Ko, 27 Sep 2021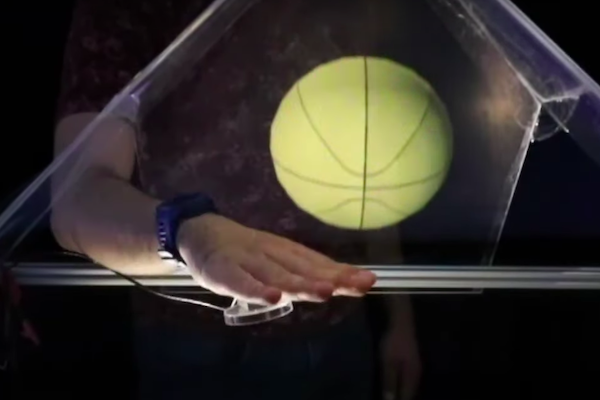 Image via The University of Glasgow
Holograms are,
at this point, almost always synonymous with the vision of a sci-fi future. Who even needs FaceTime anymore when you could have a hologram to talk to?
This is in
part thanks to the television show
Star Trek: The Next Generation
, in which a "holodeck" is introduced. It's like a step up from the hologram, as if that wasn't already cool enough, and boasts a projection of a more complete environment rather than a singular person. This can be interacted with and touched.
Although holograms
are already somewhat in use today, they're often limited to professional settings like medical and security systems. But the element of touch is the one thing that's been consistently missing; after all, how do you expect to touch a projection of an image?
Until now, that
wasn't possible. But a team from the University of Glasgow's bendable electronics and sensing technologies research group has come up with a way, sort of, using affordable and commercially accessible parts.
"Aerohaptics" is the
name of the game, one which involves inducing the feeling of tactility using jets of air. These are incorporated into the hologram, making it possible to "touch" a person being projected in it.
In turn, this
could turn into the base of the technology required to build a holodeck. But let's not get too ahead of ourselves here.
Ravinder Dahiya,
the author of an article on the topic and part of the
study
, describes it as "a step beyond the current generation of virtual reality."
Virtual reality (VR)
requires a headset to deliver 3D graphics, and users will need to don either smart gloves or hold controllers to receive haptic feedback, which is the closest thing to touch.
But these have
their limitations, of course. "Controlling a virtual object doesn't give the feeling that you would experience when two people touch," Dahiya explains. Of course, the fact that you have to wear special gloves or constantly be holding something breaks the suspension of disbelief, too.
Instead of this,
the new system uses glass and mirrors to make a 2D image look like it's floating. The idea is built upon
Pepper's Ghost
, a 19th-century technology used in theaters to provide illusions of the supernatural.
"The mirrors
making up our system are arranged in a pyramid shape with one open side," the article
details
. "Users put their hands through the open side and interact with computer-generated objects which appear to be floating in free space inside the pyramid."
Just below
this pyramid sits a Leap Motion sensor that will detect movements of the hands and fingers to deliver jets of air towards them, varying the pressure in response to the users' movements.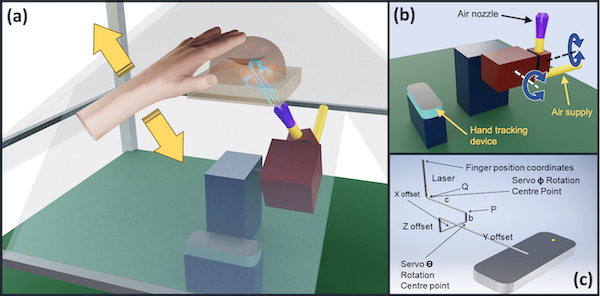 Image via The University of Glasgow
To test this,
a hologram of a basketball was displayed and the Leap Motion sensor began to provide airflow to simulate bouncing it. In addition to this, users were able to feel the "slap" on their palm when it bounced back up.
"We believe
aerohaptics could form the basis for many new applications in the future, such as creating convincing, interactive 3D renderings of real people for teleconferences" Dahiya explains in the university's
statement
.
"It could help
teach surgeons to perform tricky procedures in virtual spaces during their training, or even allow them to command robots to do the surgeries for real. We're looking forward to exploring the possibilities as we continue to develop the system."
[via
The Conversation
, images via
The University of Glasgow
]
Receive interesting stories like this one in your inbox
Also check out these recent news