Don't miss the latest stories
Share this
'Game-Changing' COVID-19 Pill Aims To Treat The Virus By Confusing It
By Ell Ko, 04 Oct 2021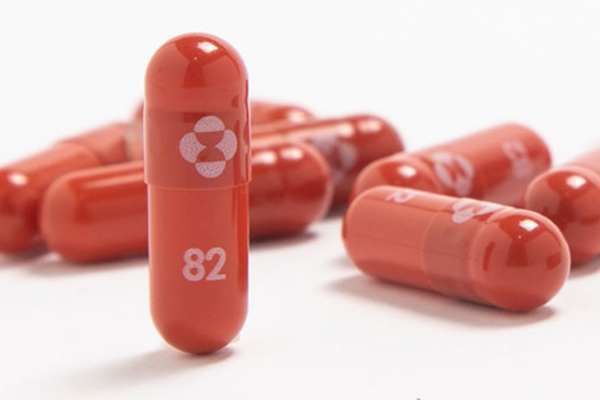 Image via Emory University
Newest in the
fleet that scientists are deploying to combat COVID-19 is not a new vaccine, even if it is
needleless
. It's an antiviral pill: molnupravir.
The potential breakthrough
was discovered by
researchers
at Emory University, and companies Merck and Ridgeback Biotherapeutics swooped in to license it.
Antiviral treatments
aim to either kill or inhibit the development of viruses, and they're part of a wider range of antimicrobial treatments. Other types of antivirals include treatments for herpes, HIV, and the common flu. Some other examples of antimicrobial treatments include bacteria fought by antibiotics and fungi fought by antifungals.
According to a
news release
, the companies stated that fewer patients who received a dose of the pill were hospitalized or died from the illness as compared to those who were given a placebo pill.
The numbers
stand at 7.3% of 385 patients with the real thing, versus 14.1% of the 377 with placebo. That's around 50%.
Right now, the
only other drug approved by the FDA to treat COVID-19 is remdesivir, but this requires IV in the form of an infusion or injection and isn't easy to administer. In contrast, molnupravir can be made into pill form.
It also works differently
to treat the virus, as it gets incorporated into the genetic material of the virus and introduces "errors" to, essentially, confuse the genes. These then make it less able to replicate, according to chief science officer Dr Daria Hazuda of MSD, Merck's label operating outside of the US.
Dr Scott Gottlieb,
former commissioner of the US Food and Drug Administration, tells
CNN
that the study yielded "the most impactful result that I remember seeing of an orally available drug in the treatment of a respiratory pathogen, perhaps ever."
The ability to
get "an oral pill that can inhibit viral replication—that can inhibit this virus—is going to be a real game-changer," he continues.
Merck states that
that it's going to "seek emergency use authorization in the US as soon as possible" as well as its plans to submit applications to other regulatory agencies across the world.
If authorized,
this molnupravir pill could be the first oral antiviral medicine formulated to combat COVID-19.
Today we announced positive interim data for our investigational #COVID19 #antiviral treatment. Learn more about our latest news: https://t.co/v1DDAa4RjN $MRK pic.twitter.com/na2O4Y5N3D

— Merck (@Merck) October 1, 2021
[via
Boing Boing
, image via
Emory University
]
Receive interesting stories like this one in your inbox
Also check out these recent news