Don't miss the latest stories
Share this
An Amber Is 'Tomb' To A Rare Tardigrade Fossil That's Millions Of Years Old
By Mikelle Leow, 06 Oct 2021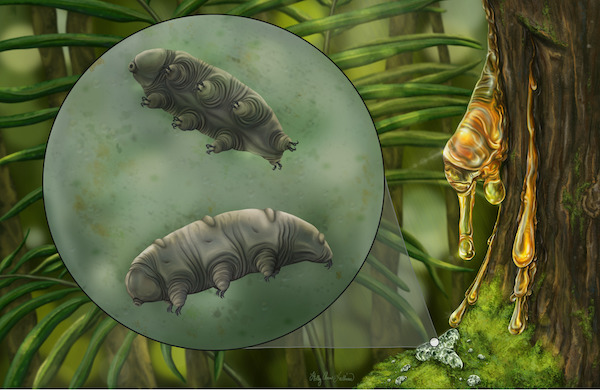 An artistic interpretation of microscopic tardigrades in their most common hiding spot: moss. Image via Mapalo et al / The Royal Society (CC BY 4.0)
Tardigrades have lived far
longer than humans, even being there when the dinosaur population was wiped out. In spite of their well-traveled history, surprisingly little is known about their lineage.
That's because there
haven't been many tardigrade fossils found. The discovery of this fascinating creature—hidden in plain sight—only makes the third. The rarity of this find seems even more impressive when you learn that these "water bears" have lived on Earth for over 500 million years.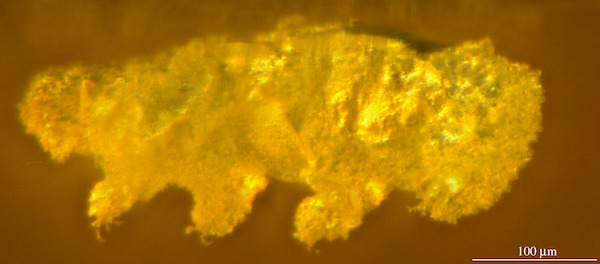 Image via Mapalo et al / The Royal Society (CC BY 4.0)
In a new paper
published by international scientists in the
Proceedings of the Royal Society B
journal, the team describes a tardigrade fossil that had been residing unnoticed in a chunk of 16-million-year-old Dominican amber. It's been classified under the
Paradoryphoribius chronocaribbeus
species, a relative of the surviving tardigrades of today (the Isohypsibioidea family),
CNN
reports.
Tardigrades being
the smallest legged animals on Earth, measuring under one millimeter, the scientists hadn't even noticed the fossil. "It's a faint speck," noted Phil Barden, assistant professor of biology at New Jersey Institute of Technology and one of the study's authors.
Luckily, the fossil
was so well preserved that the team could distinguish the water bear's brain and central nervous system, eight tiny legs with even tinier claws, and pharynx.
"The discovery of
a fossil tardigrade is truly a once-in-a-generation event," declared Barden.
Thanks to the find,
scientists might soon uncover more about the evolution of tardigrades from the past millions of years. There might even be physical features in this fossil that no longer belong to modern tardigrades.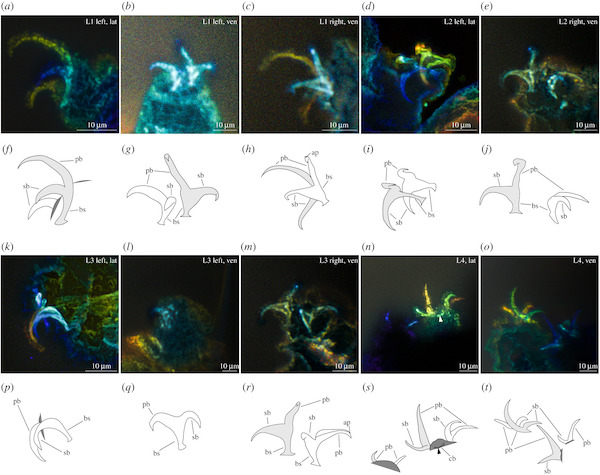 The microscopic tardigrade's itty-bitty claws. Image via Mapalo et al / The Royal Society (CC BY 4.0)
[via
CNN
, images via
Mapalo et al / The Royal Society
(CC BY 4.0)]
Receive interesting stories like this one in your inbox
Also check out these recent news