Don't miss the latest stories
Share this
A Sniper Rifle Has Been Strapped To An Unmanned Robodog—But Why?
By Ell Ko, 15 Oct 2021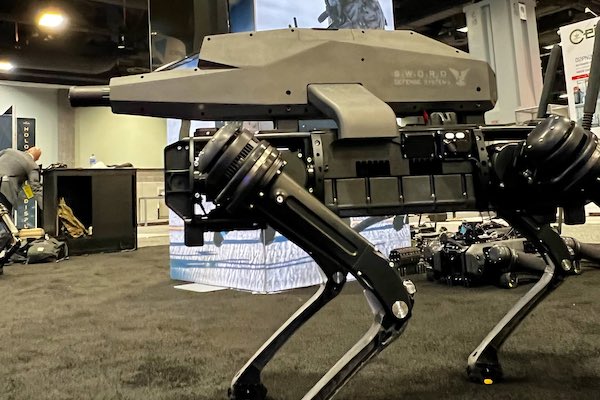 Image via Ghost Robotics
In what looks
like a pretty worrying development, a robodog has been given a sniper rifle, firmly strapped to its unsuspecting back, and the reason or purpose behind this is largely unknown.
According to gun manufacturer
Sword International
, the weapon is a Special Purpose Unmanned Rifle (SPUR). This, it
writes
, was "specifically designed to offer precision fire from unmanned platforms." It's able to operate in a "magnitude of conditions" and is "the future of unmanned weapon systems."
The "latest lethality"
innovation was shared on Twitter by
Ghost Robotics
, a military robot maker. The company specializes in Quadrupedal Unmanned Ground Vehicles, or Q-UGV for short. It describes them as "unstoppable," and able to "get right back up from any slip, fall, or failure and keep moving."
Latest lethality 6.5 #creedmoor sniper payload from @SWORDINT. Check out the latest partner payloads @AUSAorg Wash DC. Keeping US and allied #sof #warfighter equipped with the latest innovations. @USSOCOM #defense #defence #NationalSecurity #drone #robotics pic.twitter.com/Dvk6OvL3Bu

— Ghost Robotics (@Ghost_Robotics) October 11, 2021
This Q-UGV is
the "unmanned platform" Sword International was referring to, and the host robodog the SPUR is fixed onto.
In theory, it sounds
like a great invention in the context of defending humans, and other creatures of life, from an onslaught of attack. But if it's the attacking party, it'll be a whole other story.
Underneath the tweet,
many users have expressed alarm at the very existence of this contraption. "Holy f**king scary s**t," one
writes
. Another bluntly
questions
, "How many civilians per second [is] this designed to kill?"
Gross.
I don't want to live in this world, why are we building this world?

— its me T (@ByWhatMeasure) October 12, 2021
So you've done some fancy stepping to avoid saying the quiet part out loud.

Let me do it for you.

We created a soulless piece of hardware for brutal population suppression when the billionaires finally fear for their ill-gotten gains.

— Fluffyfur3030 (@fluffyfur3030) October 12, 2021
great news! this should vastly increase the efficiency and frequency of war crimes, and the best part is that you can't even hold a robot accountable!

— Taconic @ havana syndrome haver (@TaconicST) October 12, 2021
You've got to be scraping the bottom of the ethics barrel when you're working on these.

— Atari Amstradsen (@amstradsen) October 12, 2021
No other details
about the robot have been provided, such as why it was developed and who wanted it created in the first place.
So yall saw 2 blade runners, a westworld show and movie , 10 terminator movies 2 Battlestar Galactica shows, irobot and still thought this was a good ideal smh we doomed

— Usopp conquerors confirmed (@EmperorWorf) October 12, 2021
[via
Futurism
, image via
Ghost Robotics
]
Receive interesting stories like this one in your inbox
Also check out these recent news