Don't miss the latest stories
Share this
Adobe Reinforces Creator Attribution By Inserting Credit, Edit History In Files
By Mikelle Leow, 26 Oct 2021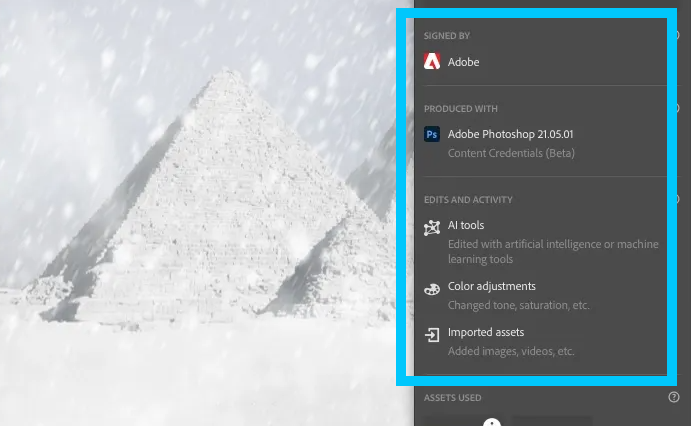 Image via Adobe Creative Cloud
In this age, leaving
your images up on the internet is a risky move. Not only can someone else claim them as their own, but there's also the danger of your work being dragged into fake news dissemination and
deepfaked content
.
So to minimize
the anxiety of your work being unleashed out there,
Adobe
has announced 'Content Credentials', a tool that's essentially a hardcoded, sophisticated watermark for your files.
For image creators,
they'll be able to establish clear ownership of the work. Meanwhile, those who have downloaded the work would be able to tell where it comes from and check if it has been heavily manipulated.
Debuting as a beta experience,
the Content Credentials option will be accessible by
Creative Cloud
users through several major workflows.
Click to view enlarged version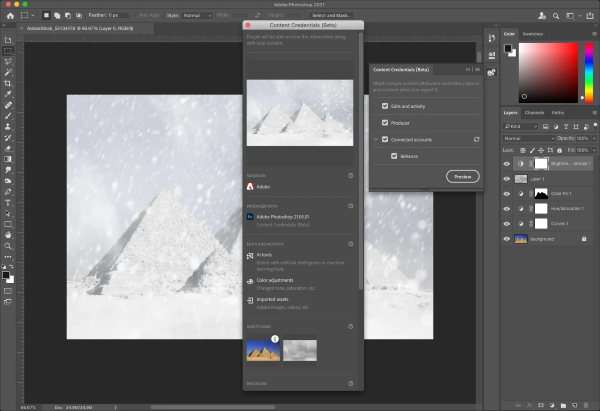 Click to view enlarged version. Image via Adobe Creative Cloud
On the desktop version
of
Photoshop
, creators will be able to weave identity information—and even an photo's edits—into an image before exporting it. In addition to the usual metadata, these offer "new transparency options for creative professionals and casual artists alike, while also reinforcing trust in digital content for people viewing it," describes Adobe VP Will Allen.
The feature is opt-in,
so users can rest assured if they're perfectly happy with the anonymity. If you'd still like some level of attribution, though, Photoshop lets you select which details you prefer to show; for example, you can leave your name in the metadata but remove an image's edit history.
Along with these
embedded credentials, creators can also double down on establishing ownership by linking their social media profiles and crypto wallet addresses to images via Photoshop for desktop. Given the prominence of non-fungible tokens (NFTs), Content Credentials would also be a handy tool for collectors to check if an artwork was indeed minted by the creator.
Anyone can then
view an image's transparency records by having it inspected on
verify.contentauthenticity.org
.
Click to view enlarged version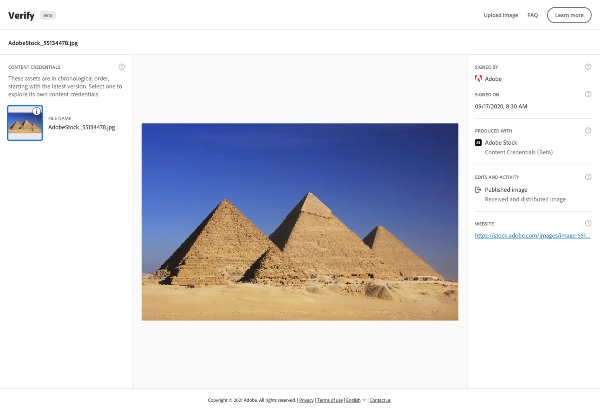 Click to view enlarged version. Image via Adobe Creative Cloud
Content Credentials will
automatically be added to
Adobe Stock
assets, and will be visible when imported into the Photoshop desktop app or on the Verify site.
Adobe intends to expand
this toolkit and make it open-source so developers can integrate Content Credentials in their own products too. The company says this capability should be ready en masse in the coming months.
The feature was announced
at Adobe MAX 2021, alongside time-saving features like
instant Photoshop selections
by hovering your cursor over objects,
Photoshop and Illustrator for the web
,
collaborative spaces
, and new Neural Filters such as one that
completely changes seasons
in one click. To read more about the new Content Credentials feature,
head here
.
[via
Adobe Creative Cloud
]
Receive interesting stories like this one in your inbox
Also check out these recent news