Don't miss the latest stories
Share this
'Vegan Cannibal Steakhouse' Satisfies Human Meat Cravings Without The Killing
By Mikelle Leow, 29 Oct 2021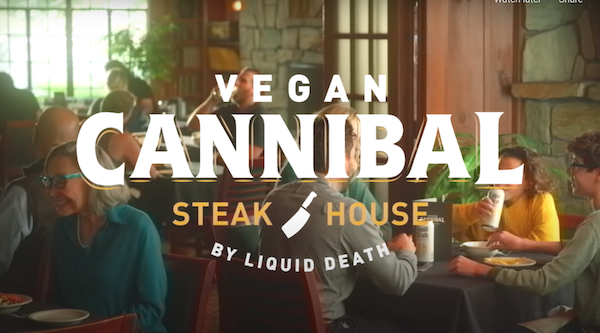 Video screenshot via Liquid Death
Haven't seen your neighbor
Jerry in a while? If you're concerned about his whereabouts, you can be rest assured he hasn't been made into a meat pie at this restaurant. All the food at the '
Vegan Cannibal Restaurant
' is 100% vegan and human-free, and whatever grisly bits you find in there are ground-up figments of your imagination.
Most folks would be
relieved to know that this isn't a real restaurant, but a ghost kitchen (ha!) set up in time for Halloween by canned water brand Liquid Death. Adventurous eaters in New York and Los Angeles can order from its completely safe menu by looking up "Vegan Cannibal Steakhouse" on delivery platform Postmates.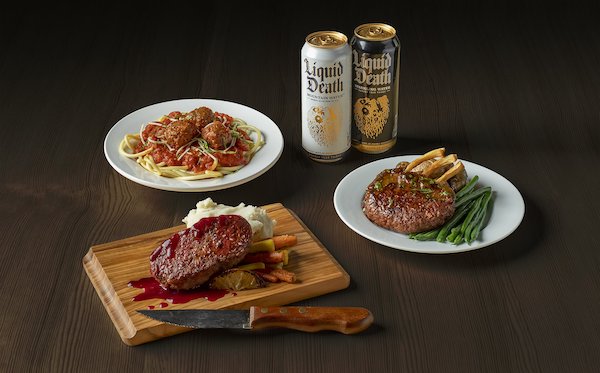 Image via Liquid Death
With that being said,
you'll still be able to savor the supposed taste of human flesh without the cruelty. "We researched what real cannibals have described human meat to be like," Andy Pearson, Liquid Death's VP of creative, said in a statement via
Muse by Clio
. One account likened it to pork but with a slightly more bitter taste, while another described it to be like "good, fully developed veal—not young, but not yet beef."
But don't worry;
there's no eye in your soup.
A chef was brought in
to recreate these humany flavors with plant-based ingredients, giving fans 'New Yorkerless Strip Steak', which is a "vegan human steak" with blood-red reduction; "Guiltless Grilled Rack of Sam', which is a serving of "vegan human ribs" with "cerebrospinal-free chutney" and fingerling potatoes; and 'Manless Meatballs in Marinara', a course of "vegan human meatballs" with "brain-free cheese and fresh basil."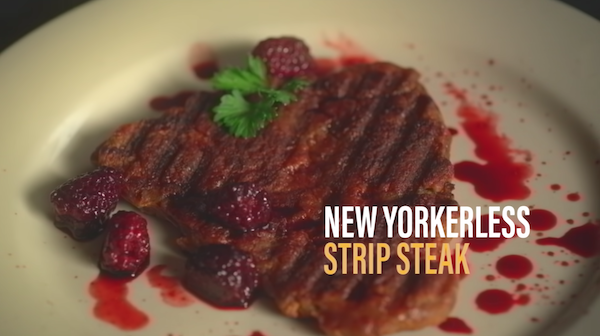 Video screenshot via Liquid Death
Liquid Death hyped
the food up in the campaign video: "Our meat-inspired menu tastes so much like real human, after just one bite you'll be waiting for the police to arrive." Eerily enough, according to the Vegan Cannibal Steakhouse website, all meals have since sold out.
Pearson insisted that
the brand's spin on Halloween marketing is in tune with more peaceful initiatives. Rather than creating a campaign that's just scary, Liquid Death considered building on "the health and sustainability angle we have with our mountain water" to send shivers down (intact) spines.
"At Liquid Death,
we believe that human meat is murder,"
said
Pearson. "Now you can enjoy all the human meat you crave, but without anyone getting killed!"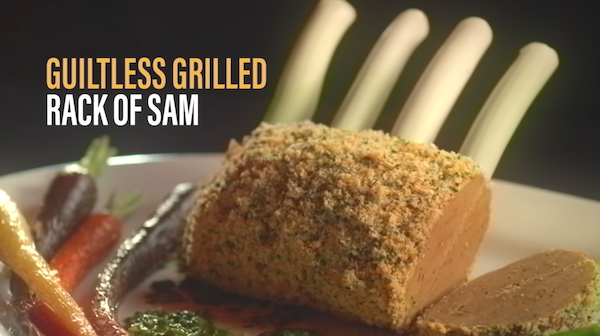 Video screenshot via Liquid Death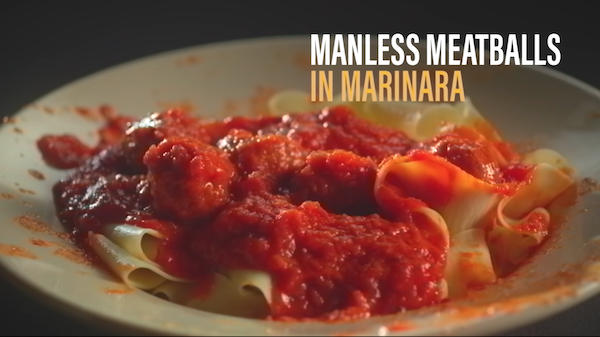 Video screenshot via Liquid Death
[via
Andy Pearson
and
Muse by Clio
, images via
Liquid Death
]
Receive interesting stories like this one in your inbox
Also check out these recent news