Don't miss the latest stories
Share this
'World's Worst Toy' Plays Out What Happens When Kids Confront Real Factory Farms
By Alexa Heah, 05 Nov 2021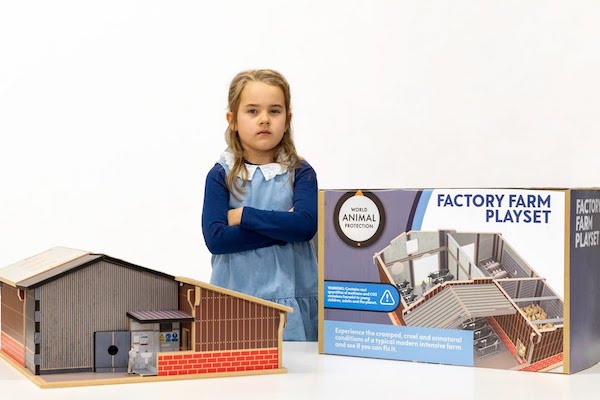 Image via World Animal Protection
If you've seen a
children's book or show depict the concept of a farm, it's usually of vast green pastures, free-roaming animals, and lots of sunshine. However, most of our food doesn't come from such serene spaces.
In fact, according to PETA,
99% of animals used for food in the US are herded on industrial "factory farms." Cows, pigs, and chickens are often crammed by the thousands into uncomfortable cages or crates, and forced to survive in dirty, non-conducive environments till they're brought to the slaughterhouse.
Aiming to highlight
the stark contrast between childhood perceptions of farms and the uncomfortable reality of how animals are actually treated, World Animal Protection is rolling out the 'Factory Farm Play Set', or what's known as the "world's worst toy."
This play set,
unlike its counterparts that encourage imagination and whimsy, represent the hidden, dire conditions animals experience. As they interact with the play set, the children make observations about factory farms, such as how the animals are separated from family, have insufficient space, and are unable to access sunlight and fresh air.
Take a look at the
confronting video below, which might move you to cut down on your consumption of meat, so fewer animals will have to endure such horrifying conditions.
[via
World Animal Protection
and
PETA
, cover image from
World Animal Protection
]
Receive interesting stories like this one in your inbox
Also check out these recent news