Don't miss the latest stories
Share this
US To Trial Its First-Ever Highway Sound Barriers That Absorb Solar Energy
By Alexa Heah, 09 Nov 2021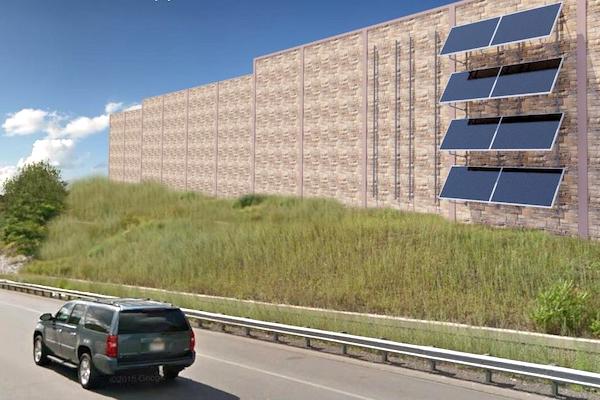 Image via Ko-Solar
Boston, Massachusetts,
could soon welcome the country's first-ever highway sound barriers with built-in solar panels. The project, which is expected to begin early next year, will trial the concept of turning existing sound barriers into multipurpose sites to harvest solar energy.
While the technology
already exists in countries such as Germany and Australia, this is the first time it will be done in the United States.
"If this is successful,
it opens the door to many more sites. Why don't we just adapt what we already have and retrofit those existing structures? Most states have sound barriers," explained Mohammed Siddiqui, a partner in Ko-Solar, the firm working together with the state's Department of Transportation on the pilot scheme.
According to Electrek,
metal grids will be attached to over 100 sound barriers on the Interstate 95, with the solar panels facing the road, positioned at an angle to best catch the sun. The installation will belong to state-based Solect Energy, with MassDOT planning to purchase the power generated by the solar panels at a lower price than the typical utility rate.
Overall, engineers posited
the project, part of The Solar Massachusetts Renewable Target (SMART) program, could produce up to 800 megawatt-hours of power each year, which will provide enough energy for nearly 100 households.
As per Energy News Network,
the installation will be entitled to an extra six cents per kilowatt-hour, as an incentive to encourage more projects that make use of existing transportation routes. Additionally, the scheme received a grant of US$345,000 from the state's Department of Energy Resources as it looks to boost eco-conscious energy plans.
Should this trial
show favorable results, it could soon become the preferred way of merging eco-friendly technology, such as solar panels, with existing infrastructure—allowing states to invest in cleaner, greener energy, with a lower price tag.
[via
Electrek
and
Energy News Network
, cover image via
Ko-Solar
]
Receive interesting stories like this one in your inbox
Also check out these recent news