Don't miss the latest stories
Share this
'Lil Baby Ape Club' NFTs Aren't Just Racist, They're Also Completely Ripped Off
By Mikelle Leow, 22 Nov 2021
​​​​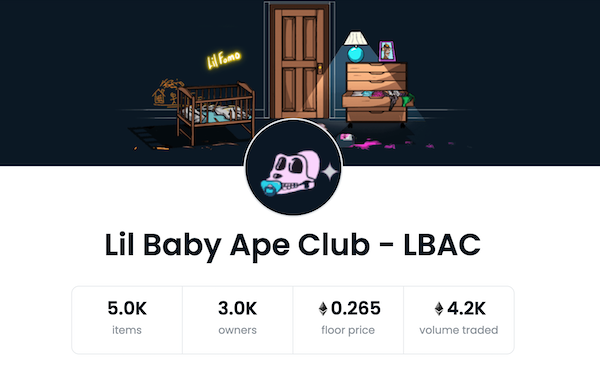 Screenshot via OpenSea

The world gets more convoluted with the introduction of new, less-moderated technology. This year, it's all about the metaverse, cryptocurrency and non-fungible tokens (NFTs), which—while representing a new frontier in trading and transaction-making—offer additional twists and turns to the already complex web of art theft.

Since a 5,000-piece launch on November 12, more than 3,000 people now own non-fungible artwork depicting baby versions of the famous Bored Ape Yacht Club avatars. The hype is understandable, given the internet's obsession with miniatures (read: Baby Yoda). The origin of the Lil Baby Ape Club NFTs, however, isn't all that innocent.


These are my babies. They're all so cute.
Lil Baby Ape Club let's goooo 🍌 pic.twitter.com/96jSbaV0hb

— rarebabyape (@rarebabyape) November 20, 2021
Input reports that
some buyers might be regretting their purchase upon learning of the racist undertones of the collection, which, to be clear, has no associations with with the
Bored Ape Yacht Club
. For instance, some of the avatars are seen donning a T-shirt with the words "Monkey Pride" and German flag suspenders. Even the artworks' originators have described the pieces to sport "skinhead" traits.
This is not ok. Lil baby Ape club should not be on Opensea pic.twitter.com/nGqBfb1nSl

— Mat (@americafir) November 16, 2021
Cementing these concerns
is a 'Jam Boy' character with a jar of jam toppled over the ape's head. As innocuous as it might look, it's likely a reference to unsubstantiated stories of natives who were made to stand at golf courses while being covered in jam to attract mosquitoes away from British or American colonizers who were playing golf. Urban Dictionary
says
that drawing bugs to themselves were their "sole purpose," and at the end of the day they'd get to wear the jam home to feast on with their families, though there are are
no valid historical records
to back this role.
If you're buying Lil Baby Ape Club (floor was > 0.5 ETH) you're gonna get rekt. It's really racist. There's an urban legend about black people being taken around on Southern golf courses with jam on their head to keep flies away from white golfers. Plus they have skinheads trait. pic.twitter.com/4Mnrm10uPm

— Beanie.eth (@beaniemaxi) November 16, 2021
"Being on the creator side,
I know full well that traits don't 'accidentally' make it through," NFT collector and creator Joe Payne shared in a statement published by
Input
. He added that ignorance was no excuse, as it nevertheless implied that the work was "a cash grab and not a thoughtful endeavor."
But the tone-deaf designs
are only one part of the problem. It turns out that this popular series is a wholesale copy of a 5,000-piece project that was due for launch four days later. The discovery was made by Canadian NFT collector
Roh
, who purchased three artworks from the copycat collection before unearthing the original.
According to Roh,
the Russian creators behind
the original Lil Baby Ape Club series
claimed ownership of the work in the plagiarizers' Discord channel, but their comment was deleted within seconds. Roh managed to click on a link shared by the creators, though, and learnt that they had secured an NFT contract first. "At that point, it was pretty clear that the art had basically been stolen," he wrote.
It seemed that
scammers had obtained all 5,000 avatars of the original
Lil Baby Ape Club
series and sold them ahead of the intended launch, coupling their own debut with a higher-profile campaign.
Unfortunately for the creators,
the stunt worked. Buyers have since traded almost US$19 million for the counterfeit NFTs, according to numbers recorded by
NFT Stats
. The copycat account is still
up and running
on the OpenSea marketplace.
[via
Input
, cover image via
OpenSea
]
Receive interesting stories like this one in your inbox
Also check out these recent news