Don't miss the latest stories
Share this
Infographic: 12 Graphic Design Trends To Help You Think Out Of The Box In 2022
By Mikelle Leow, 01 Dec 2021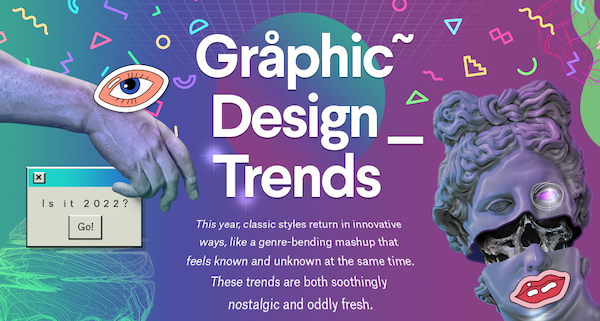 Image courtesy of 99designs and featured with permission
Having spent most of
the past two years with your eyes locked on your computer screen at home, it could feel like you've seen all that needs to be seen on the internet. However, creatives' imaginations are only starting to unravel. 2022 is a year for the dreamers—those who wish to tap into core memories, and forward-thinkers alike.
As predicted in
a stunning graphic design trends infographic by freelancer community
99designs
, 2022 offers little room to play it safe. Designers are becoming more confident in their personal eye for detail, putting faith in it over convention.
You can't change the past,
but design lets you take a hypothetical time machine to revisit
and
remix imagery that has defined other eras. Nostalgia is expected to once again permeate 2022, saturating it with the Memphis patterns and familiar internet frames of the 90s, while reintroducing the low-poly CGI and near-cyberpunk character of the noughties.
Interestingly, designers are
also borrowing elements of the traditional Japanese woodblock art technique of Ukiyo-e—a style most synonymous with Hokusai's
The Great Wave off Kanagawa
—to create scenes featuring bold outlines as well as flat colors and perspectives. You might not know this style as "Ukiyo-e flat design," as it is called by the folks at 99designs, but you'll probably recognize the look across modern vector artwork.
And, sure, legibility has
been an essential aspect to help people navigate this confusing world, but we've all been in this predicament for a while, and we now know there's room to get adventurous. You can thus expect to see more experimental and artistic typography that merges shapes with readable letters.
In the same vein,
"anti-design" is one trend anticipated to go big and bold in the coming year, given how homogenous the digital landscape has become of late. Everyday design might soon be disrupted with clashing colors, asymmetry, and maximalist art, and that's a good thing.
These visual experimentations
likely stem from a desire to reach the depths of the outside world again. As such, you might also find that whimsical "escapist" illustrations and dreamlike doodles are rising in popularity.
"There's a great deal
of comfort in turning back the clock and escaping to the past, but brands and creators are moving on from the tough social climate of the past two years by embracing a playful, experimental approach—breaking the mold by remixing old with new in unique ways," says Shayne Tilley, Head of Marketing at 99designs by Vista. To read the full trend report,
head here
.
Click to view enlarged version

Click to view enlarged version. Image courtesy of 99designs and featured with permission
[via
99designs
, featured with permission]
Receive interesting stories like this one in your inbox
Also check out these recent news