Don't miss the latest stories
Share this
UK Authorities Justify Amounts Spent To Protect Banksy Murals From Damage
By Mikelle Leow, 28 Dec 2021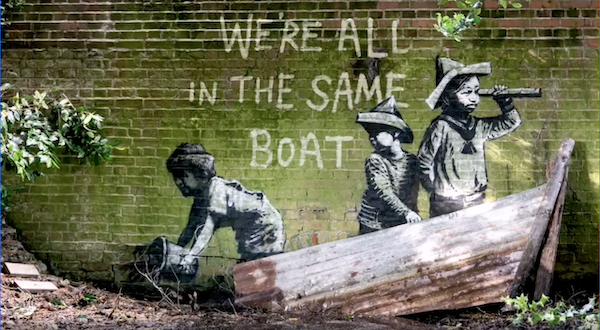 As history would have oftentimes proven, we can't have good things without them being ruined—so councils along the Norfolk and Suffolk coast in England have been compelled to set aside budgets to preserve a trail of murals that mysterious artist Banksy had left in the summer, when he set off on what he has called a "Great British Spraycation."
The BBC reports that the three local authorities—the East Suffolk Council, North Norfolk District Council, and Great Yarmouth Borough Council—have collectively spent more than £19,600 (US$26,300), with value-added tax, to tighten security around Banksy's artwork, as well as purchase protective sheets to keep them away from vandals.
The councils all agree that the spending is justified due to the joy that visitors derive from the artworks and the murals' potential in drawing tourists to the locations.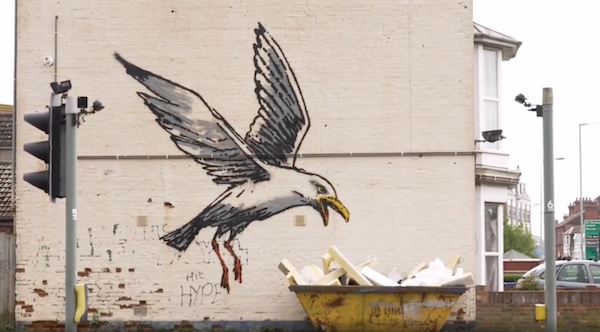 An East Suffolk representative, for one, says that "immediate action" was taken after the artist had claimed responsibility for new paintings in the area. It quickly ordered vehicle patrols, had polycarbonate sheets hung over the art, and assigned security at each location to be present during screening work. In total, it forked out £7,610 (US$10,220) on these efforts, which it says is a "relatively small level of investment" when you think of the "interest generated" and "welcome benefit."
Unfortunately, the council wasn't able to keep all artworks in the district safe, including a mural of a child making a sandcastle by a Lowestoft building, whose landlord had ripped off in November to put up for auction. Another defaced piece of a rat lounging in a deckchair is due for restoration under the authority.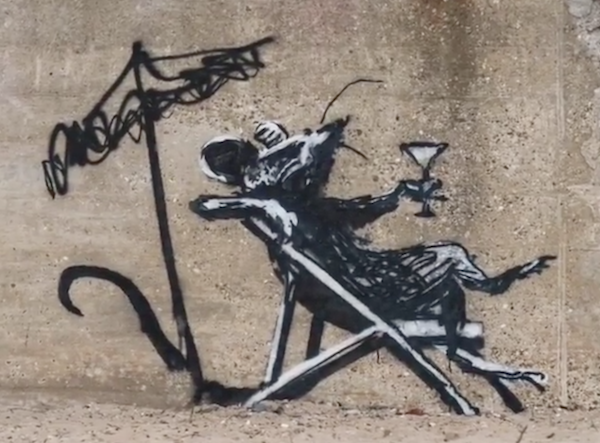 In the North Norfolk district, where a fun work of hermit crabs can be seen on a sea wall, authorities say they have dedicated £720.71 (US$968) to safeguard the mural with clear sealant paint, in addition to covering it from high tides at least twice a day.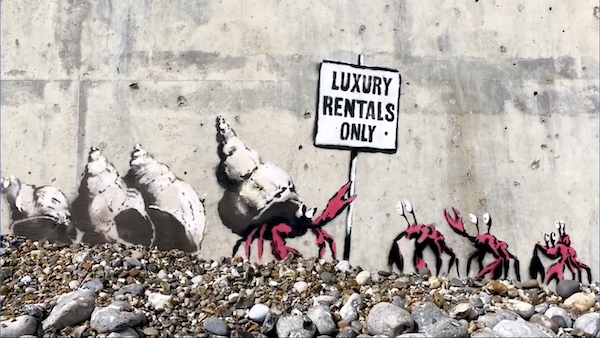 The council in North Norfolk alludes this financial contribution to "a work of substantial cultural significance by a world-famous artist," as quoted by the BBC, adding that visitors' reactions to the piece "more than justify the cost of the works undertook to protect it from the elements." It acknowledges, though, that the painting would inevitably be washed away by the rain and sea.
As for three paintings found in the jurisdiction of the Great Yarmouth Borough Council, a spokesperson has said that £8,385.49 (US$11,268) has been spent to deploy surveillance cameras, enlist security patrols, and put up protective screens to preserve the artworks, which include a mural of a giant arcade claw grab and another of dancers and an accordion player.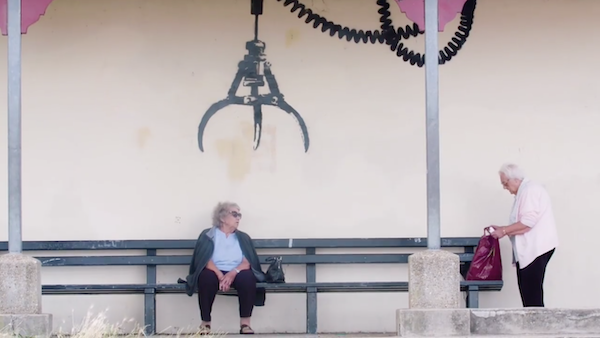 The third piece, which features two children in a flyaway inflatable, will be relocated with the help of conservation specialists over "local sensitivities." As per the BBC, a child died near the painting in 2018.
A representative of the Great Yarmouth Borough Council details that "Banksy is always welcome" to the area. "The council worked quickly to put in place protection for the artworks and make sure people could visit them safely, and they provided lots of joy to residents and brought in hundreds of visitors."
Receive interesting stories like this one in your inbox
Also check out these recent news