Don't miss the latest stories
Share this
Rats Trained To Play 'DOOM' In A Pseudo-VR Setup, Shooting Monsters By Standing
By Ell Ko, 05 Jan 2022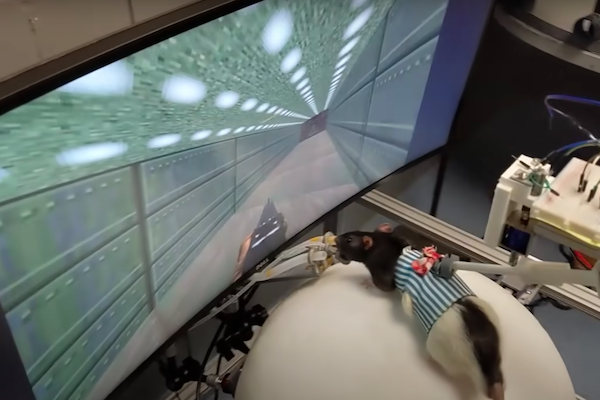 We've heard of hacking and modding games. But we don't hear, so often, about hacking and modding the players. Perhaps even less so, we don't hear about the players being rats.

A personal side project by neuroengineer Viktor Tóth saw three rats being trained to play the video game DOOM via a sort-of-VR setup consisting of a large curved monitor, a small harness, and a rubber-coated polystyrene ball hooked up to ball bearings and motion sensors.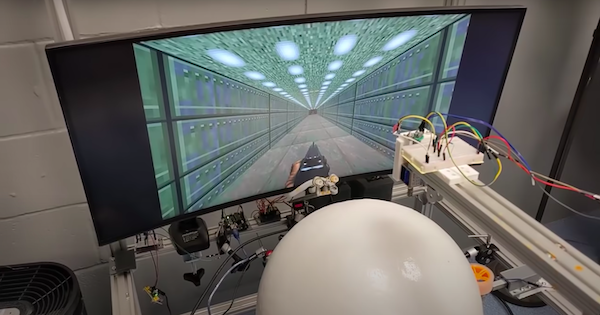 This allowed them to traverse a mini-level he built in DOOM Builder 2, which comprises a corridor, an exit door, and an exit button. After the rats learned to walk, a "paralyzed, docile" imp monster was added around a third of the way into the corridor.

When placed in the harness, the rat's movements atop the large ball can be tracked in-game, translating to movements in the DOOM environment.
According to a blog post written by Tóth on Medium, some custom parts of the setup had to be designed in Blender before being printed and attached. "Dozens of versions were tested to arrive at the final rig," he writes.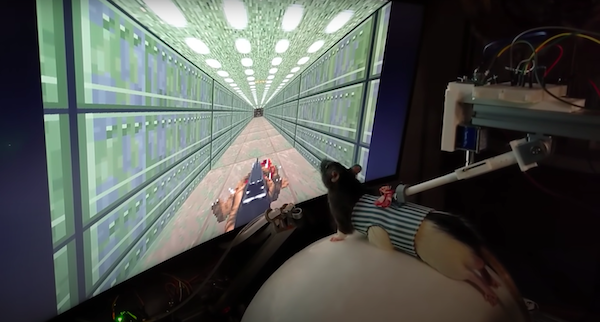 Training the trio of rodent gamers to use what essentially looked like a huge scroll wheel with a rat gallivanting on top of it was a relatively straightforward task, with the help of powered drive wheels to give the ball a little encouraging nudge when the rat was stuck, to keep the ball rolling. Literally.

Of course, the sugar water as a reward must also have done the trick.

Using this method, the rats were able to walk down a straight hallway in-game. To shoot the monsters, Hackaday reports, a separate sensor detected when the rat reared up on its hind legs and would associate that with firing a shot.

This training was carried out by a solenoid push-pull actuator, Tóth explains, which taught it to rear. With a successful shot, the rat, again, gets more sugary water.

So yes, rats can play DOOM, perhaps even better than some of us uninitiated to the game.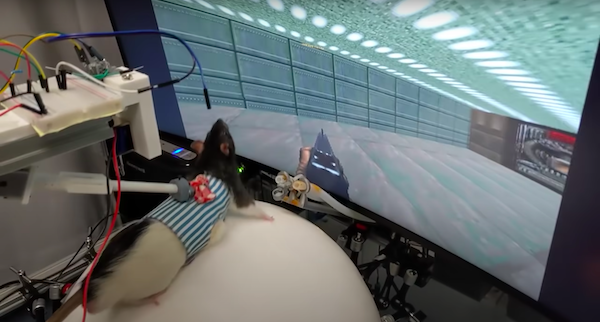 Interestingly, Kotaku also notes that the rat trio—Romero, Carmack, and Tom—are named after some of the main developers behind the original DOOM title.

"Romero was fearless (more like thrill-seeking) and loved grapes," writes Tóth. "Carmack was a real architect building around its home keeping it tidy; he was fond of bananas. Tom began shy, but held the most surprises in learning performance."

For a more detailed account of Tóth's process and the project's nuances, his Medium article is linked here. There are also some videos on his YouTube channel documenting the journey.
[via Hackaday and Kotaku, images via Viktor Tóth and featured with permission]
Receive interesting stories like this one in your inbox
Also check out these recent news