Don't miss the latest stories
Share this
'Illegal' 1980s Games From Behind The Iron Curtain Are Now Playable Online, Free
By Ell Ko, 10 Jan 2022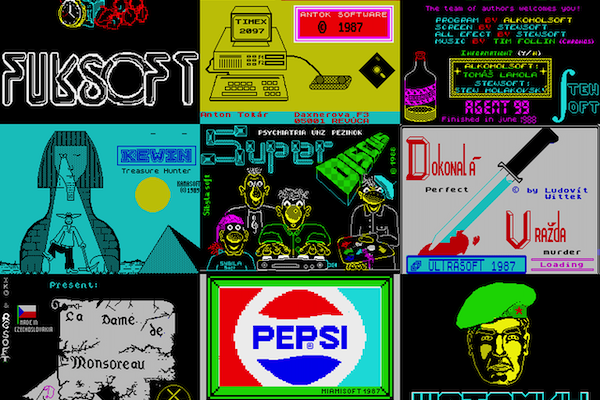 Some of the most iconic, well-loved video game titles were created in the 1980s. Arcade games were a dynamic scene, with names like Pac Man and Tetris finding the beginnings of their staunch reputation in the early 80s and the first Super Mario Bros coming about in 1985.

However, this moment in culture is largely focused on the West and Japan. That's not to say that it didn't exist elsewhere, though. Across the world in the USSR, where Western imports were barred, game designers were creating their own iterations of video games.

Some of these games have withstood the test of time. The Slovak Game Developers Association, in collaboration with the Slovak Design Museum, recently remastered some of these titles, formerly restricted to the speakers of the languages they were created in, making them playable in English.

This collection of 10 titles came from Czechoslovakia under the Communist rule, and include intriguing names such as 'Perfect Murder' and 'Pepsi'.
There's also one called Šatochin, pointed out by Vice, where a Soviet military officer hunts down Rambo who, unfortunately, meets his demise.

A lot of these games are text-based adventures, as the creation of the games was largely limited by the computing power. Plus, a lot of them were made by teenagers with next to no experience in developing complex games.

While they can be played in your browser, there's also the option to download them as .TAP files to be used in emulators like Speccy or ZX Spectrum 4.

Stanislav Hrda, one of the creators of Šatochin, explains in a blog post that creating these games was something only the youth did, and they were distributed on sort of an underground network, hidden from the authorities.

"The mention of Rambo was unimaginable in the official media, newspapers, or books under the control of censorship," Hrda explains further. "But for the aging gerontocracy of the communist kleptocracy, the field of video games and the subgenre of home-made text adventure games were under the radar."

"The games circulated freely, mainly among friends, without restriction or censorship, as with inconvenient books by inconvenient authors."

Apart from the 10 available titles, there are more plans in place for other video games to be translated in the same way for a glimpse into life behind the Iron Curtain during the time of the Cold War.

"The vast majority of our games from this period were created in the Slovak language," Maroš Brojo, multimedia curator at the Slovak Design Museum, details.

"Information-laden text adventure games, which often touched on various socio-cultural phenomena in our territory or even reflected on the previous regime, can thus only be described by researchers from the indirect narratives of the Slovaks who played them."

"Translations of these games would allow a wider professional and academic public worldwide direct contact with our gaming history and would bring greater visibility for it worldwide."
[via Input and Vice, image via the Slovak Design Museum]
Receive interesting stories like this one in your inbox
Also check out these recent news