Don't miss the latest stories
Share this
Milan's Food Hubs Creatively Form 'Supermarkets' Out Of Donated Food Waste
By Ell Ko, 14 Jan 2022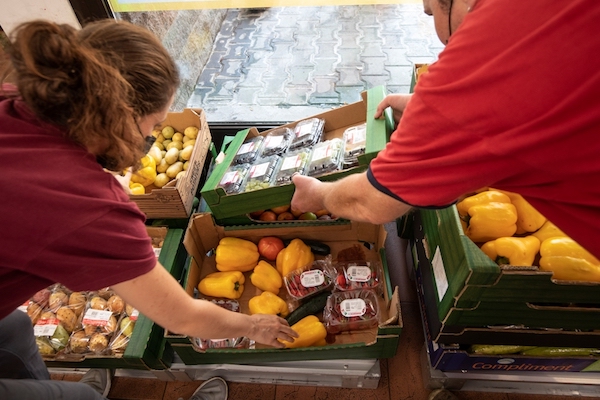 Milan, Italy, has introduced a new method of tackling a problem that affects many parts of the world: food waste.

The three "hubs" sprinkled across the city may be able to pass off as any other supermarket at first glance, but they operate in a totally different way.

Produce that fills the shelves has been donated by businesses, including supermarket chains, in a bid to stop excess food going to waste when it's still perfectly edible. There are also items donated from purchased food aid.

Customers who shop there don't need to pay on the spot, either—it all comes from a prepaid card supplied by the program, per GOOD.

It has also been reported that each of the three hubs saves up to 130 metric tons of food every year, which is equivalent to almost 260,000 meals or around 30% of the city's total food waste.

It's not just physical nourishment these hubs provide, either: Services such as legal aid, counseling, and childcare support are also available at the Gallaratese Hub, one of the three in the city.

These hubs are owned by the municipality of Milan as well as NGO Terre des Hommes Italy, and come in part due to the Food Policy introduced in the city in 2015. Reasons to be Cheerful details that this was created with the aim to create a "more sustainable food system."

Alongside the Food Policy, the following year saw the Zero Waste memorandum announced in a bid to halve food waste by 2030 by redistributing excess food, especially to those in need.

Anna Scavuzzo, vice mayor of Milan and lead for the food policy, tells the publication that a focus on the "hyperlocal" has also been an important part in the policy.
This means that excess food collected in one neighborhood should be redistributed within the same area, which reduces carbon emissions for transport and gets the food to others while it's still fresh.

"The model of food banks was not efficient enough to collect the food waste from all the retailers," she states. "The idea was to localize the network, to make it work in a fast way."

Three hubs are currently in existence, with a further pair scheduled to open in different neighborhoods within the next few months.

In October 2021, the program won the first Earthshot Prize, an environmentally-focused initiative set up by Prince William of Britain, with prize money totalling £1 million (US$1.37 million) to support the model's development.

"Each city around the world could apply this model," says Andrea Segrè, scientific director of the Waste Watcher International Observatory. "You need some competence, some knowledge, and willing actors. But you can copy it easily."
[via GOOD and Reasons to be Cheerful, image via Comune di Milano]
Receive interesting stories like this one in your inbox
Also check out these recent news