Don't miss the latest stories
Share this
Crypto Group Spent $3M On 'Dune' Book, Mistaking It For Rights To The Series
By Alexa Heah, 18 Jan 2022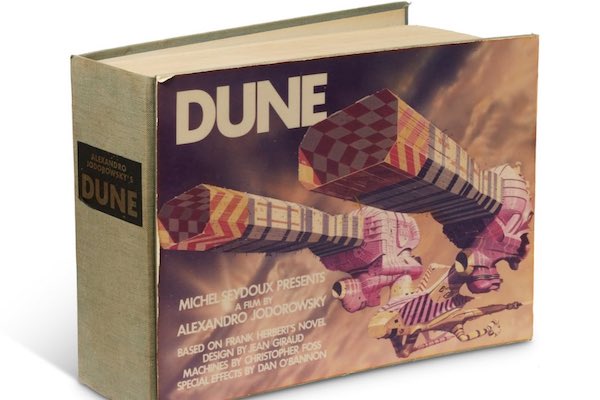 Last year, when a rare copy of a pitch book that director Alejandro Jodorowsky developed for his adaption of the Dune series headed to auction, experts expected it to sell for between US$30,000 and US$40,000. In a stunning surprise, the book ended up going for over US$3 million.

The copy was bought by a cryptocurrency group, TheSpiceDAO, for the staggering price, despite parts of the book already being made available online for free and featured in a documentary about the movie-making process.

However, with this purchase, TheSpiceDao mistakenly assumed it owned the rights to Dune as a whole. The group announced its intentions to make the book public by digitizing the copy, turn its storyboards into a new animated series, and tap digital artists for projects based on the work.

As per The Art Newspaper, the buyer said it would "issue a collection of NFTs that are technically innovative and culturally disruptive," after which the book would be burned in an "incredible marketing stunt which could be recorded on video."

There was just one problem: owning a copy of Jodorowsky's Dune pitch book is vastly different from owning the rights to the franchise itself. Ultimately, the director's take was still an adaptation of the original novel by Frank Herbert, of which the collective has no rights to.

In defense of its position, the group said: "While we do not own the IP to Frank Herbert's masterpiece, we are uniquely positioned with the opportunity to create our own addition to the genre as an homage to the giants who came before us."

It's not quite clear what it means, though Gizmodo posited that anything derived from the auctioned work couldn't overtly be seen as a reference to Herbert's or Jodorowsky's work, especially when the film was created by the powerful Warner Bros studio.

Could the US$3 million bid have been an overly-ambitious mistake? Or did the collective really believe it would own the rights to producing content from the franchise just because it owned the director's pitch book? We'll never know.
[via The Art Newspaper and Gizmodo, cover image via TheSpiceDAO]
Receive interesting stories like this one in your inbox
Also check out these recent news