Don't miss the latest stories
Share this
'iBeer' iPhone App Designer Raked In $20K Per Day During Its Prime
By Mikelle Leow, 26 Jan 2022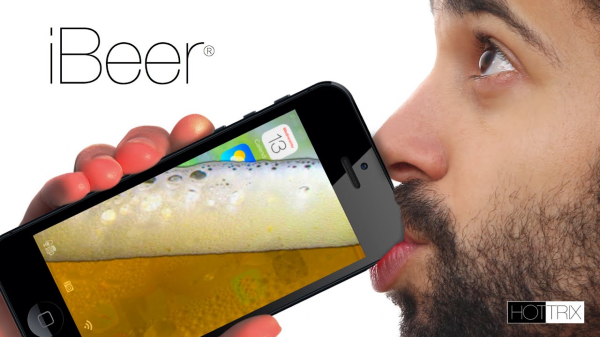 To perform this party trick, you'd need an iPhone.

While apps are all about productivity and convenience these days, in 2008, they offered something a little different. Back when the Apple smartphone market was still in its infancy, users fawned over 'iBeer', an app that turned their devices into interactive, virtual pints.

People loved the novelty of this quirky yet simple game, so much so that they spilled US$2.99 to chug down fake beers. It was a cool way to show off Apple's all-encompassing phone, which included an accelerometer and vibrant picture quality.
Now, in an interview with Mel Magazine, iBeer's creator reveals more about the app that got early iPhone adopters intoxicated.

iBeer's beginnings preceded the App Store, according to its maker Steve Sheraton, a magician. It started out as 'E-spresso', a simple video that made the Palm Pilot look like a black-and-white cup of coffee being downed. Since the gadget didn't have an accelerometer to detect the degree in which it was being tilted, users would have to time this trick right.

iBeer for iPhones only trickle in 10 years later, but it was still in video form. A "dead-broke" Sheraton first took to YouTube to serve up this simulation to the masses, and millions of views later—as audiences had proven to be thirsty for the stunt—he brought it to the iTunes Store as a clip that people could download for US$2.99.

"I probably made around US$2,000 a day for the longest time from that," he told Mel Magazine.

It was around this time when Apple began scouting for developers to create programs compatible with the iPhone. Folks at the Cupertino company came across the iBeer videos and persuaded Sheraton to make the drinking motion interactive using the device's in-built accelerometer. You could now "move your phone in any direction and it looks like it's filled with liquid," Sheraton recalls.

The App Store finally launched in 2008 with the US$2.99 iBeer app in tow, which "shot to first place on the very first day and stayed there for about a year." At its prime, the app's popularity brought in "US$10,000 to US$20,000 a day." You could buy many real pints with that amount of money, and perhaps too many.

"That lifestyle—coupled with all the publicity and stress that comes with it—is an avalanche that can destroy people," recounts the app's creator. Sheraton left the app behind with the company he started, HotTrix, which is still running iBeer today.

"As a magician, I liked creating and inventing the act, but repeatedly performing it just kinda killed me," says Sheraton. "The app was similar—creating it and bringing it to the top was great fun, but then I had to move on and do something else."

The iBeer maker now resides on a farm in Spain, but his affinity with apps hasn't vanished into thin air. He now develops programs for the "niche market" of fellow magicians.
[via AppleInsider and Screen Rant, cover image via Hottrix]
Receive interesting stories like this one in your inbox
Also check out these recent news