Don't miss the latest stories
Share this
Beijing 2022 Is The First Winter Olympics To Use Nearly 100% Artificial Snow
By Mikelle Leow, 03 Feb 2022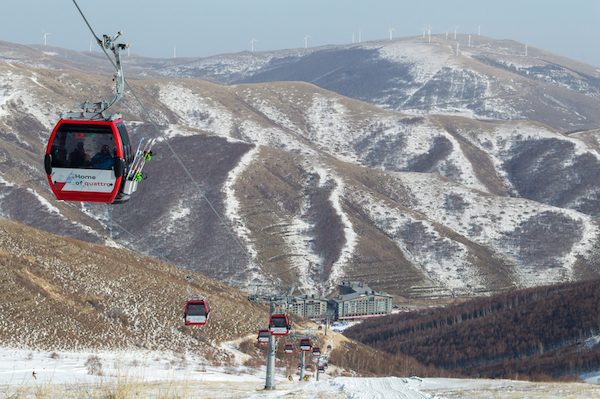 Nature's melting ice caps aren't the only ones that have a scarcity problem with frozen waters. A softer impact, although still very much concerning, has been made on the Winter Olympics too. The Games have been relying on fake snow for a while to support winter sports, but no event has come close to Beijing 2022, whose snow is almost completely manmade.
The event—which will run from February 4 through 20—will "make history as the first Winters on virtually 100% artificial snow," notes a compelling report by the Loughborough University in London. This trend could continue as temperatures rise.

1.2 million cubic meters (42.4 million cubic feet) of powder have been generated to cover gray landscapes and slopes in Zhangjiakou, the prefecture-city that will hold most of the winter sporting events. Bloomberg estimates that that's enough artificial snow material to fill 800 Olympic-sized swimming pools.
This magical mountainscape in Zhangjiakou is calling out for some winter fun as it readies itself for #Beijing2022. #InternationalMountainDay

📸: 密苑平顶乐园 pic.twitter.com/qeUenokwFa

— Beijing 2022 (@Beijing2022) December 11, 2020
According to the news outlet, about a dozen canons were involved in the blasting of manufactured snow powder onto Zhangjiakou's mountains, a process that repeated for hours until the area was coated in white. Water droplets were spritzed into the surroundings to help convert the material into ice.
Benefits of using fake snow—essentially frozen slush—include the potential to build more ski slopes in areas where natural snowfall isn't as abundant, as well as the ability to produce more consistent skiing areas, since the ice is more firmly packed than snow.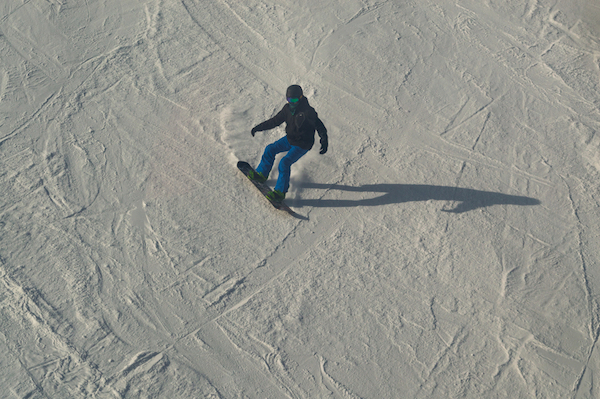 However, athletes have complained that the impact from accidents can be worse with artificial snow. It's "icier, [and] therefore faster and more dangerous," Estonian biathlete Johanna Taliharm related with the Associated Press (via CNET) last month. Taliharm added that falling outside the icy turf can also be more painful, as there is "no fluffy snowbank" to cushion the fall.

But perhaps the greatest expense comes to Zhangjiakou's own climate, as its extremely arid conditions make it difficult to generate artificial snow. The prefecture's water scarcity is regarded as among the worst in China, so, for lack of a better word, it does have to create "snow" out of thin air. "There is nearly no water in the winter," Carmen de Jong, a geographer at the University of Strasbourg, tells Bloomberg. Water has to be pumped into dry soil to freeze it before artificial snow can even be layered above.
On a broader scale, producing fake snow requires a great amount of energy and water, "even if powered by renewables," caution Loughborough University researchers.
Acknowledging these strains, China is nonetheless shoveling through to turn the unexpected Zhangjiakou into a skiing wonderland and rescue the area from poverty, and its close proximity to Beijing makes this approach almost too tempting not to execute. A six-year campaign to pitch China as a venue for the Winter Olympics has seen the construction of seven ski resorts in the prefecture-city, which have since been visited by three million skiers yearly.
A Beijing 2022 spokesperson told the Xinhua News Agency that the event would acquire 10% of the water for its artificial snow from Chongli, a district of Zhangjiakou. Much of the water, though, would be obtained from 11 water tanks that China has installed to collect up to 530,000 cubic meters of surface runoff, rain, and melted snow.

The International Olympic Committee has long been skeptical of China's capabilities of making fake snow. In 2015, it wrote in an assessment that Beijing "underestimated the amount of water that would be needed for snowmaking" and "overestimated the ability to recapture water used for snowmaking."
Receive interesting stories like this one in your inbox
Also check out these recent news