Don't miss the latest stories
Share this
NASA Announces Plan To Launch Rocket From Another Planet In World First
By Alexa Heah, 09 Feb 2022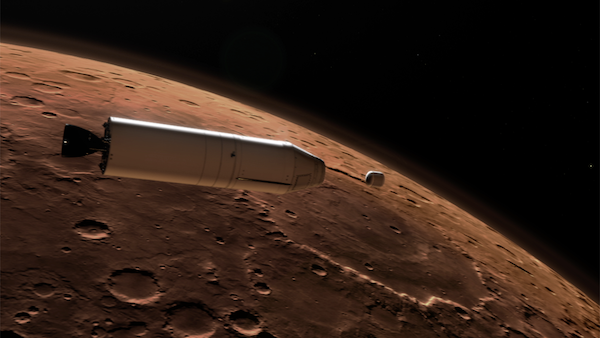 NASA's Mars Sample Return program could be its most ambitious mission yet.

The agency announced forthcoming plans to launch samples from the surface of the red planet using a rocket—which would be the first launch to ever take place on another planet.

According to SlashGear, the Perseverance rover, which is currently on Mars, will collect samples as part of its mission before sealing them in a tube.
Instead of bringing it back to Earth, the tubes will remain on the planet till a future rover collects and transports them to a launch site.

There, the samples will be loaded onto an ascent vehicle that will be launched into orbit via a rocket, before a spacecraft collects the loot and brings it back down to Earth.
To take some of the weight off its shoulders in this lofty undertaking, NASA has employed private companies, such as Lockheed Martin, to aid with the mission.
The firm was recently awarded a contract to build the Mars Ascent Vehicle (MAV) that will carry the samples into orbit.

UPI reported that NASA's current design will see the rocket approximately 10 foot tall, 1.5 feet in diameter, and weighing less than 1,000 pounds.
It intends to perform a trial run with a prototype of the MAV here on Earth before sending it to Mars.
The construction of the MAV will no doubt be a challenge, with it needing to withstand the red planet's harsh conditions, including freezing temperatures, dust storms, and minimal oxygen in the atmosphere.

Additionally, the MAV will have to be small enough to fit into the Sample Retrieval Lander carrying it to Mars. NASA plans for the lander to be launched in 2026.

"This groundbreaking endeavor is destined to inspire the world when the first robotic round-trip mission retrieves a sample from another planet—a significant step that will ultimately help send astronauts to Mars," said NASA Administrator, Bill Nelson.

"America's investment in our Mars Sample Return program will fulfill a top priority planetary science goal and demonstrate our commitment to global partnerships, ensuring NASA remains a leader in exploration and discovery," he added.
[via SlashGear and UPI, cover image via NASA/JPL-Caltech]
Receive interesting stories like this one in your inbox
Also check out these recent news