Don't miss the latest stories
Share this
MyHeritage Transforms Ancestors' Photos Into Full Films—With Voice—Using AI
By Mikelle Leow, 04 Mar 2022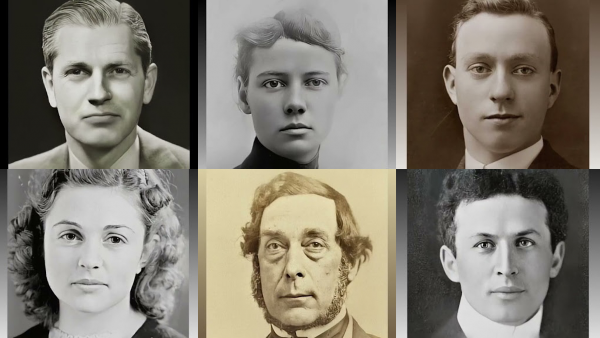 Images courtesy of MyHeritage

With just photos to hold on to, it's easy to forget that great relatives had led full lives. This is where the past meets the future; with artificial intelligence, long-gone loved ones—the people who labored to give their direct descendants and future generations a better life—can tell their story.

Over the recent years, online genealogy platform MyHeritage has been developing AI tools to help people reconnect with their ancestors. Its latest technology is LiveStory, a program that turns old-timey portraits into full-fledged animated biographies, complete with audio.

"LiveStory will automatically produce an animated video of a user's ancestor telling their life story, weaving together photos and details of their life into a narrative that is told by a speaking portrait of the person," a spokesperson tells DesignTAXI. The technology was developed by D-ID, a startup focused on making video reenactments through deep learning.

The feature is an extension of the popular Deep Nostalgia, MyHeritage's app that depicts late ancestors' faces to be preparing for their portraits, a style reminiscent of the moving portraits in Harry Potter.

The latest advancement takes several steps forward and gives deceased loved ones a voice. Here, late relatives can be seen narrating their own life stories, telling the descendant who they grew up with and what life was like.
Mini-films are generated from the user's family tree on MyHeritage, or by a manual upload of portraits.
Then, text-to-speech conversion gives the video a narration, and reenactment technology moves the figure's facial features such that the given script is lip-synced to convincing effect.
Users can then download the results and share them online so surviving loved ones can travel back in time and meet these interesting characters themselves.

LiveStory can create video biographies in 31 languages, plus dialects. Photos, the narrative, and the voice can all also be fully customized. To prevent malicious deepfakes, MyHeritage will only allow photos of dead relatives, or if the subject is still alive, consent from that person.

"LiveStory takes storytelling to the next level… Our use of AI to breathe new life into historical photos is unique and is helping millions of people cultivate a renewed emotional connection with their ancestors and deceased loved ones," says MyHeritage's founder and CEO Gilad Japhet. "Genealogy is all about telling and preserving our family stories. We keep showing the world how fun and compelling genealogy can be."
[via MyHeritage, TechRadar, TechCrunch, cover image courtesy of MyHeritage]
Receive interesting stories like this one in your inbox
Also check out these recent news