Don't miss the latest stories
Share this
Oldest Vampire Squid Ancestor With 10 Arms Is Named After Joe Biden
By Mikelle Leow, 11 Mar 2022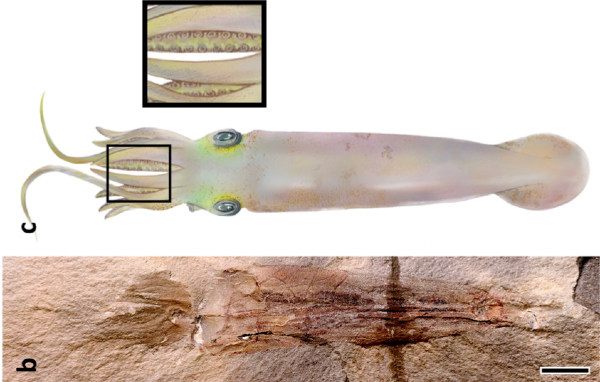 Image via Christopher Whalen / Nature Communications (CC BY 4.0)
An ancient cephalopod, the first to be discovered with 10 limbs, has been named after US president Joe Biden. Meet Syllipsimopodi bideni.

The fossil is the oldest-known vampyropod (whose family includes octopuses and vampire squids), having existed around 328 million years back. It had 10 arms with suckers along the limbs, suggesting to scientists that ancestors of cephalopods, at one point, used to have 10 limbs instead of eight arms with two tentacles.

"This is the first and only known vampyropod to possess 10 functional appendages," shared Christopher Whalen, a paleontologist at the American Museum of Natural History in New York. "So this fossil is arguably the first confirmation of the idea that all cephalopods ancestrally possessed 10 arms."
Here's an artistic reconstruction of the newly described 328-million-year-old vampyropod. [🎨: © Katie Whalen] pic.twitter.com/8S5pwfke1E

— American Museum of Natural History (@AMNH) March 8, 2022

S. bideni got its name from the 46th president not because scientists think he's an old fossil, but because of POTUS' efforts in saving the climate and backing scientific research, Whalen told the New York Times.

Although the soft-bodied creature only just received its memorable moniker, it was unearthed in Montana and donated to the Royal Ontario Museum in Canada in 1988. The fossil was only recently studied by scientists at the American Museum of Natural History in New York City and Yale University's Department of Earth and Planetary Sciences, and its anatomy was just chronicled in the Nature Communications journal.
The team considers this an "exceptionally well-preserved" find, since it would take special conditions to retain soft tissue for this long.

S. bideni isn't the only presidential creature that has existed in the wild. Previously, a moth with a seemingly blond head had been named Neopalpa donaldtrumpi.
Introducing the adorable Syllipsimopodi bideni (Biden's prehensile foot), a newly described 324-million-year-old cephalopod. It is thought to be a stem vampyropod, which means it is a very ancient ancestor to the octopus! A small thread on why this a cool fossil: pic.twitter.com/qTSPaO7GWK

— Dr Thomas Clements (@Thomas_Clements) March 8, 2022
… but this fossil has some really beautiful soft tissues which you can see in this picture. Fossil cephalopod soft tissues are rare – but fossil cephalopods with preserved arms are even rarer, they just don't seem to turn into fossils well, so this fossil is doubly awesome. pic.twitter.com/xk2kdyfjOH

— Dr Thomas Clements (@Thomas_Clements) March 8, 2022
[via Smithsonian Magazine and UPI, images via various sources]
Receive interesting stories like this one in your inbox
Also check out these recent news