Don't miss the latest stories
Share this
Swatch x Omega 'MoonSwatch' Draws Lunar-tic Lines Worldwide, Then Stains Wrists
By Mikelle Leow, 29 Mar 2022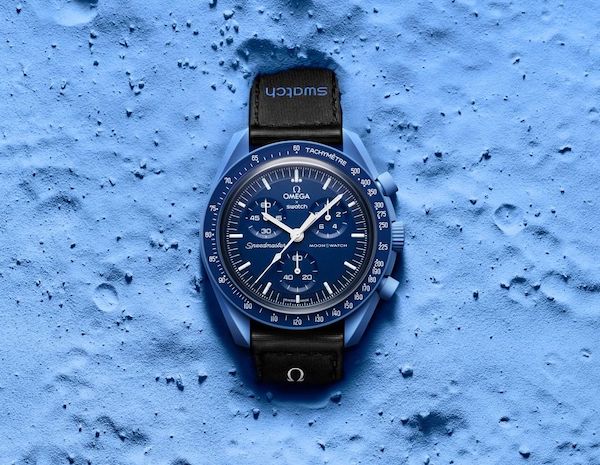 Image via Swatch
It's no Rolex, but the new collaborative timepiece between Swatch and Omega has its charm—the sort that attracts unearthly lines.

In the hours ahead of the MoonSwatch's debut on Saturday, 26 March, collectors from the US, UK, Australia, Dubai, Hong Kong, Japan, the Netherlands, and more swarmed outside stores to get their hands on the coveted collection.
Massive line here in Tokyo!#moonswatch #omegaxswatch pic.twitter.com/r3QXD2tZmf

— latteboy (@latteboy5) March 25, 2022
The line at Chadstone for the Swatch X omega Moonswatch 😂😂😂 easily 500m long and apparently only 150 watches stocked pic.twitter.com/Tg6pHn4iNa

— Sam Mackintosh (@SMackintosh) March 25, 2022
When customers learned there weren't enough watches to go around on launch day, they clamored. In Singapore, one man probed law enforcers who were manning the uncontrollable crowd to shoot him out of exasperation for waiting too long. And scalpers everywhere are marking up prices at tens of thousands of dollars.
People are loving this 11-piece series to the moon and back as it's a modern-day, bioceramic interpretation of Omega's luxurious Speedmaster Moonwatch.
The timepieces take inspiration from planetary bodies beyond the lunar object, and their comparably affordable price of US$260—in contrast with the thousands of dollars warranted from the traditional Moonwatch—have helped drive up demand.

However, those who already own a MoonSwatch are being brought back to Earth as they realize it might not be as premium as the Omega name has led them to believe.
In particular, the Neptune-themed variant is leaving a stain on the wrists of some wearers who live in more humid climates.

Images via Swatch
One customer from Hong Kong, Jeffrey So, attended a party where temperatures got so hot there was perspiration under his new watch. Later, he found that his skin had turned blue.
The customer also lamented that the watch's quality was cheap even for an affordable US$260 timepiece. It certainly felt too light to be premium, he said.

"You're really just paying for branding," warned the customer. "Do I expect a high-end quality watch from this purchase? No. I expected the quality of a $260 quartz watch. This is not it."
Other features that didn't meet the mark, according to him, were the "garbage" Velcro straps, and the crystal glass face, which he said already came scratched when he was taking the watch out of the box.

So's experience with the space-themed Swatch has been echoed by other users on social media, including collectors on Reddit.
[Moonswatch] Has this happened to anyone? ? I don't know if t's fake, it's hard to believe that something like this would happen to a brand as big as Swatch from Watches
To put the apparent design flaw to the test, YouTuber Random Rob dipped a Q-tip into some water and swabbed it around the watch.

The transference of pigment, it seems, comes from the underside.
To be clear, the watches aren't limited edition, and fans are advised not to rush in to nab a piece.

"There will be watches available in the selected Swatch Stores in the coming weeks as it is not a limited edition," Swatch reminds in an announcement posted on its website. Purchase limits have been restricted to one watch per person for the time being.
Who knows? The staining issue might be fixed by the time you eventually get your watch.
[via Yahoo Finance, WatchPro, Mothership, images via Swatch]
Receive interesting stories like this one in your inbox
Also check out these recent news