Don't miss the latest stories
Share this
COVID Test Concept Imagines The World's First 100% Recyclable, Biodegradable Kit
By Mikelle Leow, 09 May 2022
Image courtesy of Morrama, featured with permission
The world had been making strides on the eco-friendly front. Then, COVID-19 hit and everything spiraled, forcing developers to shove environmental concerns aside in favor of curbing the respiratory disease and saving more lives.

Home self-testing kits have been essential to keeping the pandemic under control, but they add to the plastic pollution problem. And they're not the only culprits: "Plastic has been at the front line of the pandemic—face masks, lateral flow tests, and sanitizer bottles," notes Jo Barnard, founder and creative director of London product design studio Morrama.

Now that designers and developers can afford to slow down, the studio is encouraging a rethink of their practices to bring healing to the other affliction. Morrama's designers have visualized a concept kit called 'ECO-FLO', a version made from recycled materials that minimizes single-plastic use while proposing a user-friendly, non-invasive approach for COVID-19 testing.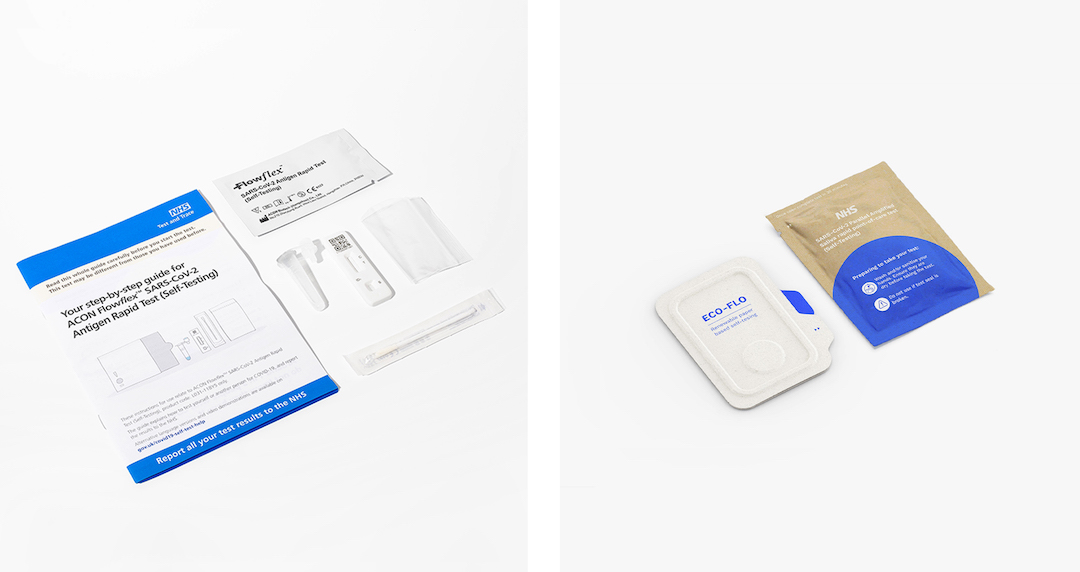 A regular lateral-flow test (left) VS Morrama's streamlined 'ECO-FLO' (right). Image courtesy of Morrama
This design can also break down into the soil in four to six weeks, paving way for the world's first fully recyclable and biodegradable COVID-19 test, says the studio.

Taking the non-invasive route already cuts out the wasteful nasal swabs found in the common lateral-flow and PCR tests. 'ECO-FLO' is based on developments in a saliva test called the Parallel Amplified Saliva rapid POint-of-caRe Test (PASPORT) method, which doesn't need a buffer solution. Plus, it makes a friendlier option for children or people with disabilities who may struggle with nasal swabs.
With some of the materials out of the picture, the at-home kit can be streamlined into four components—a test kit, test strip, absorbent pad, and sachet—which not only simplifies production but also cuts out unnecessary plastic packaging, like the wrappers for the test, swab, and tubes.

The project additionally proposes removing the instruction leaflet by printing the steps directly onto the test, and moving additional information into a site accessible by a QR code.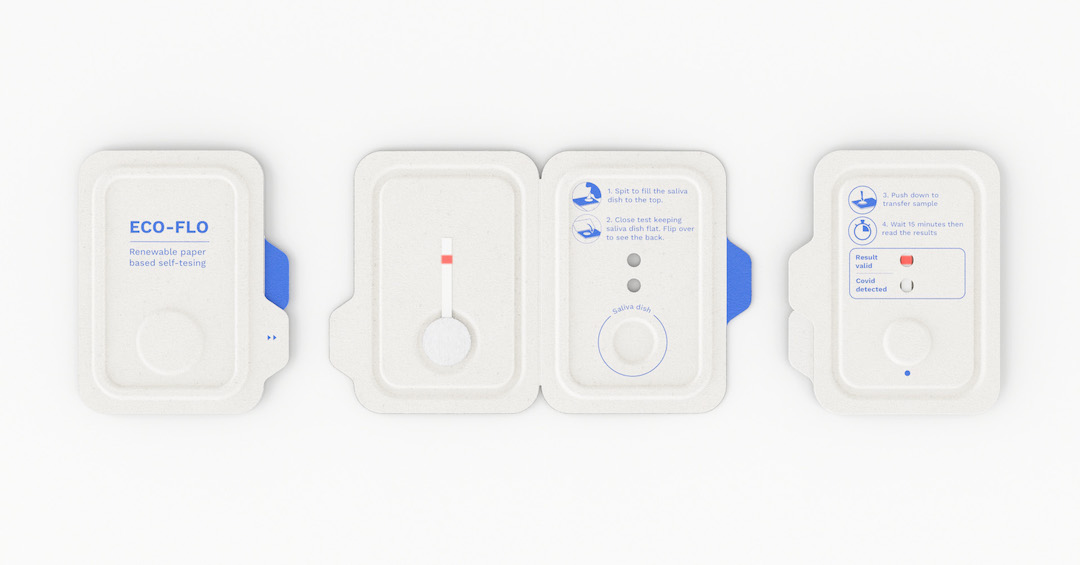 Image courtesy of Morrama, featured with permission

'ECO-FLO' also includes a few smart tweaks for user experience, such as a push button that, when pressed, counts down to when the results are ready. And the displays of the confusing scientific notations of 'S' (for Sample), 'T' (for Test), and 'C' (for Control) are distilled into a checkbox-like format.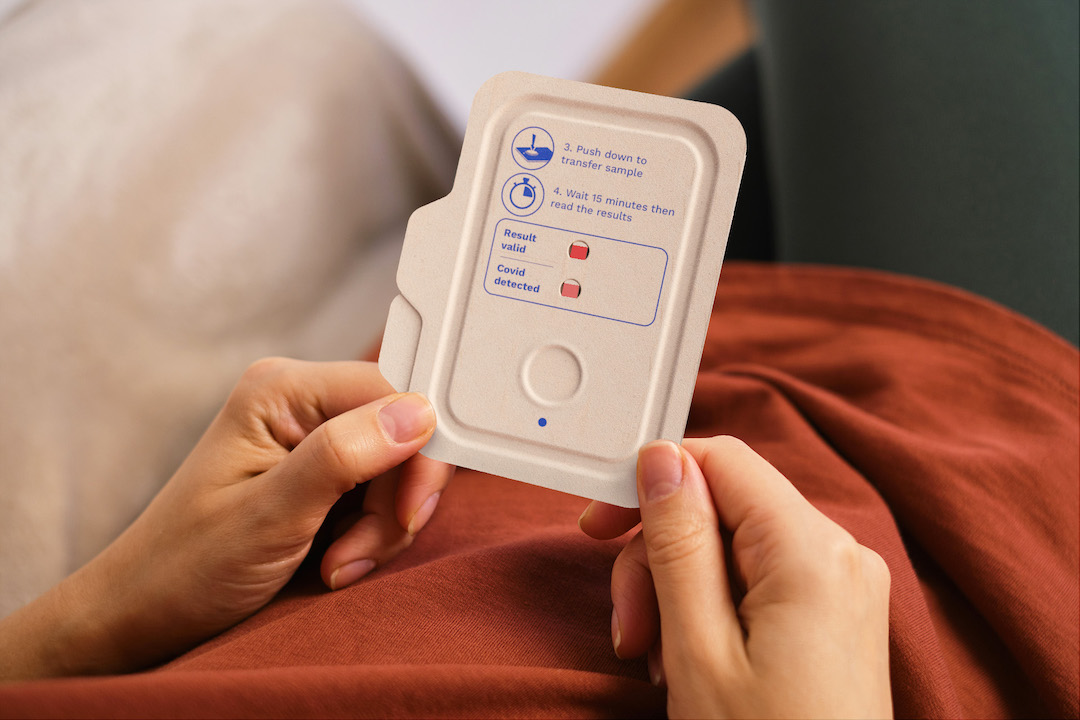 Image courtesy of Morrama, featured with permission

For its packaging, Morrama envisions recyclable paper pulp instead of plastic and a biodegradable film for the sachet that lets it break down by the sixth week.

"Existing lateral flow tests were a reaction to the threat of the pandemic and were rolled at-speed to enable at-home testing," says Andy Trewin Hutt, Associate Director at Morrama. "As a result, there were almost no considerations about the ease of use and the impact on the environment in either the production or disposal process."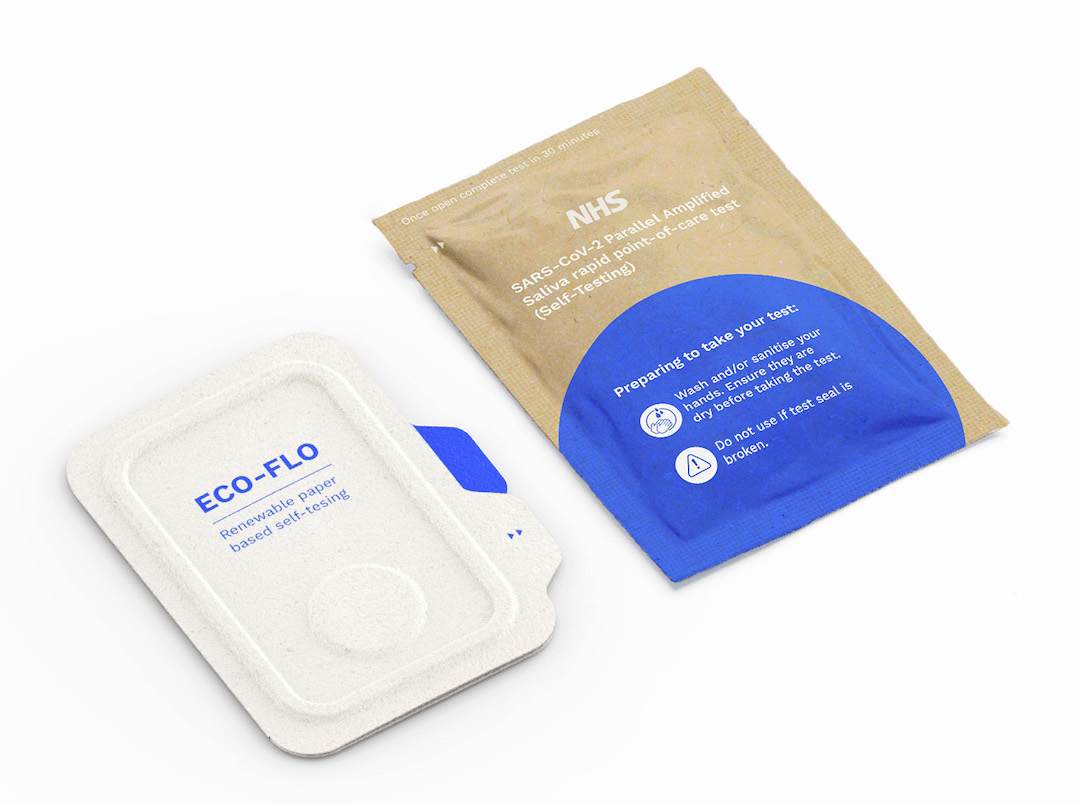 Image courtesy of Morrama, featured with permission
Hutt adds: "Now we have an opportunity to correct these mistakes."
[via Morrama, images featured with permission]
Receive interesting stories like this one in your inbox
Also check out these recent news