Don't miss the latest stories
Share this
Missing Persons Posters In The UK Are Becoming 3D To Incite Action
By Mikelle Leow, 25 May 2022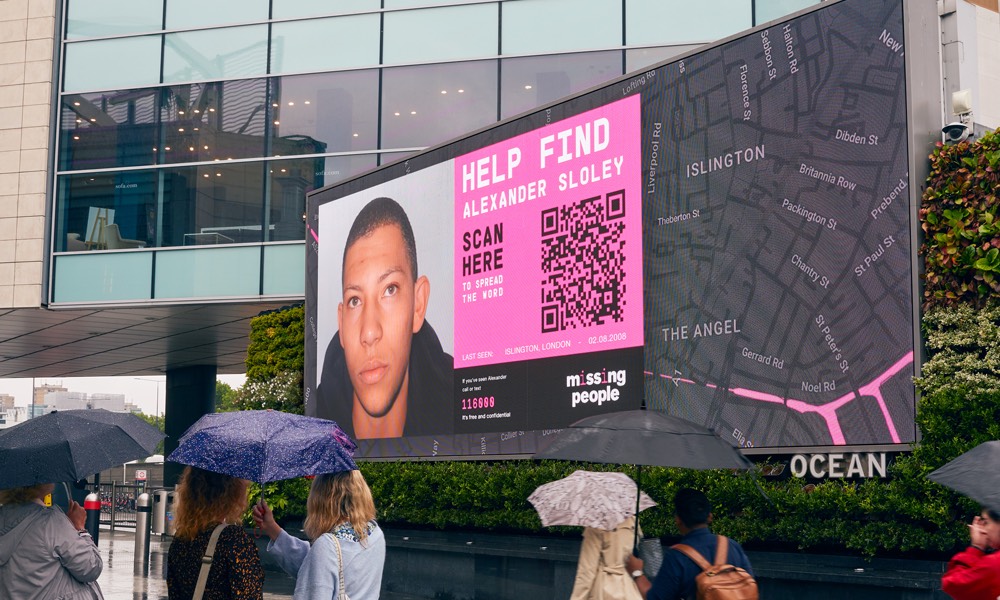 Image via Missing People
Missing persons posters and billboards are being reinvented for the modern era in the UK. Taking the place of passive printouts are live portraits, in a bid to connect better with onlookers.

With more memorable and resonant appeals, the Missing People charity hopes even more witnesses will come forward to help families of missing persons find relief—and perhaps assist in bringing loved ones home.
The overhaul coincides with International Missing Children's Day on May 25. To give the posters and billboards a high-tech upgrade, the nonprofit worked with a group of creative agencies and brought the photos of missing children to life. Creative partners include public relations firm MHP Mischief, AI video reenactment platform D-ID, multidisciplinary creative and technology agency Engine UK, and behavioral science consultancy Influence at Work.
As reported by the BBC, each poster is accompanied by a QR code that, when scanned, depicts the person smiling and laughing. The animated expressions aim to humanize missing persons, reminding the public that those are real people, and inspire bystanders to keep a lookout for the individuals.
View this post on Instagram
Notably, the word "missing" has also been replaced with "help find" on the appeals, as behavioral scientists inform the posters' creators that a more active phrase will encourage a proactive reaction.

The move was praised by the mother of Leah Croucher, who vanished from Milton Keynes, Buckinghamshire, on February 15, 2019, at the age of 19.
The parent told the news outlet that the live posters have instilled new hope that someone will come forward with information about her daughter's whereabouts.

Billboards displaying the moving profiles of three missing children, including Croucher, began appearing across London on Missing Children's Day.
To mark International Missing Children's Day we've been working with UK charity @missingpeople to reinvent the missing person poster -re-thinking the standard design and introducing striking, high-tech digital posters to create 'live' portraits.#MakeTheMissingUnmissable pic.twitter.com/tUGSvwwCgU

— @Engine_UK (@ENGINE_UK) May 25, 2022

The other two children in the campaign are Alexander Sloley and Finn Layland-Stratfield. Sloley, aged 16 at the time of his disappearance on August 2, 2008, was last seen in Islington, London. Layland-Stratfield was 17 years old when he went missing from Tintagel, Cornwall, on July 8, 2017.

They make up a tiny fraction of the thousands of children who remain missing in the UK. According to Missing People, there are about 170,000 disappearances each year, of which 70,000 are of children.

Following the campaign, Missing People will use the new dynamic format in all its new appeals.

[via BBC and Missing People, video and images via Missing People]
Receive interesting stories like this one in your inbox
Also check out these recent news