Don't miss the latest stories
Share this
Marina Abramović Introduces Her First-Ever NFT, A Reprisal Of 2001 Work
By Mikelle Leow, 15 Jun 2022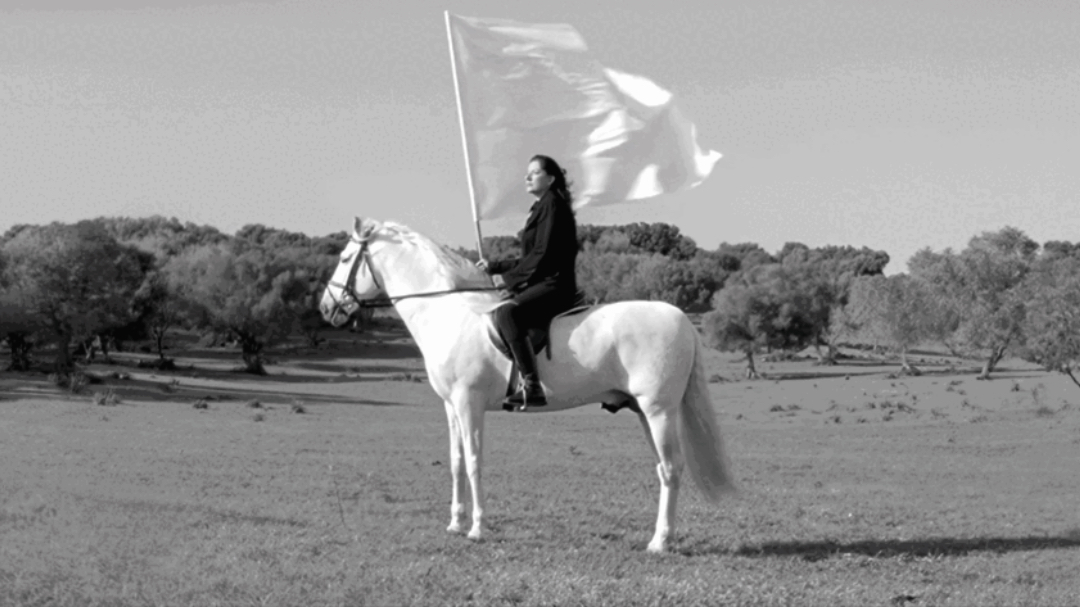 Image via CIRCA
Marina Abramovic, the latest artist to delve into non-fungible tokens, is present. For her first NFT, the Serbian performance artist is revisiting her 2001 piece, The Hero, to convey the tense global landscape and how heroes are needed more than ever.
The original was a film of Abramovic on a white steed, waving a white flag against a countryside. The work was released shortly after the passing of her father, a World War II hero. Its resonance inadvertently grew deeper as the art preceded the 9/11 attacks by only a few weeks.
Now, the stirring tribute will return in solidarity with a new audience, as part of a collaboration with the Cultural Institute of Radical Contemporary Art (CIRCA) in London.

The Hero, rechanneled into an NFT and a mirror of these tumultuous times, speaks of regaining power "on a world stage dominated by masculine power and escalating conflict," details CIRCA.

"Our planet needs uncorrupted heroes with morality, who embody courage and bring real change. Every day in this world is a shaky, uncertain, constantly changing landscape," says Abramovic in a press release.
Image via CIRCA
"We have this white horse. This white flag. This beautiful land. We need heroes that can bring new light to illuminate us. Heroes that can inspire us to be better, and to work together, not against each other. Heroes who care."

As a renewal of the film's meaning, the artist is accompanying the work with The Heroes' Manifesto, a brand-new manifesto which itself has roots in the An Artist's Life Manifesto from 2011. The message an urgent call for heroes of the world—all of its inhabitants—to seek reconciliation and forgiveness within themselves.

Although Abramovic had been skeptical about the value of NFTs, telling the Guardian in February that she was unimpressed by the content she'd seen so far, the artist has since processed it all from a different vantage point.
In a recent interview announcing the NFT, Abramovic told ARTnews that this was the way to connect to the younger generation, many of whom weren't alive at the debut of the first rendition. "Art must look forward," she said.


In a statement posted by CIRCA on Instagram, Abramovic noted: "Like all of my previous performances, there is an element of risk involved and that risk centers around the audience. Experimenting means going into territory where you've never been, where failure is very possible. How can you know you're going to succeed? Having the courage to face the unknown is so important. An artist should never stop taking risks, even when they are 75."

The digital collectable will be sold on the Tezos blockchain, which is known to be more eco-friendly and saps less energy. With climate change being one of the main reasons we need a savior, it was important for the artist that the NFT lived on a more climate-positive platform.

The artist will share more details about her NFT venture at a live discussion at Art Basel on June 18.
The digital asset is part of a broader initiative to assemble modern-day heroes of the world. A three-month activation will see The Hero film take to large screens in popular cities, including Times Square in New York, Piccadilly Circus in London, and COEX K-Pop Square in Seoul.

The film will stay up on the displays from June 13 through August 13
Receive interesting stories like this one in your inbox
Also check out these recent news