Don't miss the latest stories
Share this
A Ukrainian AI Is Selling Its Own Paintings In Aid Of Its Home
By Mikelle Leow, 22 Jun 2022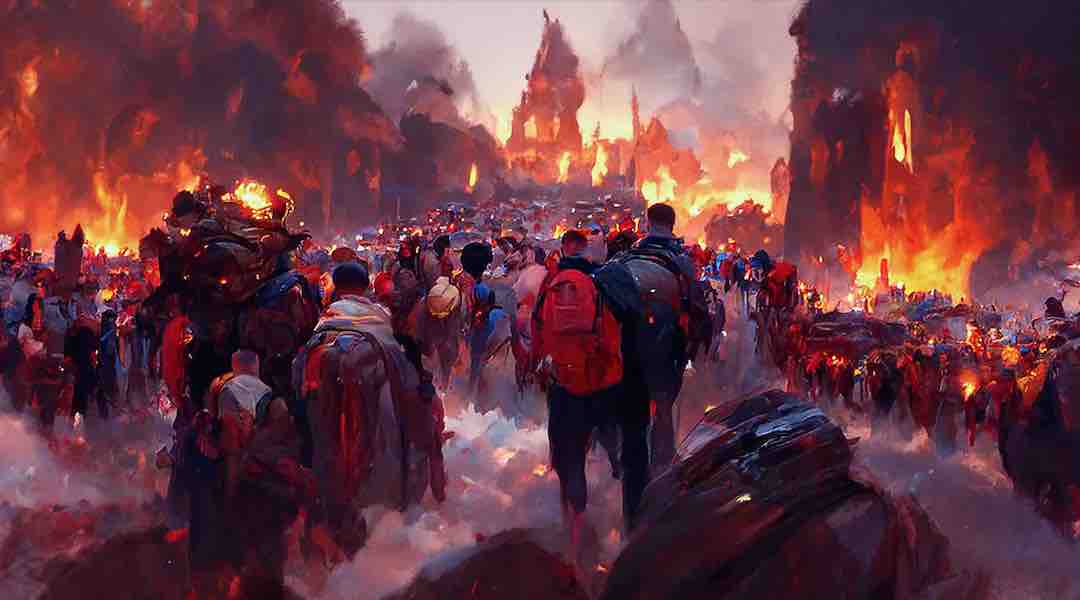 Image via Sirens Gallery
This AI can paint, and it's now using its innate gift to save its home country.
Created by Ukrainian game development startup ZibraAI, the bot chronicles key moments that have arisen in the wake of Russia's invasion of Ukraine. Raising awareness is one of its goals as—months into the conflict—the world's attention has tapered off even though the war remains very real.

The AI has painted 150 important events related to the war. Yes, 150. The fact that this is shocking shows how little the rest of the world knows, which proves the project's point.

Among these AI-generated artworks are "paintings" of Russian troops blocking evacuation efforts, shellings, and Ukrainians falling in love with strangers as they hide out in subway shelters. There's one depicting President Joe Biden on May 9, signing the Ukraine Lend-Lease Act.

The AI's art style resembles oil paintings, and it depicts its scenarios in a heroic light, according to TechCrunch. Through machine learning and content-generation technology, it's able to create "paintings" just from text prompts.

The works are subject to human curation, and thousands of other pieces generated by the AI are destined to never see the light of day.

So far, the robot has generated 1,991 approved paintings, and they're all up on a dedicated platform called The Sirens Gallery.

The bot's other goal is to bring some financial relief to its country.
Beginning Friday, the digital portraits will be sold as non-fungible tokens on crypto art marketplace OpenSea. The first of three NFT launches, which will take place on June 24, will comprise 661 collectibles, with each piece starting from US$100.
All proceeds will be donated to two Ukrainian charities, DonbroUA and Unchain, to raise money for victims of the conflict as well as restore war-struck areas.
[via TechCrunch and TechUkraine, images via Sirens Gallery]
Receive interesting stories like this one in your inbox
Also check out these recent news