Don't miss the latest stories
Share this
An Open-Air Gas Station Hotel Will Leave You Questioning Your Choices In Life
By Nicole Rodrigues, 29 Jun 2022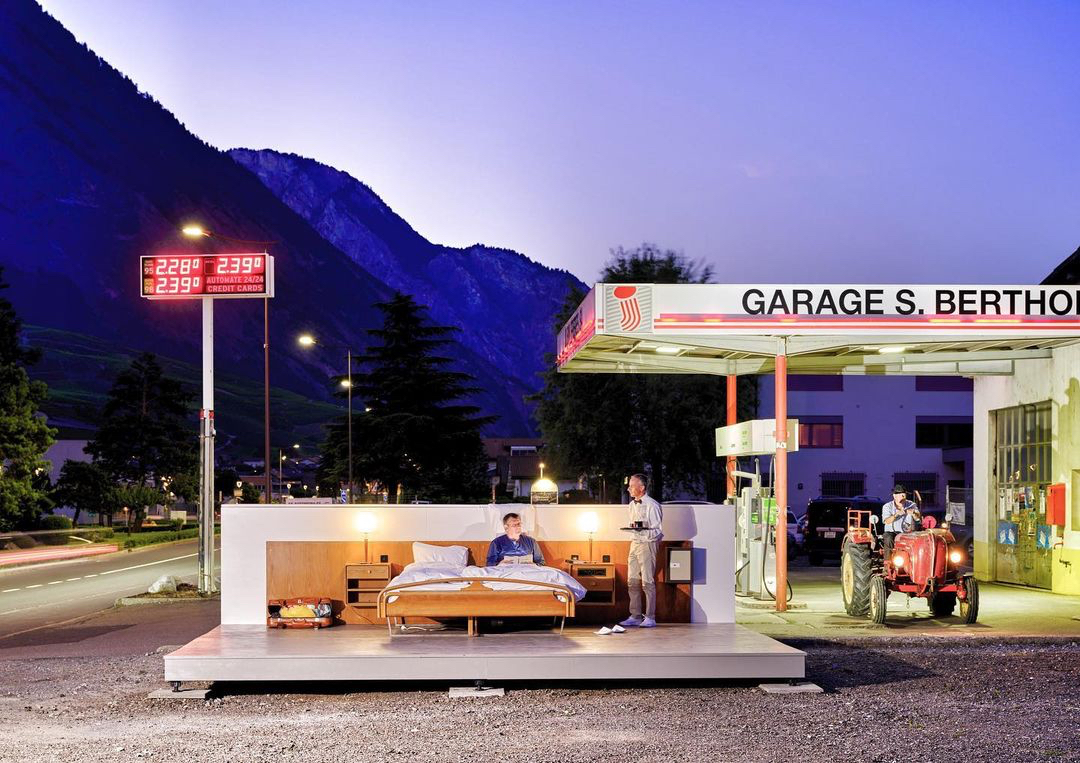 While the Ritz and a roadside motel may differ wildly in standard and services, they at least have one thing in common: walls. This new Swiss hotel is looking to set itself apart from the rest by removing one of the most basic features of a hotel room and offering its patrons just a bed.
The Null Stern Hotel—or zero-star hotel—is opening its figurative doors in a brand new location, caught between a busy intersection and a gas station. Don't bother calling down to reception for an extra set of pillows as that won't be enough to drown out the noise.
Though, that is the point of this hotel room in the first place. Conceptual artists and brothers Frank and Patrik Riklin and hotelier Daniel Charbonnier, have carefully designed this hotel… space to keep you up at night. It forces its guests to not only literally but also figuratively open their eyes to the chaos and destruction happening around them.
The room is a wall-less space with just one king-sized bed and two nightstands, all the makings of your box-standard hotel room minus the privacy. The sound of cars and trucks whizzing by and the smell of gasoline flooding the air should be enough to keep guests tossing and turning as they are left to ponder the state of our planet.
Having found success with its two other iterations of open-air suites set in the beautiful hills of Saillon and the Swiss Alps, Charbonnier and the Riklins' are using their audience to call attention to the state of our world. The newest addition to the suites is the black sheep to its sibling rooms, showing the contrast between the beauty of our world and how we're destroying it.
For just under US$340 a night, guests are invited to bring a change of clothes and a change of mind as the hotel room evokes new thoughts and changed perceptions on our world and how we must go forward if we want to continue sleeping among the alps.
[via Architectural Digest and EuroNews, cover image via Null Stern]
Receive interesting stories like this one in your inbox
Also check out these recent news