Don't miss the latest stories
Share this
Notre-Dame Redesign Will Make It Resilient Against Changing Climates
By Nicole Rodrigues, 01 Jul 2022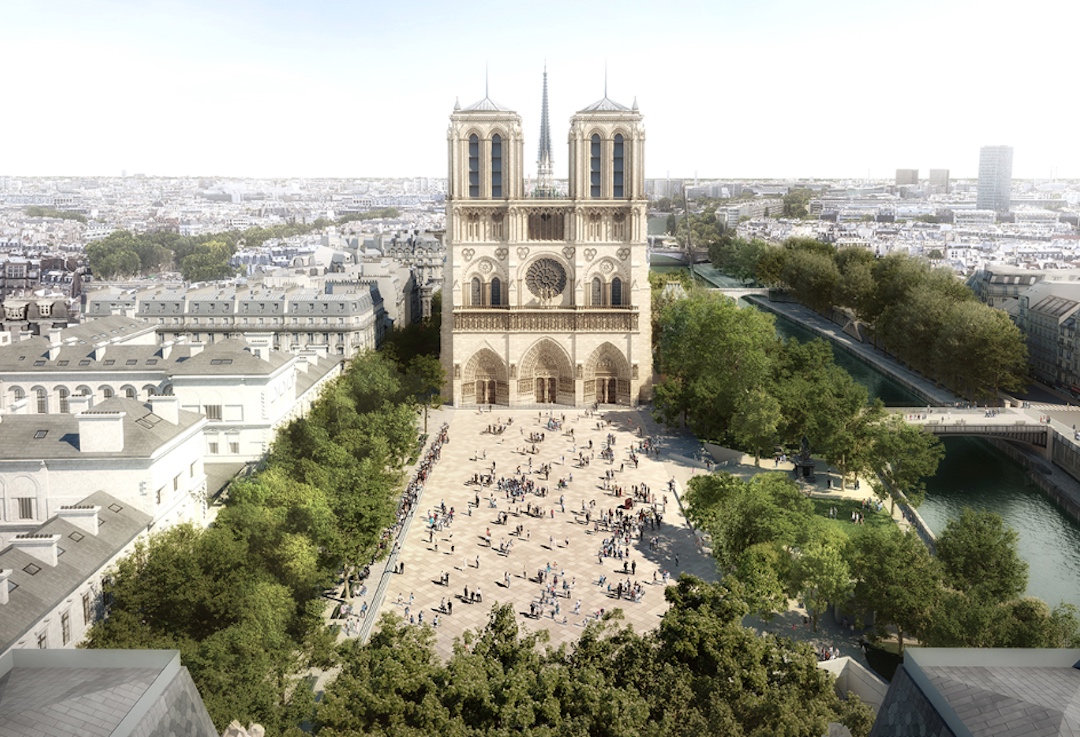 After a fire engulfed the Gothic church, Notre-Dame is on the road to recovery with a new plan in store to keep it safe against the turbulent times of today's climate. The project is being led by Bureau Bas Smets and will be funded by the City of Paris, with support from urbanism studio GRAU and local architecture firm Neufville-Gayet.
While the fire was devastating and caused worldwide concern, there could be a silver lining in the clouds. The new reconstruction will tackle problems that were once present: The areas around the cathedral have been subject to the heat island effect, had poor reception service in the forecourt, and had obstructed access to the River Seine which the cathedral sat on the banks of.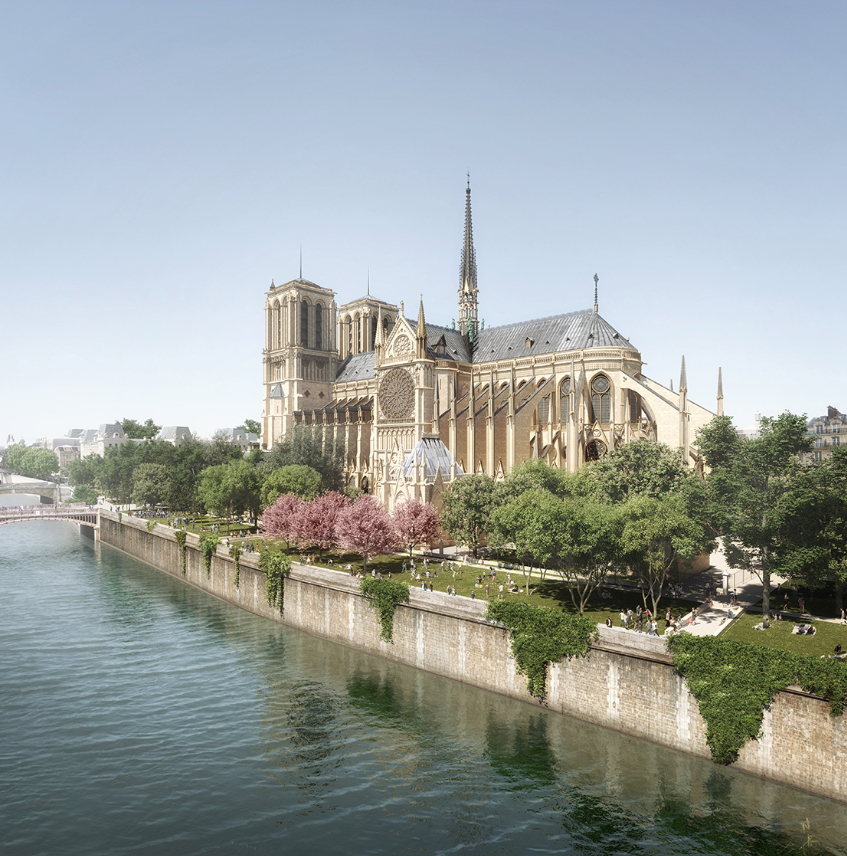 The spire was one of the greatest losses from the fire, a beacon of Gothic architecture that shot up against the landscape of Paris. During a competition held by the city to find the right architectural firm to take on the project, some came forward with a modernized and futuristic replacement for the spire including one made of crystal and glass.
The plans caused a bit of controversy as people voiced that they would rather have a recreation of the iconic medieval church rather than something modern.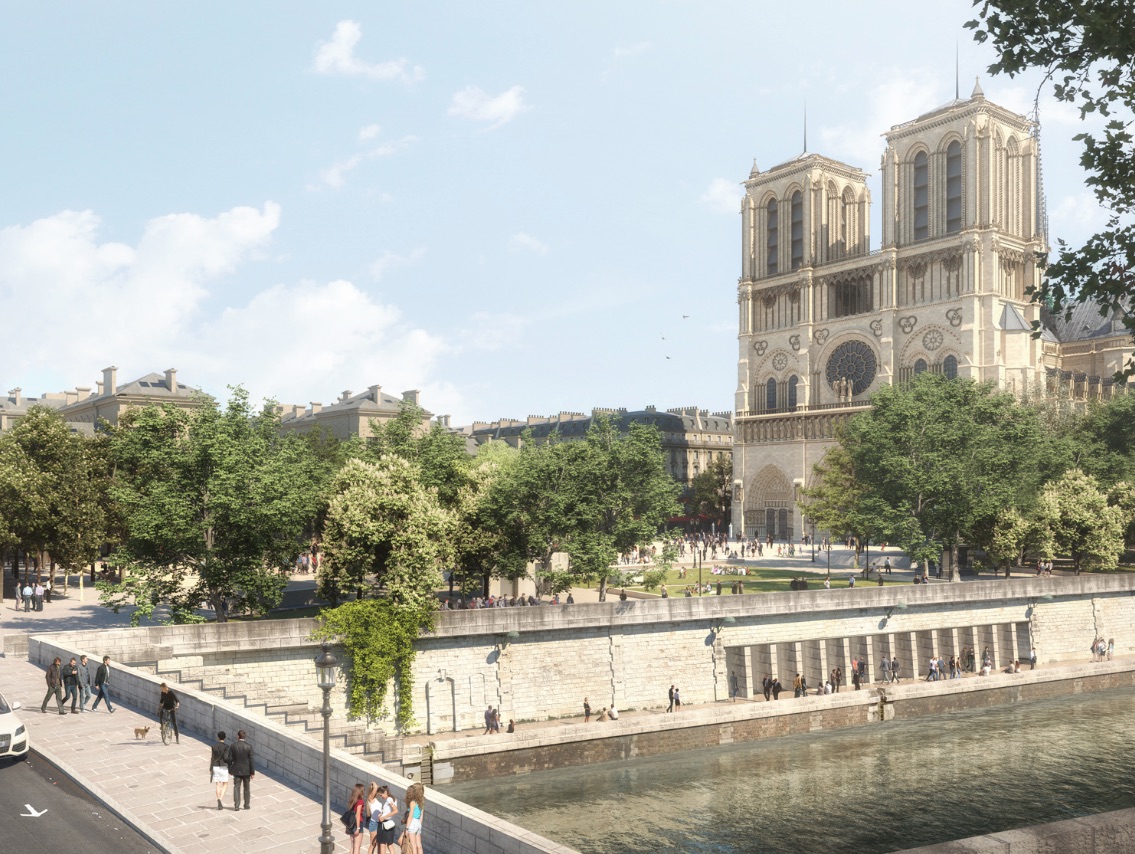 Along the eastern side of the cathedral, trees will be planted to create a shaded courtyard which will cool the area down. A supply of water through a spout will send a little stream of water down into the square as well to cool the pavements surrounding the church.
Various other squares in the area including Jean XXIII and Île-de-France will also be getting a facelift to help cool the area and keep the church safe from heatwaves that the Parisian summertime is prone to.
Meanwhile, vegetation is set to increase by 35%, as 131 trees will be planted in the area, and a garden along the stretch between the cathedral and the Seine will also be made.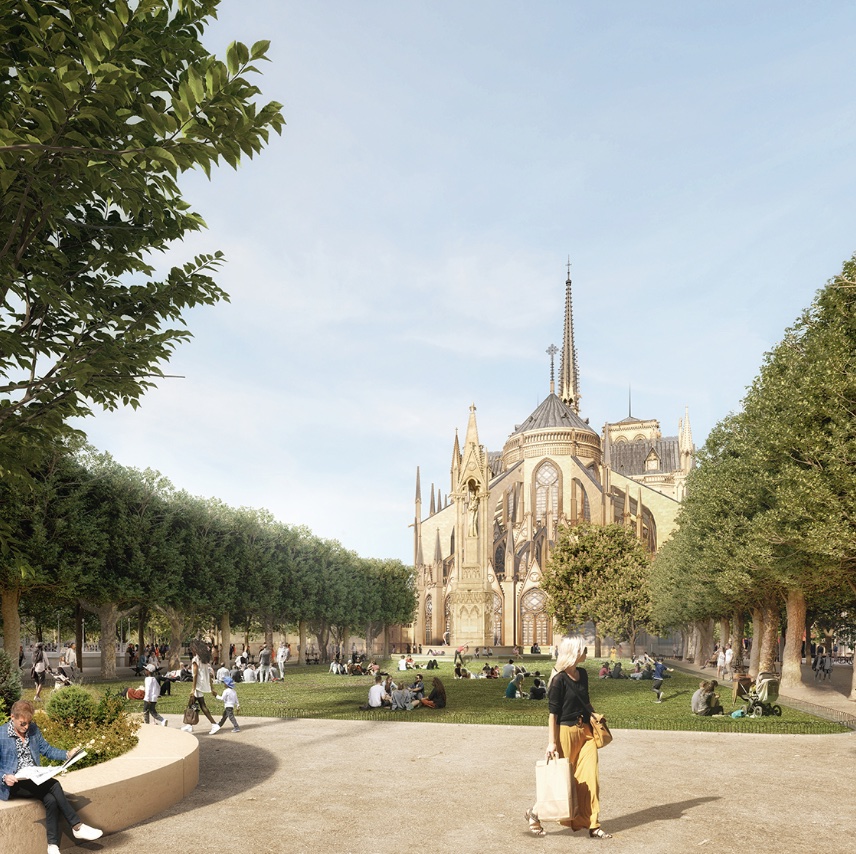 An indoor promenade at the site of the previous parking garage will also be erected to cut the area's carbon footprint and give tourists a place to convene and give access to the catacombs.
The cathedral is projected to complete its restoration by 2024 in time for the Paris Olympics, while the surrounding areas are only to start restoration after the cathedral is completed.
[via The Architects Newspaper and The New York Times, cover image via Bureau Bas Smets]
Receive interesting stories like this one in your inbox
Also check out these recent news