Don't miss the latest stories
Share this
This Self-Flying Electric Air Taxi Is Almost Ready For Liftoff
By Nicole Rodrigues, 04 Oct 2022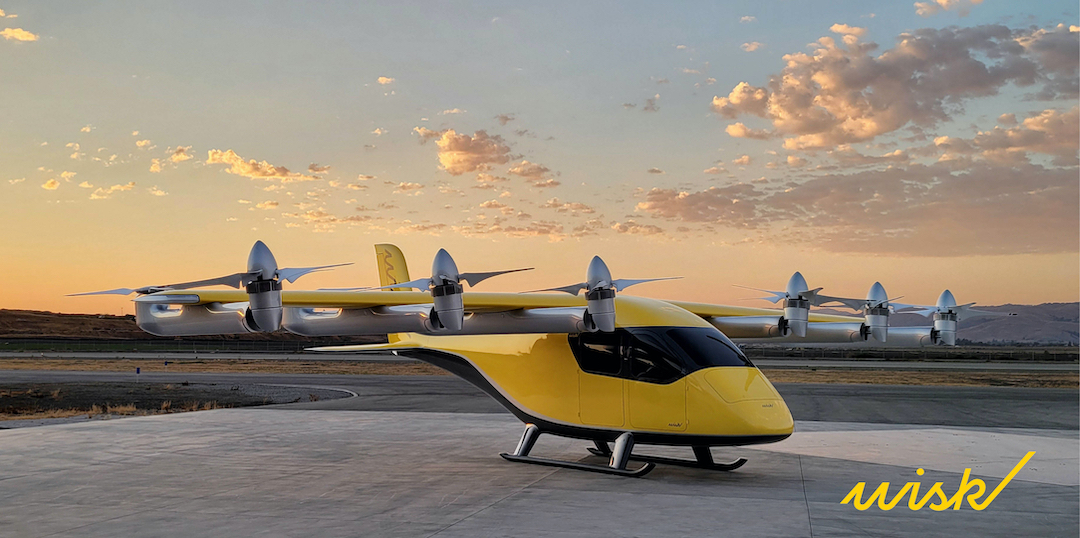 Wisk Aero, an electric vertical take-off and landing (eVTOL) company, is gearing to take its latest go-to-market flyer to the skies.

The newest version of the eVTOL, Generation 6, is creating a niche in the market as a self-flying air taxi that can soar without the need for a pilot to operate it.

The yellow autonomous flyer has six front and six rear rotors, each fitted with five blades that tilt horizontally and vertically. This sixth-gen version can fly at speeds of 120 knots and reach altitudes of 2,500 to 4,000 feet. Its batteries allow it to fly a distance of 90 miles, and it can be fully juiced up in less than 15 minutes, thanks to fast chargers.
In addition, it can seat up to four passengers and has plenty of storage space for baggage.
Autonomous, Self-Flying, No Pilot on Board…however you describe it, we're going for it! Here's how it works.

Learn more about out autonomous technology and self-flying first approach on our website - https://t.co/8xjgVJIMsI - or via the video below!

— Wisk (@WiskAero) October 3, 2022

For a more comfortable flying experience, the air cruiser features large windows, Wi-Fi, and charging ports.

Wisk Aero noted at the unveiling on Monday that the vehicle is meant to be supervised by ground crew and will be taken over by humans only if necessary. If that doesn't make you feel any safer, Wisk mentioned that the Generation 6 has a "one-in-a-billion chance" of crashing. Unfortunately, there was no evidence provided to solidify this claim.

However, Jon Lovegren, the firm's head of autonomy, proclaims that as the company continues to promote its safety technology, he expects potential passengers to grow more secure with the idea of flying in a crewless plane.
Backing the business is The Boeing Company, which Wisk Aero has received a US$450 million grant from; and Kitty Hawk Corporation, one of the first original air taxi enterprises.

The Generation 6 is Wisk Aero's latest attempt at obtaining certification from the US Federal Aviation Administration (FAA). The eVTOL will have to pass all safety and design standards to receive this approval. Once that happens, Wisk will be able to begin production.

And if all goes well, the company aims to price flights at US$3 per mile. According to TechCrunch, Wisk intends to bring its fleet to 20 cities over the next five years once it has received the all-clear from the FAA.



[via TechCrunch and Gizmodo, cover image via Wisk Aero / Business Wire]
Receive interesting stories like this one in your inbox
Also check out these recent news