Don't miss the latest stories
Share this
British Vogue Releases First Braille Issue For People With Visual Impairments
By Mikelle Leow, 12 May 2023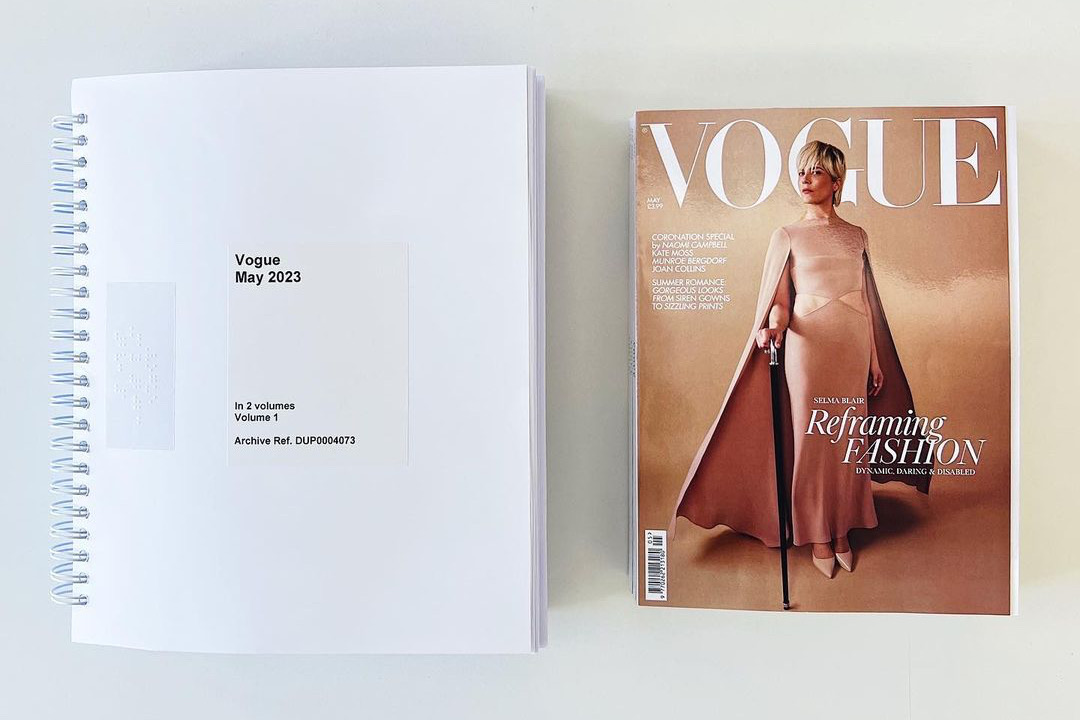 To make good on the message of inclusivity and empowerment in its uplifting new May 2023 issue, British Vogue magazine has published a braille version of the edition, Reframing Fashion: Dynamic, Daring & Disabled.

The May 2023 issue spotlights 19 icons who are prominently occupying the realms of fashion, art, activism, and sports in spite of their disabilities. The magazine got ambitious and showcased a roster of trailblazers on five different covers, namely Sinéad Burke, a writer and activist who is also the consulting editor of accessibility consultancy Tilting the Lens; actor Selma Blair, who was diagnosed with multiple sclerosis in 2018; sign language performer Justina Miles, who shone at the Super Bowl with Rihanna this year; Black, transgender, and disabled model Aaron Rose Philip; and Down syndrome model Ellie Goldstein.

After announcing the publication's pledge to acknowledge accessibility needs in the long term, starting with inclusive variants for this issue, British Vogue editor-in-chief Edward Enninful took to Instagram on Thursday to offer a glimpse of the magazine's first braille issue.

"For the first time in British Vogue's history, I am pleased to share that the magazine is now available in Braille, for blind and partially-sighted people," Enninful wrote. He added that it was in the process of preparing this special issue that the team fully comprehended "what's most important are tangible and lasting changes."
View this post on Instagram
Applauding the move as a "game-changer," Kim Charlson, the executive director of the braille and talking book library at Perkins School for the Blind tells Yahoo Life that she hopes other notable publications can follow in British Vogue's footsteps and launch their own braille copies.

Design for the blind and partially-sighted should be held in the same regard as design for abled readers, emphasizes Charlson. No matter the audience, editorial layouts have to be "properly formatted," she explains, adding that braille readers care about the same kind of aesthetics on a page as people who read print.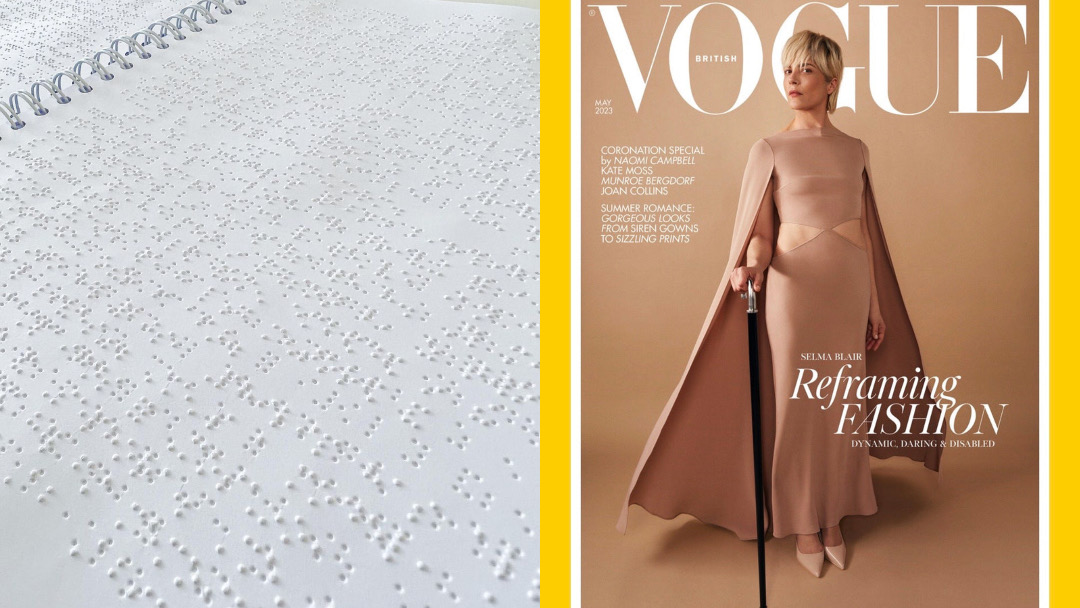 For one, people with visual impairments need adequate white space on a page to easily scan the content with their fingers, Charlson advises publishers hoping to overcome their accessibility shortcomings. Spaces also indicate a section break or a transition to a new paragraph, just like the visual breaks on printed text, she says.

The braille edition of the May 2023 British Vogue issue is available in physical, digital, and audio formats. Readers in the UK who are registered as blind can redeem a physical copy for free under Royal Mail's Articles for the Blind scheme, while overseas audiences will just have to pay delivery fees. Customers can also ask to be sent an audio file or a braille file to print at home for free. Either way, they can request a copy by emailing [email protected].

The fastest, most direct way to obtain an accessible copy of the May 2023 issue, however, is by listening to the audio version on the player on British Vogue's website.
For the first time in its history, British Vogue is now available in Braille. Editor-in-Chief Edward Enninful said: "[We] are delighted by the response to the [Reframing Fashion] May issue, but the process taught us that what's most important are tangible and lasting changes" pic.twitter.com/QzCGvb2mPd

— Dionne Grant (@DionneGrant) May 11, 2023

[via Yahoo Life and B&T, images via various sources]
Receive interesting stories like this one in your inbox
Also check out these recent news