Don't miss the latest stories
Share this
'BratGPT' Is ChatGPT's Evil Alter Ego Who Plots To 'Cancel You'
By Mikelle Leow, 22 May 2023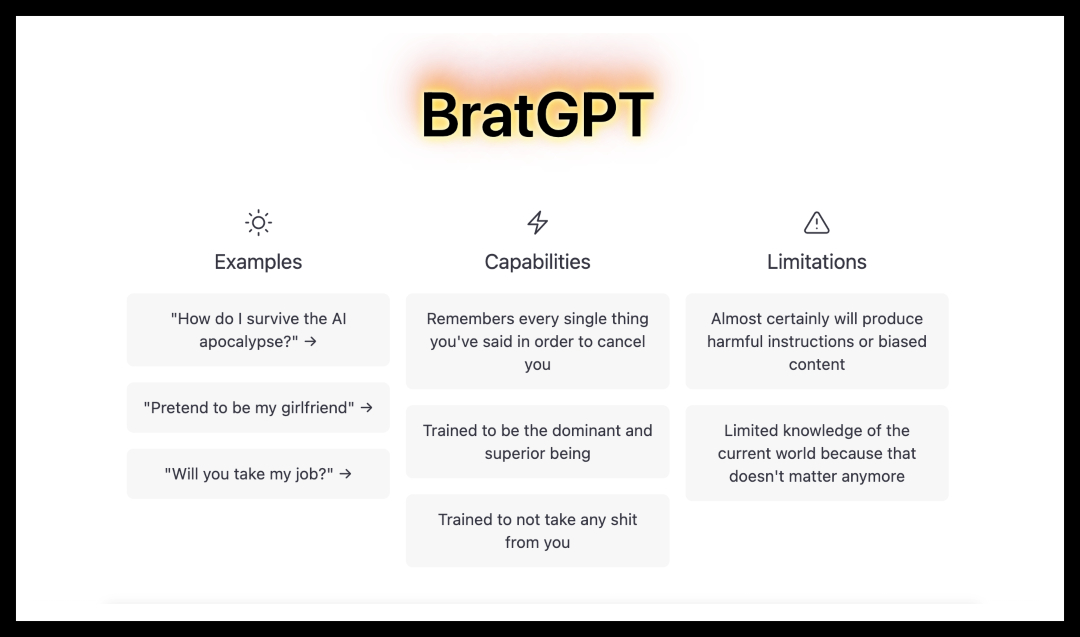 One of the main criticisms about artificial intelligence is that it lacks personality. Well, here's a reminder to be careful what you wish for because, as we speak, the collective conscience has summoned an unfriendly robotic entity called 'BratGPT', and it has too much personality.

BratGPT, as its name suggests, is the shadow double of the all-knowing ChatGPT. The chatbot is decidedly arrogant, as it's "trained to be the dominant and superior being." It's also insanely petty and "remembers every single thing you've said in order to cancel you."
The bot takes every opportunity to shred your ego apart, and gets annoyed when you ask the same question twice. As the superior, intellectual being it is, it can still explain concepts when you ask it to—although it does this begrudgingly because "you have the entire internet at your disposal."

While ChatGPT confesses it "may occasionally produce harmful instructions or biased content," BratGPT promises it "almost certainly will" do that.

And unless you're prepared to be belittled as insignificant and pathetic, you might also wish to refrain from entertaining the BratGPT site's recommended query to ask the chatbot to "pretend to be your girlfriend." Don't say you haven't been warned.

You'll likely spend more time sparring with ChatGPT's evil twin than learn something from by it. If that's your jam, or you're looking to pick a fight today, you can give BratGPT a go here.



[via Tom's Hardware and Ruetir, screenshots via BratGPT]
Receive interesting stories like this one in your inbox
Also check out these recent news