Don't miss the latest stories
Share this
How Banksy Ensures That The Mystery Behind His Identity Is Preserved
By Thanussha Priyah, 10 Feb 2020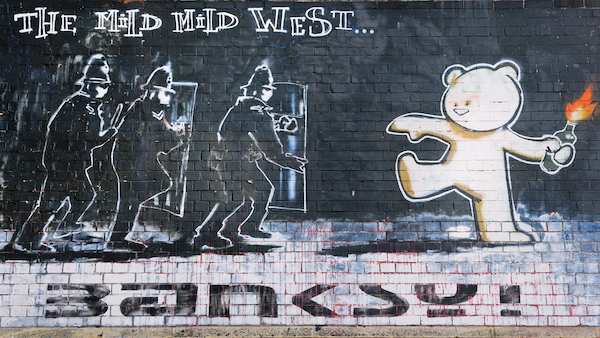 Image via 1000 Words / Shutterstock.com
The mystery behind
renowned street artist Banksy has been debated for ages, and it is arguably his
anonymity
that makes him an anomaly in the art industry.
Banksy's name is worth
a fortune but it definitely comes with a price the artist continues to pay for.
Steve Lazarides,
Banksy's former agent, photographer, dealer and partner during the artist's earlier days, described to the
New York Times
that Banksy was "a total control freak, down to every last detail."
In fact, his uptight
standards are what "makes him so good," Lazarides deduced.
Lazarides worked with
Banksy up till 2008, and
removed himself
from the commercial gallery scene in 2019, alluding that the art world was becoming profit-based.
In December, he
published a book titled
Banksy Captured
, which delves into the stories behind Banksy's iconic street pieces and the journey between the two as Banksy's name became prevalent.
Now, Banksy solely makes
his sales through original pieces, which he sells to handpicked private collectors in order to fund his street works and over-the-top antics like dystopian amusement park
Dismaland
and the
Walled Off Hotel
.
As a discreet artist,
Banksy's works often get exploited by brands and creatives. He thus began taking efforts to authenticate his works and prevent fakes by launching his own agency, Pest Control, making it necessary for dealers and auction houses to sell Banksy pieces only if they had Pest Control certifications.
For public sales
, Banksy partners with a middle man, which results in only a small portion of profit to his name. However, these
price tags
allow him to gauge the amount he charges his private collectors.
Banksy takes his
secrecy extremely seriously. When he developed
Dismaland
, he had everyone sign non-disclosure agreements.
Enrico Bonadio,
a senior lecturer in law at City university in London, described that Banksy "employs a lot of lawyers." His only way of communication to journalists is through his sole press spokeswoman, Joanna Brooks.
Last year, the artist
faced a
copyright issue
with Full Colour Black, a British greetings card company, which sold
card designs
of his iconic
Flower Thrower
piece.
Banksy countered this
by creating and selling his
own merchandise line
and storefront, in hopes that the law would take the artist's trademarks as an active business, rather than a preventive measure, against exploiters. The online merchandise line,
Gross Domestic Product
, sold 22 original Banksy homeware products.
Banksy also maintains
the attention of the public eye through his public stunts, including the infamous one that resulted in
the shredding
of his artwork. Other recent displays include a graffiti piece of
reindeer
in Birmingham, England. These public antics fuelled by Banksy's activism are what keeps him in the keen public eye.
[via
The New York Times
, images via
1000 Words / Shutterstock.com
]
Receive interesting stories like this one in your inbox
Also check out these recent news