Don't miss the latest stories
Share this
Brands Suffer 'Widespread' Outcry After Unveiling Social-Distancing Logos
By Mikelle Leow, 01 Apr 2020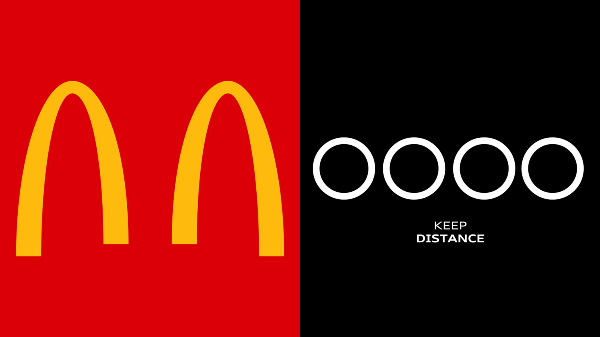 Images via McDonald's Brazil and Audi
Businesses have taken
a hit from the global coronavirus pandemic, which has forced companies to shut down or minimize operations as countries face lockdowns. Regardless, some believe it'd be an opportune time to retain brand recall.
And what do they do?
Make their logos observe social distancing.
You've probably
seen these temporary rebrands across the internet. McDonald's
split its Golden Arches
apart, Coca-Cola
increased the kerning
of its logo on a billboard in Times Square, and automakers like Audi have followed suit.
Behold some
of these "socially responsible" brands:
Stay at home, keep your distance, stay healthy, support each other – we are in this together. As a global company and a global community, our highest priority is to identify any opportunities to #FlattenTheCurve. Stay safe. pic.twitter.com/uwsW2JbhEu

— Audi (@Audi) March 20, 2020
On the other
side of the spectrum, customers have been shunning the stunts as mere marketing gimmicks, lamenting that companies haven't done much to protect employees or raise awareness about hygiene practices. Instead, the brands chose to make minor changes to their logos and call it a day.
"Upset someone thought of it,
upset someone approved it, upset someone bought it," social and digital strategist Matthew Stasoff
tweeted
.
"There's a fine line
between being relevant and being opportunistic…"
wrote
Anselmo Ramos, founder of ad agency GUT. "Everything you do or don't do communicates. It's a pandemic. Not a brief."
McDonald's seems to
have received the most pushback from using the concept, as while the company allowed employees up to five days of paid sick leave each year, this policy did not apply to franchisees, who take up about 95-percent of its US locations. This amounted to 517,000 workers who had no paid sick leave, according to the
New York Times
.
The fast food giant
was subsequently pushed to introduce a
new sick leave policy
in accordance to the Families First Coronavirus Response Act, which requires franchisees with 50 to 500 employees to get paid sick leave. Workers in all stores will also be granted two weeks of paid sick leave if they are infected with COVID-19 or have been in contact with someone who is.
McDonald's Brazil,
which posted the "social distancing" logo, also
apologized
for separating its logo.
"As a brand that
operates in nearly 120 countries, we share a collective responsibility to help our communities in times of need," it responded.
l e t ' s

s a v e

t h e

w o r l d

o n e

s e p a r a t e d

l o g o

a t

a

t i m e

— Rob Estreitinho (@robistyping) March 26, 2020
BREAKING: World Hoping More Brands Step Up To Plate By Changing Logos To Remind Them About Social Distancing pic.twitter.com/2zGJBjeozi

— ADWEAK (@adweak) March 26, 2020
Cool ad! More than half a million McDonald's employees don't have paid sick leave! https://t.co/GdZCS382Ai

— Scott Bixby (@scottbix) March 24, 2020
Ayoo..brands and agencies. Stop it.

NOBODY GIVES A FUCK ABOUT THIS SHIT RN. pic.twitter.com/JByHJ5RtQc

— dotunbello (@dotunbello1) March 20, 2020
STOP. YOU ARE A BANANAS COMPANY. NO ONE NEEDS THIS. pic.twitter.com/S2avyyaRj5

— stevie archer (@girlnamedstevie) March 25, 2020
wondering if your brand should separate their logo for social distancing awareness?

i made a simple flowchart to help you decide. pic.twitter.com/5yOnh1N4sp

— social dongstancing 🍆 (@dongtent) March 25, 2020
Hey @McDonalds I made a better social distancing ad for you. pic.twitter.com/ZB38IRRiX2

— Jesse Alkire (@JesseAlkire) March 22, 2020
to all the brands separating their logos as a sign of solidarity instead of giving their hourly workers paid sick leave:

f u c k y o u

— social dongstancing 🍆 (@dongtent) March 22, 2020
Any brand that rolls out a social distancing version of its logo should post proof that all of its employees have paid sick leave, or else be banned from social media forever.

— Kole Ross (@koleross) March 27, 2020
To every brand confused about what to do right now:
There's a fine line between being relevant and being opportunistic.
Not every brand should do a "coronavirus idea."
Actions will speak louder than words.
Everything you do or don't do communicates.
It's a pandemic.
Not a brief.

— anselmo ramos is WFH (@anselmoramos) March 18, 2020
Brands, before playing fancy with your logo:

1/ Make sure your own employees are taken care of, even if only temporarily.
2/ Look for ways to support people on the front line.
3/ Remove comms that are tonally off in this moment (eg KFC UK).
4/ See how committed spends can help. https://t.co/aM2UW2cI9J

— Shann Biglione (@LeShann) March 22, 2020
[via various sources]
Receive interesting stories like this one in your inbox
Also check out these recent news