Don't miss the latest stories
Share this
'I ♥ NY' Designer Milton Glaser's Secret Logo He Was Working On Before His Death
By Mikelle Leow, 30 Jun 2020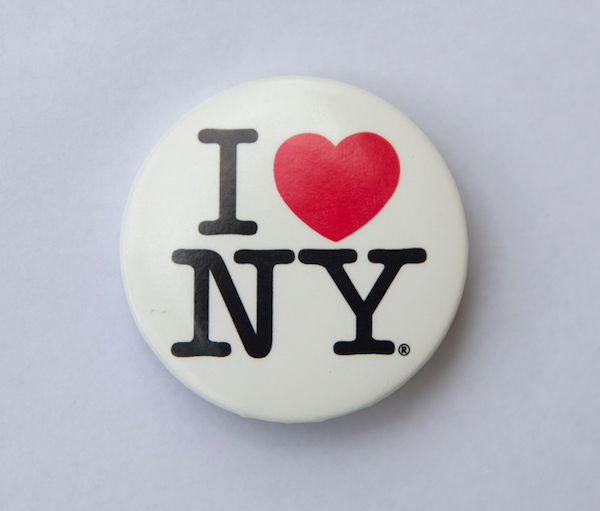 Image via Goran Bogicevic / Shutterstock.com
Milton Glaser,
the late graphic design legend most reputed for his 'I ♥ NY' logo, Bob Dylan poster, and DC bullet logo, was working until the very end. Work ran in his blood, after all. "I do virtually nothing except my work. No hobbies," he was known to
say
.
The icon
died
from a stroke on 26 June 2020, his 91st birthday, leaving behind a legacy that
transformed the design world forever
.
Since his passing,
The New York Times
' Jeremy Elias has unveiled a project that Glaser had been secretly working on during the
COVID-19
crisis. It was "a graphical treatment of the word 'Together'" that Glaser had envisioned to be distributed to public school students in New York before eventually sharing it with the country, Elias reported.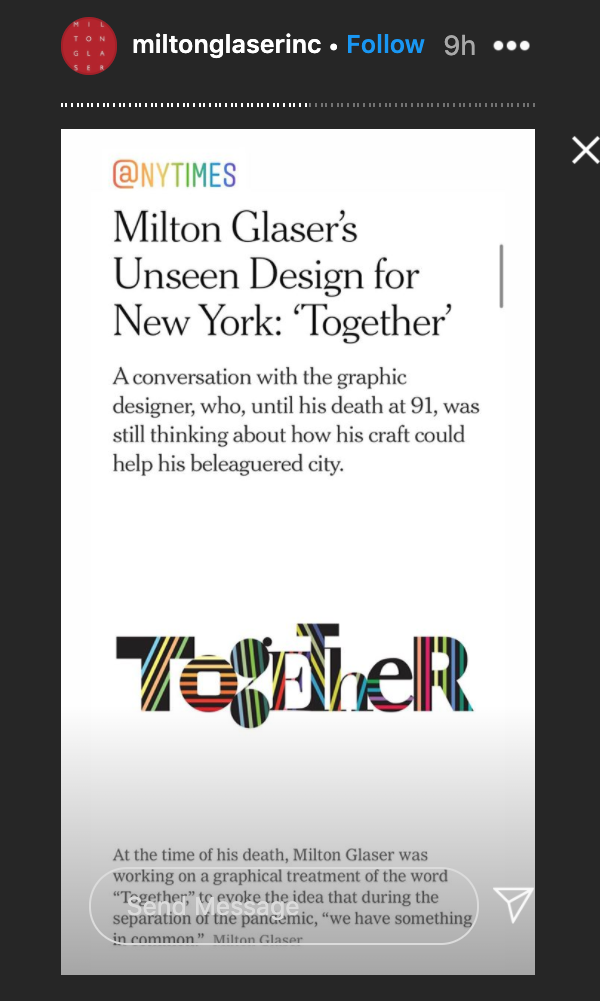 Screenshot of the New York Times article via Milton Glaser's Instagram stories
"There was no business plan,"
Glaser's graphic designer and studio manager Ignacio Serrano explained later. "It was about connecting people through art. He would use the example of, 'If you like Mozart and I like Mozart, we already have something in common. We have a bridge.'"
Serrano said that
Glaser was already feeling unwell during the
Black Lives Matter
protests, and expressed his certainty that the design extraordinaire would have proposed more ideas in response to the world's predicaments "if he had more time" and was able to head down to the office.
The New York Times reporter
said their encounter came about after he emailed Glaser's studio asking if the team thought "some form of artistic expression—similar to his 1977 'I ♥ NY' logo" had the potential of revitalizing an "ailing city." Instead of receiving a response from the designer's representatives as he had expected, Elias got a FaceTime call from the design great instead.
For the first time,
Glaser had divulged to someone that he was working on a visual expression of the word "Together" in hopes of rallying spirits, like the 'I ♥ NY' branding had, amid
COVID-19
fears.
Describing the inspiration
behind 'Together', Glaser said, "When you watch television now it's so depressing. This sense of inertia, of not being able to determine your own future, it's very eroding." He thus wished to evoke "this sense that we are not alone."
The designer elaborated
that 'Together' was an abbreviation of the much-used phrase, "We're all in this together."
"You can create the symbolic equivalent of that phrase by just using the word 'together,'" he said, detailing that it could work that way if each of the letters "[look] as though they are all different, but all related" to denote everyone having "something in common."
When it was pointed out
to him that 'Together' didn't have "an overt reference to New York" despite being designed primarily to raise the moods of New Yorkers, Glaser told the reporter that he envisioned the visual identity "to be adapted by others who are not New Yorkers."
"This is, of course, a world problem, not a New York problem," the designer shared.
Glaser revealed
that he was spending his time during the pandemic "in dialysis three days a week" at a facility that moved him away from the world, but decided that his experience was not much different from those attempting to manage their new normals at home. "It's as though you're suspended in space. But I realize that the whole world is now suspended in space, so it's not so unusual," reflected the designer.
He admitted
that he was not sure how far or deep the 'Together' logo could reach because he was still "surprised" at the international impact and longevity of 'I ♥ NY', calling its prolonged presence "a great mystery." In spite of this uncertainty, he still decided to give his vision of 'Together' a go.
"After all these years, I don't understand what it is that makes an idea compelling enough to move a person to a different perception," Glaser acknowledged.
"Design starts with a desire
to change an existing condition, but… the shift is something you hope for, and most of the time don't get it," the designer expressed.
Head here
to read the full, compelling interview.
At the time of his death, Milton Glaser was working on a graphical treatment of the word "Together," to evoke the idea that during the separation of the pandemic, "we have something in common."https://t.co/KK5tnmhd2C

— The New York Times (@nytimes) June 29, 2020
[via
New York Times
, cover image via
Goran Bogicevic / Shutterstock.com
]
Receive interesting stories like this one in your inbox
Also check out these recent news