Don't miss the latest stories
Share this
MasterClass' Expensive Courses Get Distilled Into Free 'WikiHow' Tutorials
By Mikelle Leow, 11 Aug 2020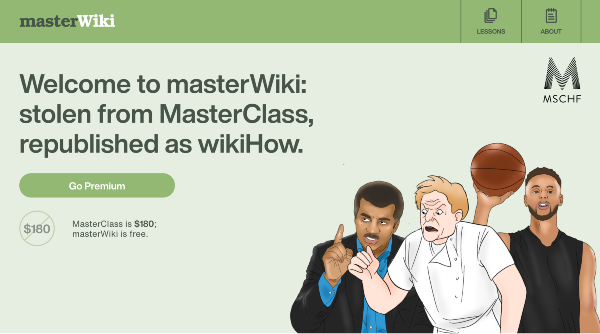 Screenshot via masterWiki
For some,
MasterClass has been a wonderful resource in helping them diversify their skillsets during this time of introspection. However, at US$180 for an annual subscription, the courses don't come cheap and are possibly unattainable for some who truly need the learning.
In the latest
of its outrageous pursuits, product design company
MSCHF
has—in its own words—"stolen" takeaways from MasterClass' celebrity-led lessons and repackaged them into pages bearing the iconic style of WikiHow, complete with the bizarre clipart.
MSCHF is recognized
for its over-the-top campaigns that sometimes stretch above the limits of legality. The agency previously created a radio-like website that let visitors "tune into" shows
pirated from streaming platforms
, recreated
every episode of The Office
to accompany the work-from-home crowd, and designed US$3,000
Jesus-themed Nike sneakers
for those wanting to "walk on water."
The new educational,
but not-so-ethical, website is called masterWiki, a blend of both MasterClass and wikiHow's names. At present, it is home to 20 guides, including a "How to be a Creative Leader" page inspired by Anna Wintour's class, Frank Gehry's "How to Design Architecture," Dan Brown's "How to Write a Thriller," Gordon Ramsay's "How to Make Perfect Scrambled Eggs," and even Serena Williams' "How to Serve a Tennis Ball."
MSCHF stressed that
the website is simply "for the lulz" and has no affiliation with the actual MasterClass,
Gizmodo
reports.
In fact,
you'll see that the lessons featured here aren't to be taken too seriously. Although the content is drawn from MasterClass courses, the tutorials are also injected with some level of satire.
In the Anna Wintour-inspired
course, the instruction, "Hold meetings in a way that benefits you and your team," seems to be contradicted by the accompanying illustration of two deadpan staff members at a team discussion. The graphic appearing under, "Seek new ways to reach your audience," shows
Vogue
's social media accounts of millions of followers; it's just not relatable.
Ramsay's scrambled eggs
call for sea urchin tongues—which is
really
what's stated in the original lesson—but visitors are later recommended to take the "optional" step to "train as a chef in France," preferably in one of Guy Savoy and/or Joël Robuchon's restaurants, in order to perfect scrambled eggs.
You can explore
the website's MasterClass resources, while they're still up,
over here
.
[via
Gizmodo
, cover image via
masterWiki
]
Receive interesting stories like this one in your inbox
Also check out these recent news