Don't miss the latest stories
Share this
'Keurig For Ice Cream' Brings Dessert To Your Table In 1 Min With Ice Cream Pods
By Mikelle Leow, 13 Jan 2021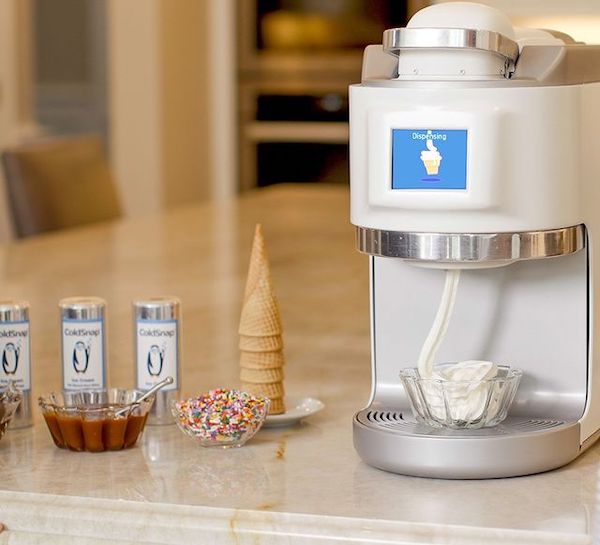 Image via ColdSnap
Today, the Keurig
coffee machine continues to be one of the most beloved inventions—great and instant coffee to fix the morning grumps in a jiffy? Yes, please. One company is doing them one better by adding ice cream to the equation, allowing you to have delicious frozen treats on-demand without leaving the door.
The delightful
'
ColdSnap
' machine, unveiled at the 2021 CES by a company called Sigma Phase, dispenses frozen goodies like ice cream, frozen yogurt, smoothies, and frozen margaritas when you slot in a compatible single-serve pod.
The ColdSnap device
uses a system inspired by the compressing and condensing technology of refrigerators, but with greater intensity. This freezes up the contents of the pods and delivers a cold treat in 60 to 120 seconds, depending on the confection.
Each pod
is printed with a QR code that tells the machine how to properly freeze the dessert, and is built with aluminum instead of plastic to encourage recycling.
The ColdSnap pods
have a shelf life of up to one year,
CNET
reports. Non-dairy options like oat milk flavors are also available.
One gripe is
that the countertop equipment weighs a hefty 50 pounds. The company's president Matt Fonte told
CNET
that heaviness is a required "compromise," since if the ColdSnap were designed any lighter or smaller, it would take longer to dispense ice cream.
One would wonder,
of course, how the machine would deliver in taste and texture. The company describes that its frozen treats are "creamier" and feature "a smoother mouthfeel" than storebought ice cream, thanks to the gadget's ability to churn out smaller ice crystals than those found in products that require deep-freezing.
The quality of
its ice creams was confirmed by
CNET
's Lexy Savvides, who found the ColdSnap prototype was able to produce delectable chocolate ice cream embodying a "combination of a chocolate mousse and a soft serve."
Sigma Phase hopes
to bring ColdSnap machines and pods to select areas in US cities in 2022. When they're ready, the devices will retail for between US$500 and US$1,000, while the pods will fall between the US$2.50 and US$3 range.
Whether this is
a worthy price to pay to
save you a trip to McDonald's
, and then discovering that its ice cream machine is broken (again), you decide.
[via
CNET
, images via
ColdSnap
]
Receive interesting stories like this one in your inbox
Also check out these recent news