Don't miss the latest stories
Share this
KFC Experiments With Other Brands' Slogans To Replace 'Finger Lickin' Good'
By Mikelle Leow, 30 Mar 2021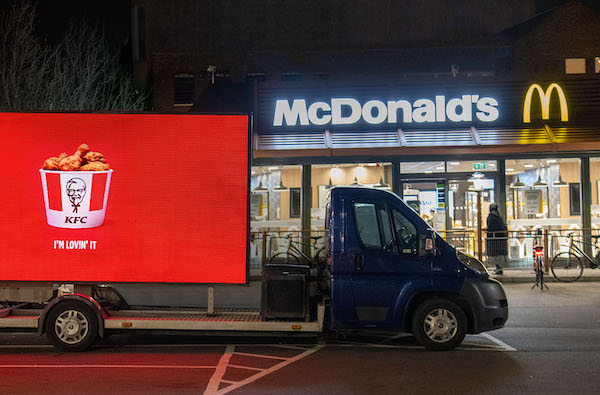 Image via KFC UK & Ireland
KFC's "It's Finger Lickin' Good!"
tagline had been unyielding for more than 60 years, but its legacy was overturned by the COVID-19 pandemic. The fried chicken chain has since
suspended
the dangerous suggestion and is looking around for temporary replacements.
Unfortunately, recommendations
for slogans so far haven't been as frickin' good, so the restaurant is turning to existing ones that work. On Twitter, KFC UK & Ireland announced that it was going to "borrow" other taglines and sample their feasibility on mockups.
Because of you-know-what, the gaffer says we still can't use our slogan in our posts.

So we want to borrow one. Which other brand's slogan should we use? 🤔

Drop your suggestions below with #UntilWeCanFingerLickAgain and I'll let you know how genius or ridiculous they are.

— KFC UK & Ireland (@KFC_UKI) March 25, 2021
Social media users
began suggesting slogans from Durex, McDonald's, and more. Some brands even offered to lend theirs; Marmite, Pringles, and Aldi all said KFC could use their brandings for a while.
Predictably, these ideas
haven't quite held up. It seems KFC has to keep looking for the perfect substitute, though judging by this already long-drawn-out search, it might be able to reinstate the old "It's Finger Lickin' Good!" line by the time that happens.
I cannae see man https://t.co/BMPuPLzPct pic.twitter.com/Ypp3FMXz3s

— KFC UK & Ireland (@KFC_UKI) March 25, 2021
This one was always going to crop up... #UntilWeCanFingerLickAgain https://t.co/RFKQARggLb pic.twitter.com/WQmXR5Yvad

— KFC UK & Ireland (@KFC_UKI) March 25, 2021
Every bloody time.#UntilWeCanFingerLickAgain https://t.co/d5yDyXtNSL pic.twitter.com/arzfme4KDk

— KFC UK & Ireland (@KFC_UKI) March 25, 2021
Has a ring to it... pic.twitter.com/bTG4wyqvSj

— KFC UK & Ireland (@KFC_UKI) March 25, 2021
You bet we are @McDonaldsUK #UntilWeCanFingerLickAgain https://t.co/6wIRth4pvJ pic.twitter.com/QRWhkEGFr4

— KFC UK & Ireland (@KFC_UKI) March 25, 2021
OLD ONE?! WHAT HAPPENED TO IT?! #UntilWeCanFingerLickAgain pic.twitter.com/o51I2aKtcR

— KFC UK & Ireland (@KFC_UKI) March 26, 2021
KFC + @durexuk...#UntilWeCanFingerLickAgain pic.twitter.com/5fMMl7Kw6F

— KFC UK & Ireland (@KFC_UKI) March 26, 2021
KFC 🤝 Pot Noodle

Feeding students#UntilWeCanFingerLickAgain https://t.co/bnHUv86Spm pic.twitter.com/UoX0Ceadmz

— KFC UK & Ireland (@KFC_UKI) March 25, 2021
Close enough. #UntilWeCanFingerLickAgain https://t.co/WYTTr1DPGh pic.twitter.com/MDHk6pL5Y5

— KFC UK & Ireland (@KFC_UKI) March 25, 2021
Completely original idea 10/10 rate it #UntilWeCanFingerLickAgain pic.twitter.com/dB2CCWcHai

— KFC UK & Ireland (@KFC_UKI) March 26, 2021
Maybe not

— KFC UK & Ireland (@KFC_UKI) March 26, 2021
[via
KFC UK & Ireland
]
Receive interesting stories like this one in your inbox
Also check out these recent news