Don't miss the latest stories
Share this
French Embassy In Rome Is 'Spliced Open' Amid Scaffolding In Clever Illusion
By Ell Ko, 03 Aug 2021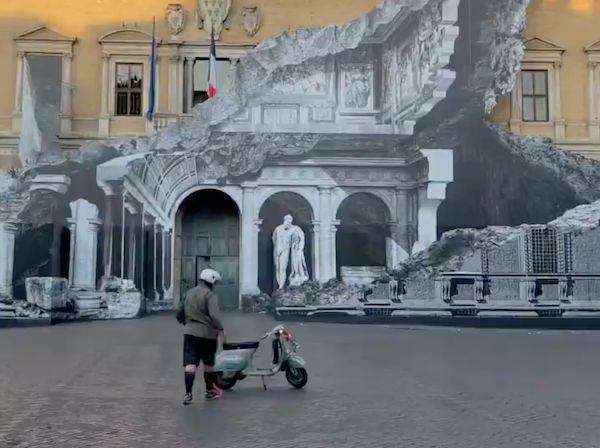 Video screenshot via JR
At the French Embassy
in Rome, acclaimed street artist
JR
has seemingly sliced the Palazzo Farnes's façade open in a flourish of
trompe l'oeil
to uncover what it used to be. Layers of intricate construction are peeled back to reveal a monochromatic look into the building's history, which dates back to 1517, more than five centuries ago.
Images "expose"
what lies beneath the surface of the façade, metaphorically and almost literally. The 6,500 square-foot installation,
Punto di Fuga
("Vanishing Point"), includes the towering marble statue of Farnese Hercules. Well, a copy of the original Roman copy of a Greek original, at least. The statue used to be part of the Farnese family's art collection but is now living at the Archeological Museum of Naples. Now, the 3D-like replica is seemingly back in its spot after hundreds of years.
Trompe l'oeil,
French for "to deceive the eye," is the art of optical illusion, and the style JR is
most known for
. This technique seems even more fitting when you consider the fact that Palazzo Farnese is home to a piece titled
The Loves of the Gods
(1597-1608) by Annibale Carracci, an iconic fresco cycle,
My Modern Met
reports. It contains some of the most iconic examples of trompe l'oeil in art history.
This all comes
as part of a plan to disguise scaffolding. Yes, the illusion sits atop aluminum rods; the Palazzo Farnese is currently undergoing restoration. This historical building, which was worked on by the most famous architects during its construction, such as Michelangelo, has housed the French Embassy since 1936.
The New York Times
reports that JR almost couldn't proceed with this piece: it involves covering up half the gorgeous view of the office of Christian Masset, the French ambassador to Italy. "To cover any of the office" was a hard no.
However, the artist
argued that rerouting the art would break the illusion of the large gash, and subsequently won the argument.
"I still have
a window," Masset reportedly shrugs.
Over the next
four years of planned restoration efforts, a series of French artists will have their work displayed on the canvas of scaffolding to retain the beauty of the Palazzo Farnese. When given the choice between messy scaffolding and intriguing art installations such as JR's, choosing the art is obviously a no-brainer.
[via
The New York Times
, image via
Turismo Roma
]
Receive interesting stories like this one in your inbox
Also check out these recent news