Don't miss the latest stories
Share this
Bruce Willis Licenses Deepfake Image Rights To Russian Ads, Now 'Stars' In Them
By Alexa Heah, 18 Aug 2021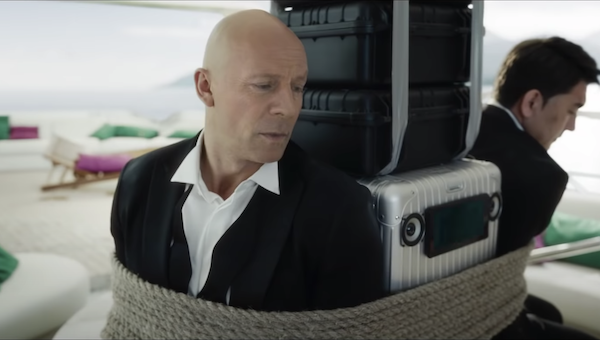 Video screenshot via MegaFon
Deepfakes have been
a sticking point among those in the tech space. While some find them to be less ethical, others feel they're the way forward when it comes to digitally altering images and videos.
Of course,
there are some useful tools that have emerged from the technology. For example, in June, Facebook introduced a deepfake feature that can
replicate a style of text
from a picture, allowing you to use fonts even from handwriting or decorative text.
Now, it seems
that Bruce Willis has become the first A-list star to have licensed his deepfake image rights for advertisements. In a recent commercial, the actor appears to be speaking perfect Russian. However, it turns out he doesn't speak the language, and was never in the advertisements at all. How?
As per a report
by Russian site
Sostav
, a new series of Russian mobile service commercials co-starring Willis were actually virtual recreations of the actor, which he sanctioned the use of. Could this be a new way for celebrities to make big bucks overseas despite not being there physically?
"We realized
that we can deliver high-quality content without becoming hostages of pandemic restrictions on movement around the world. The use of technology allows you to shoot content faster and for less money than attracting celebrities to the set," said Vasily Bolshakov, Director for Brand and Marketing Communications at MegaFon – the service carrier behind the idea.
By using "face
generation technology" that tapped neural network algorithms to analyze "34 thousand units of content," the deepfake system was able to create a near-identical Willis double to "star" alongside Russian comedian, Azamat Musagaliev.
While the minds
behind the campaign said they were open "about the technology we used and do not mislead anyone," there's still a question if this will bring into question an ethical gray area for celebrities and content creators alike.
According to
Input
, screenwriter and director
Michael Idov
had said "this might be the future of mainstream second-world filmmaking: local blockbusters with digital copies of Hollywood stars licensed at, say, 1/10 their corporeal salary."
Will fans globally
buy into the idea of seeing a deepfake Angelina Jolie or
Tom Cruise
"appear" alongside familiar faces in local films? Or will that cheapen the Hollywood appeal altogether? We'll have to wait and see where this goes from here.
[via
Input
, cover image via
MegaFon
]
Receive interesting stories like this one in your inbox
Also check out these recent news