Don't miss the latest stories
Share this
Instagram Divulges How To Boost Your Rank On Its Search—Or Drag It Down
By Mikelle Leow, 26 Aug 2021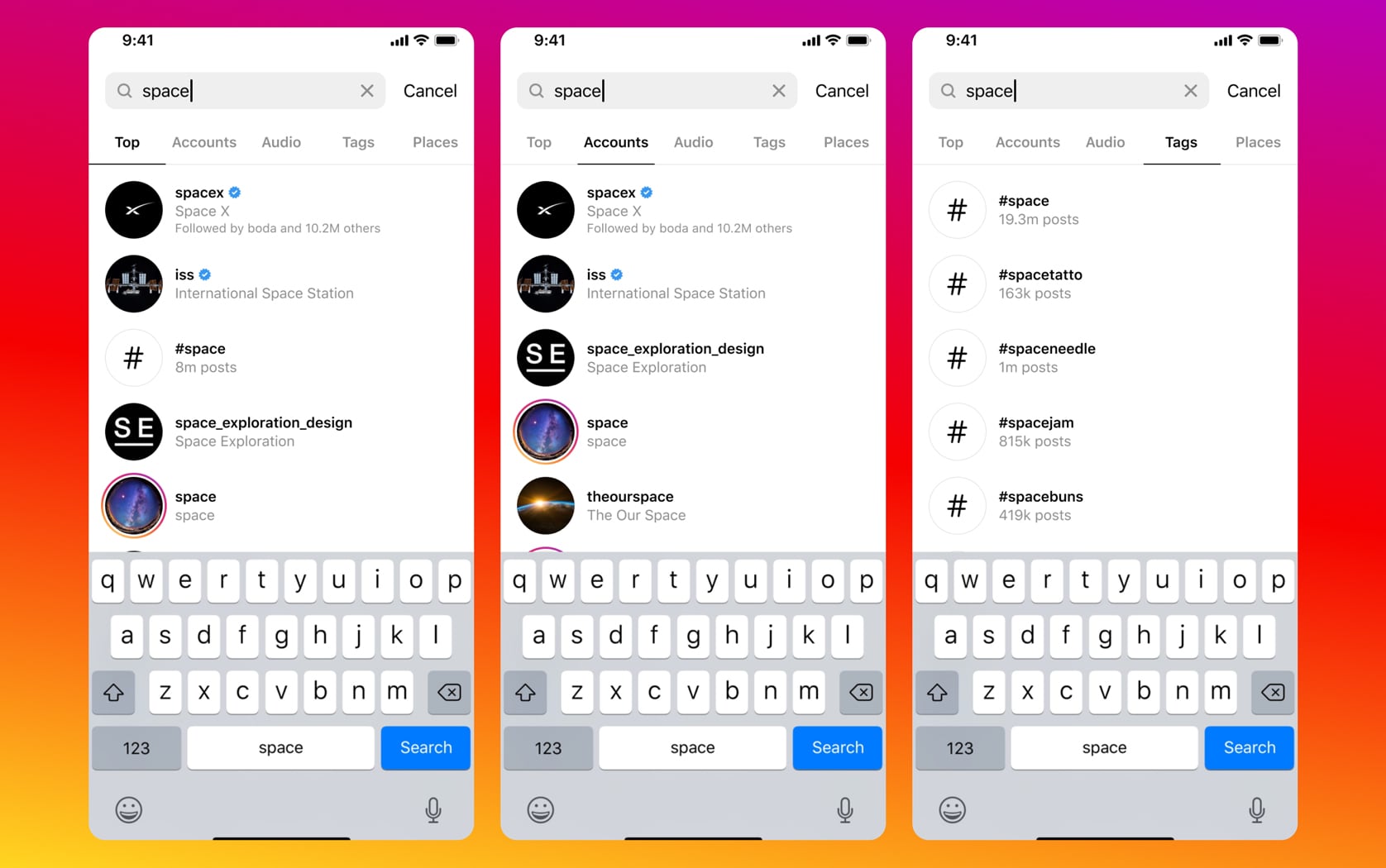 Image via Instagram
Following up its reveal
about
how its algorithm ranks posts
, Instagram is now sharing how and which accounts get prioritized in its search tool. It turns out that, even when using the same keywords, who turns up first on your queries might differ from someone else's. Nevertheless, the Facebook-owned company has also divulged how you can boost your username's position across all related searches.
Its search tool
might not be the first Instagram feature that comes to mind, but as
Social Media Today
points out, it is critical to your chances of your account discovered by your target audience. In a new
blog post
, Instagram breaks down how its app's search feature works:
The first and most important
factor is, of course, the text a user enters. "We try to match what you type with relevant usernames, bios, captions, hashtags and places," Adam Mosseri, Head of Instagram, describes. But you already know that.
Now, this is where
the results you get might differ from others. The next decision is made by a user's previous activity in the app, such as who they follow, the posts they've viewed, and how they've engaged with certain profiles, ensuring a browsing experience that's more tailored for everyone. "We usually show accounts and hashtags you follow or visit higher than those you don't," says Mosseri.
For those hoping
to boost their presence on Instagram, the above is especially important. It indicates that, to have your account pushed up in search results, actively engaging with your audience is key.
Finally, Instagram also
considers how popular matches are according to the query, and ranks them accordingly. So if a certain account related to your search gets more clicks, likes, shares, and follows, it's more likely to come up first.
How to get "demoted" in Instagram searches
Here's what not
to do if you want to be visible everytime someone looks up your name or handle on Instagram. The company deprioritizes accounts, posts, and/or hashtags that don't adhere to its
Recommendations Guidelines
. In fact, they'd even stay hidden until you spell out the username in full.
Deranked content
includes content that promotes or portrays cosmetic procedures, the promotion of business models (such as "risk-free" investments) or health products with exaggerated claims, accounts with sexually explicit photos, content promoting adult services or pharmaceutical drugs, unoriginal content republished from another source without adding material value (such as meme accounts), "clickbait," and contests or giveaways.
"We also balance
searches for sensitive topics with additional safety measures to make sure we don't show you related content that could be harmful," Instagram adds.
How to be prioritized
Instagram has now shared
three ways to increase your chances of appearing more often in its platform's search results.
First of all,
since search results are mainly influenced by the text used, you could tweak your handle or profile name such that it's relevant to your content. In addition, if you're addressed by your friends or fans by a certain name, you could use that as your username or profile name so that'd it be easier for them to look you up.
Also, you might
want to fully utilize the little space you have in your bio by adding relevant keywords or locations there. If your business is based in a certain town, it could be helpful to include its location in your bio, for example.
The last consideration
for discovery potential is the use of words and hashtags in your captions. It's also apparently a misconception that including them in the comments would boost a post's presence in search. "For a post to be found in Search, put keywords and hashtags in the caption, not the comments," says Instagram.
[via
Social Media Today
, cover image via
Instagram
]
Receive interesting stories like this one in your inbox
Also check out these recent news