Don't miss the latest stories
Share this
This Entire 'Village' Was Built From Ground Up With A Single 11-Foot 3D Printer
By Ell Ko, 30 Sep 2021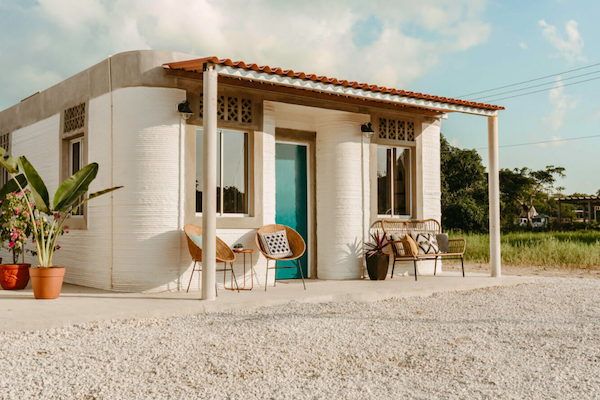 Image via New Story
3D printing has
seen its dramatic growth this year, with the once-futuristic technology now becoming more commonly used across all sectors, including housing. And now, it's being leveraged for community-building, too.
Nacajuca, Mexico,
is seeing a new "village" of small, 3D-printed housing to offer better living environments for underprivileged families.
This comes as
a result of a new partnership between
New Story
, a nonprofit based in San Francisco; Échale, a social housing production company based in Mexico; and Icon, a Texas construction tech company.
Each home is
a single-story build that measures around 500 square feet. Every one comprises two bedrooms, a kitchen, bathroom, and indoor plumbing—something many residents didn't previously have.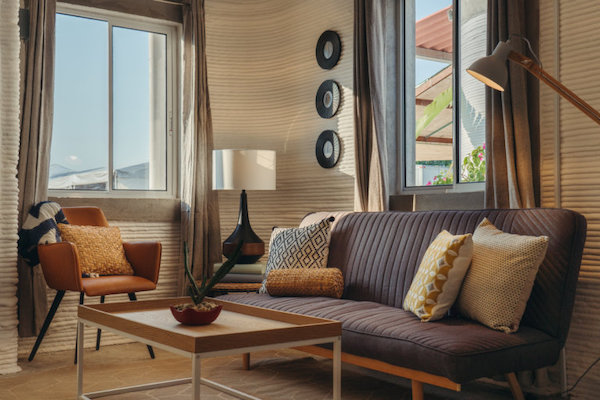 Image via New Story
These were printed
by Icon's 3D printer, dubbed the Vulcan II. It's 11 feet tall and has printed around 200 homes for New Story so far. This is the
same printer
that was behind the first 3D-printed homes for sale in the US.
Building a house
is akin to piping icing onto a cake with this printer: layers of 'Lavacrete'—Icon's concrete mix—are printed and poured on top of each other. The process can be controlled by a smartphone and doesn't require an entire construction team. Plus, a single home can be constructed in less than 24 hours.
"If you came
to Nacajuca when the 3D printer was there, you would see machinery that looked like a
RoboCop
movie," Francesco Piazzesi, Échale's chief executive, says to the
New York Times
.
Even though
they're small, they're sturdy: Nacajuca happens to be located in a seismic zone, and was hit with a magnitude 7.4 earthquake after the houses were installed—and they were strong enough to withstand that.
Apart from houses,
the project also includes plans for roads, a school, a soccer field, a market, and a library.
Henry D'Esposito,
in charge of construction research at commercial real estate firm JLL, tells the
New York Times
that 3D printing "really is a very effective and efficient way to build a small segment of properties." However, because the technology is so new, there's no telling how durable they'll be down the line.
It had better
be long-lasting, though. Because Icon and NASA are planning to
print a habitat
on the Moon.
[via
The New York Times
, images via
New Story
]
Receive interesting stories like this one in your inbox
Also check out these recent news