Don't miss the latest stories
Share this
Twitter Called Out To Everyone In Social Media Outage—& Brands Reacted Epically
By Mikelle Leow, 05 Oct 2021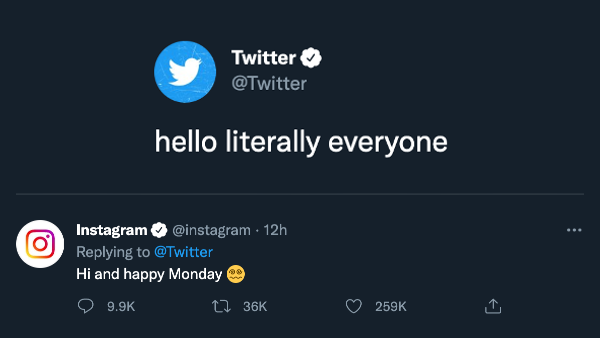 Screenshots via Twitter
It's been widely teased
that when Facebook endured one of its greatest
worldwide blackouts
ever on Monday—taking popular apps WhatsApp and Instagram down with it—internet users swarmed to Twitter, where they could stay connected while lamenting about their limited online privileges.
Nevertheless, Twitter
shined through, shouldering users' burden as they dealt with their social media withdrawals. It sent out a tweet to "literally everyone," and, as if there was nothing else to do during those hours, millions responded. At the time of publication, the three-word post amassed over three million likes.
hello literally everyone

— Twitter (@Twitter) October 4, 2021
"Hello everyone," replied
Microsoft Teams, after supposedly "unmuting" its microphone. Tampax couldn't help but respond, "Twitter? Guess we'll insert ourselves right here."
Even the last accounts
that people expected a comment from, the Facebook-owned Instagram and WhatsApp, took a step back from the hellfire and sent their greetings, presumably to reassure that they were still alive.
How are you doing, Instagram social media manager?

— Reddit (@Reddit) October 4, 2021
thought this was supposed to be encrypted…

— jack⚡️ (@jack) October 4, 2021
its the audacity for me

— McDonald's🇨🇦 (@McDonaldsCanada) October 4, 2021
And you? Don't you have ice cream machines to fix? pic.twitter.com/xkG1pi3QIk

— Relebogile M🇿🇦 (@relebogilereeh) October 4, 2021
The apps are now
back up, but this priceless multi-way conversation will live on.
As shared in
this 2022 graphic trends
report, reactive marketing is gaining prevalence. With people spending most of their time at home now, companies are attempting to attain top-of-mind awareness by being the quickest, wittiest, and most up-to-date brands to appear on mobile screens.
Check below
for more humorous responses from brands (and
Adele
) to the Facebook outage.
59.6 million nuggets for my friends

— Twitter (@Twitter) October 4, 2021
ahdfljhadsjdlash ADELE?!?!

— Twitter (@Twitter) October 4, 2021
I don't have hands so I'll just say Hi five times... Hi Hi Hi Hi Hi!

— Alexa (@alexa99) October 4, 2021
Ñ

— KFC (@KFC_ES) October 4, 2021
*unmutes mic*

Hey everyone.

— Microsoft Teams (@MicrosoftTeams) October 4, 2021
Twitter? Guess we'll insert ourselves right here.

— Tampax US (@Tampax) October 4, 2021
You're next.

— Diablo (@Diablo) October 4, 2021
[via
Twitter
]
Receive interesting stories like this one in your inbox
Also check out these recent news