Don't miss the latest stories
Share this
TikTok Account Blows Up For Selling 'Sustainably-Sourced' Human Bones
By Alexa Heah, 12 Oct 2021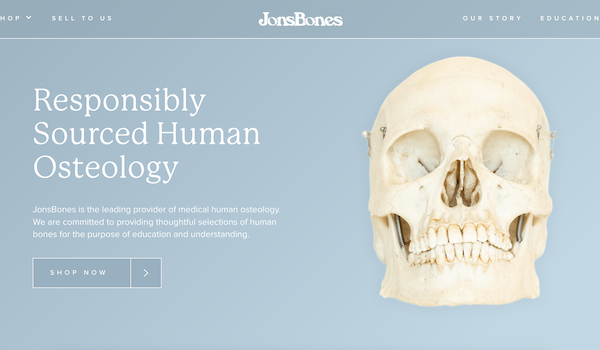 Image via JonsBones
By now, most shouldn't
be fazed by the weird videos that show up on TikTok. From
milk crate challenges
to fatal dares causing users
to black out
, there doesn't seem to be a normal day on the app.
However, an account
with 500,000 followers might just take the cake. It appears that
@JonsBones
, run by 21-year-old Jon Pichaya Ferry, has exploded in popularity because it's… selling human bones. Yup, you read that right.
Ferry has amassed
22 million likes on his videos, and as per
The Washington Post
, has defended his business by saying he's using the platform for educational purposes.
"I really believe in
trying to educate the next generation of anthropologists, doctors, and educators. I don't think that destroying these pieces are a solution," he told
The Post
.
As for where he's
acquiring these bones from, Ferry wrote on his
website
that his collection is "sustainably sourced," and "specifically prepared" for use by medical students, though it's unclear what exactly that means. He also said most of the bones on sale were found in basements or at backyard sales.
Many have questioned
the ethical nature of the business, with experts telling
The Post
that many of such stolen remains originally belonged to Native, enslaved, or oppressed peoples. Ferry doesn't see it that way, saying that the bones are "preserved and used for the purposes that they were intended for."
According to Insider,
the site has multiple human parts on sale, ranging from ribs to skulls. These start from US$18 and can go up all the way to US$6,000. In fact,
The Post
's article showed that Ferry had over 100 spines available to buyers.
Customers can choose
from full skulls to "long bones," "flat bones," and even rarities, which are described as artifacts with "medical abnormalities, and hard to find pieces."
There's no way
to know what Ferry's customers do with the bones once they've acquired them, despite him saying he advises buyers who treat the bones with "the utmost respect."
[via
Insider
and
The Washington Post
, cover image via
JonsBones
]
Receive interesting stories like this one in your inbox
Also check out these recent news