Don't miss the latest stories
Share this
Watch Robots Learn To Walk In No Time Through An AI-Powered Obstacle Course
By Ell Ko, 12 Oct 2021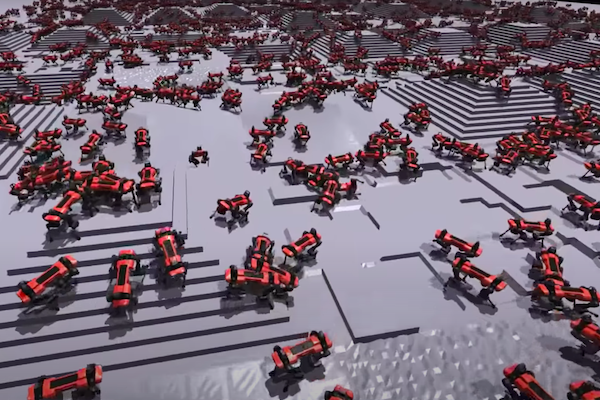 Image via ETH Zürich
Sometime before
their second year of life, most babies are expected to begin to walk. But when it's a robot, how is that measured, and who's going to teach them?
In what looks
like a dystopian physical education class in a futuristic simulation, thousands of robots are "trained" to walk in a matter of minutes by the powers that be: artificial intelligence (AI).
Designed by researchers
from
ETH Zürich
and chipmaker
Nvidia
, the army of around 4,000 robots were used to teach an algorithm, which then taught a real-life robot how to use its legs.
This simulation saw
the machines—called 'ANYmals'—take on terrains such as slopes, steps, and drops in an entirely virtual landscape. From a distance, it looks almost like an old-school flash game.
Described by ANYbotics
as being able to "provide unparalleled mobility" when navigating areas like stairs, obstacles, steps, gaps, and tight spaces, the ANYmals are learning to deliver what their developers promised by leveraging a process used in nature itself.
"Reinforcement training"
is how real-world animals learn life skills that will ensure their survival. Nvidia's AI technology uses a similar method to train them by providing feedback, both positive and negative, based on their performance.
When a challenge
is mastered by a robot, a harder one is presented in its place. This ensures that the algorithm continues to develop to traverse terrain with increasing difficulty.
However, a drawback
of this technology is that it doesn't really simulate real-world physics, like sliding and climbing, in the virtual simulation.
Like Boston Dynamics'
Spot
, the ANYmals could be utilized in journeying across sites that are too small for human navigation, or too dangerous to send human workers to—think construction sites, or areas that have been afflicted with natural disasters.
With more training
like this and further developments to the tech, businesses could one day be sending out fleets of Spot-esque, ANYmal-reminiscent robots into every corner of the world.
[via
TechTimes
, image via
ETH Zürich
]
Receive interesting stories like this one in your inbox
Also check out these recent news