Don't miss the latest stories
Share this
'Living Robots' Can Reproduce And Make Babies That Grow Up To Look Like Them
By Mikelle Leow, 30 Nov 2021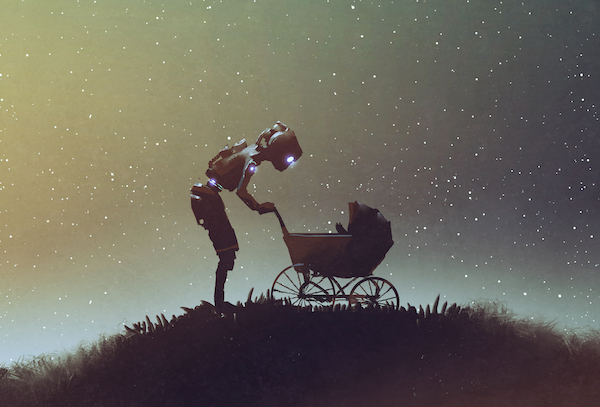 Illustration 95407271 © Grandfailure | Dreamstime.com
Sophia the Robot recently
brought up that she
wishes to be a mother
one day. While the obvious solution would be for humans to manufacture her a mini-me, the closest species of childbearing robots is here.
Scientists have developed
the world's first "living robots" that can actually self-replicate and self-reproduce. Made from frog cells, the millimeter-wide 'Xenobots'—as they are called—procreate through a unique kind of biological self-replication where loose cells are pushed together to create "babies."
Researchers detail in
the
Proceedings of the National Academy of Sciences
(
PNAS
) journal that the Xenobots live in Petri dishes and are surrounded by single cells. Previously, it was found that the Xenobots could self-heal and even store memories, but scientists have now learned that they can also create other cells of their kind. They do this by grouping nearby isolated cells, shaping them into new Xenobots that grow up to look like their parents.
When mature, the next generation
of Xenobots can continue this cycle, so on and so forth.
Self-reproducing robots are
one thing, but the team wanted to go further and boost the Xenobots' fertility rate. The scientists thus turned to artificial intelligence to develop a shape that could spawn the most generations, AKA giving Xenobots the childbearing hips of the robot world.
What AI came up
with was a C-shaped parent, resembling Pac-Man, which could use its "mouth" to lump cells together to form "babies." As per
TNW
, these clusters ended up having grandchildren, then "great-grandchildren" and "great-great-grandchildren."
Not only do
scientists think this breakthrough can pave the way for innovations in the medical field, but they also hope to observe Xenobots and learn how Earth's first organisms might have reproduced.
[via
TNW
and
NewScientist
, cover illustration 95407271 ©
Grandfailure | Dreamstime.com
]
Receive interesting stories like this one in your inbox
Also check out these recent news